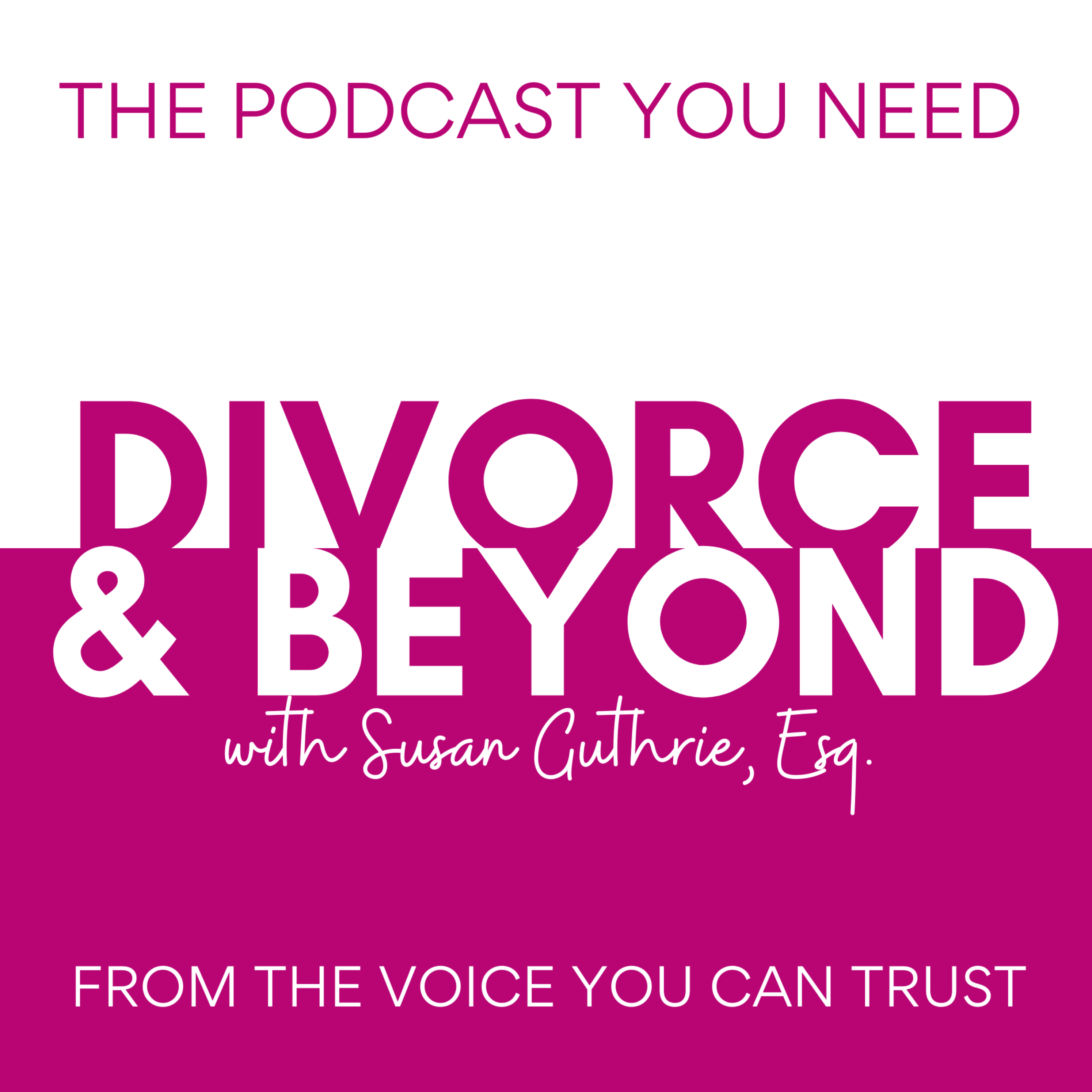 Nationally recognized family law attorney, mediator and award-winning podcaster, Susan Guthrie is at it again! After guiding countless numbers of people through the perilous world of divorce—and speaking to a podcast audience of over 4 million listeners—she's bringing you the "The Divorce & Beyond Podcast" to help you thrive in your life BEYOND divorce!
Episodes
Friday Sep 18, 2020
Friday Sep 18, 2020
In this episode Susan Guthrie, Esq. speaks with Dr. Elizabeth Cohen, a/k/a "The Divorce Doctor," who walks us through some of her top tips for navigating the rocky emotions that come with divorce or any stressful time in life.
Divorce is hard.  No matter how amicable, there is an emotional toll that results from the trauma of the process and it can be much worse for those in high conflict cases.  Enter "The Divorce Doctor", Dr. Elizabeth Cohen, a NYC clinical psychologist and CEO and founder of the online divorce course and membership Afterglow: The Light at the Other Side of Divorce.  Dr. Elizabeth works with individuals who are going through divorce, and other life traumas, and helps them to survive, heal and thrive into their new future and she shares some real, actionable tips for dealing with grief, anger and more!  Find out what "the golden and" is and how it will help you to heal, why pleasure is a key to surviving and how she suggests dealing with your "righteous anger (SO GOOD)!"  When going through divorce, or any trauma, it is important to deal with all your emotions, so that you can think clearly and make rational decisions so don't miss this helpful episode!
Link to Elizabeth Cohen's FREE14-day Journey giveaway described in the episode!  You can register Here!
Dr. Elizabeth will be joining Susan again for another episode soon so here is your opportunity to ask her anything!  Send an email to divorceandbeyondpod@gmail.com and take advantage of your opportunity to ASK "THE DIVORCE DOCTOR" ANYTHING!
Find out more about DR. ELIZABETH COHEN: Dr. Cohen is the CEO and founder of the online divorce course and membership Afterglow: The Light at the Other Side of Divorce. This 14 week course teaches women how to heal, grow and thrive after divorce no matter how difficult the process has been. Dr. Cohen also offers a monthly membership program. Dr. Cohen is also the CEO and Director of Dr. Elizabeth Cohen and Associates, a group private practice in the heart of New York City serving children, adolescents and adults.
Contact Dr. Elizabeth:
Website 

drelizabethcohen.com

Social Media Handles 

@thedivorcedoctor - Instagram
The Divorce Doctor- Facebook
**********************
SUSAN GUTHRIE, ESQ., the creator and host of The Divorce and Beyond Podcast, is nationally recognized as one of the top family law and divorce mediation attorneys in the country.  She is one of the Co-Chair's of the American Bar Association's DR Section Mediation Committee and is the Founder of Divorce in a Better Way which provides a curated selection of resources and information for those facing divorce and other life changes.  Susan has created a website of curated resources for those facing divorce.  Find out more at www.divorceinabetterway.com.
*****************************************************************************
THE LEARN TO MEDIATE ONLINE ACADEMY:  www.learntomediateonline.com
LEARN TO MEDIATE ONLINE:  THE LEARN TO MEDIATE ONLINE TRAINING PROGRAM IS NOW AVAILABLE AS AN ONLINE COURSE!!  As one of the leading online mediation experts in the country, Susan Guthrie has created a simple and efficient online training program that allows mediation professionals to quickly and easily add an online platform to their practice!  The two hour online program covers the basics of conducting mediations through an online platform like Zoom, and reviews the ethical and practical considerations that arise in this format.  You even receive a copy of, and the right to use, Susan's Online Mediation Guidelines and Ground Rules to make your online mediations even easier for mediator and clients alike!  More than 15,000 professionals have benefited from one of Susan's trainings!  You can find the program at https://learntomediateonline.teachable.com/p/learn-to-mediate-online-training-program or just go to the website www.learntomediateonline.com!
Also available at the LTMO ACADEMY:  Social Media Musts for Professionals and DIY Website Builder!
**********************************************
THANK YOU TO OUR SPONSORS!
As the Experts in Remote Alcohol Monitoring Technology, Soberlink combines a breathalyzer with wireless connectivity and is the only system with facial recognition, tamper detection, and Advanced Reporting™. The real-time system reduces litigation, fosters peace of mind, and ensures child safety. 
SPECIAL OFFER:  For a limited time, get an exclusive $50 off your device by emailing info@soberlink.com and mentioning Divorce and Beyond.
 FAYR, the BEST Co-Parenting App on the Market!   What makes FAYR different?  At FAYR it's not just about efficiency and ease (though they love those).  They also help you create a better co-parenting experience by providing tools for: constructive communication, argument diffusion, and emotional support.  For information on our FAYR, the ONLY co-parenting app recommended by Susan Guthrie and The Divorce and Beyond Podcast,  visit their website at www.fayr.com.  Don't forget to use the code "SUSANG18" for 20% off!!
*****************************************************************************
SPONSORSHIP OPPORTUNITIES AVAILABLE!
If you would like to sponsor the show please reach out to us at  divorceandbeyondpod@gmail.com for pricing and details!!!
*********************************************************************
Remember to follow Susan Guthrie and THE DIVORCE AND BEYOND PODCAST on social media for updates and inside tips and information:
Susan Guthrie on Facebook
Susan on Instagram
Susan on Twitter
Divorce & Beyond Podcast on Instagram
Divorce & Beyond Podcast on Twitter
If you want to see the video version of the podcast episodes they are available on The Divorce & Beyond YouTube Channel!  Make sure to LIKE and SUBSCRIBE so you don't miss a single episode!
Finally, we'd really appreciate it if you would  give us a 5 Star Rating and tell us what you like about the show in a review - your feedback really matters to us! 
You can also get in touch with Susan at divorceandbeyondpod@gmail.com. 
Don't forget to visit the webpage www.divorceandbeyondpod.com and sign up for the free NEWSLETTER to receive a special welcome video from Susan and more!!
*****************************************************************************
DISCLAIMER:  THE COMMENTARY AND OPINIONS AVAILABLE ON THIS PODCAST ARE FOR INFORMATIONAL AND ENTERTAINMENT PURPOSES ONLY AND NOT FOR THE PURPOSE OF PROVIDING LEGAL ADVICE.  YOU SHOULD CONTACT AN ATTORNEY IN YOUR STATE TO OBTAIN LEGAL ADVICE WITH RESPECT TO ANY PARTICULAR ISSUE OR PROBLEM