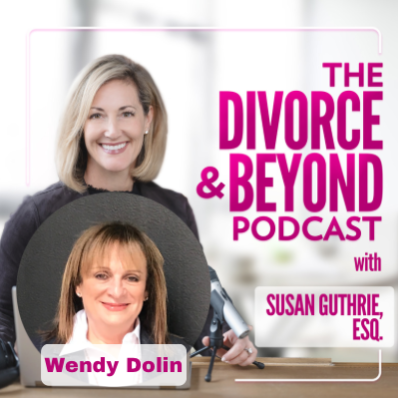 The Episode That Just Might Save Your Life with Wendy Dolin, the Founder of MISSD on The Divorce & Beyond Podcast with Susan Guthrie, Esq. #142
Sep 28th, 2020 by divorceandbeyond
In this episode Susan Guthrie speaks with Wendy Dolin, the Founder of MISSD, about the potentially fatal drug reaction known as akathisia and how speaking to Wendy recently saved Susan when she had her own near miss.  This is truly information that may save your life or the life of someone you love and Wendy's journey beyond the heartbreak of losing her beloved husband and how she took that journey to turn it into a mission to create akithisia awareness around the globe!
That day ten years ago started much as any other and Wendy Dolin had no idea that when her husband Stewart went off to work that day he would never return home again.  The tragedy that befell her husband and family that day took Wendy on a journey through the world of drug trials, ground-breaking litigation and world-wide advocacy to found MISSD (The Medication-Induced Suicide Prevention and Education Foundation in Memory of Stewart Dolin), dedicated to creating awareness around akathisia and helping us to be educated consumers of prescription and over the counter drugs.
What is akathisia?   Akathisia is a disorder induced as a side effect of medications (including, but not limited to, SSRI's and antipsychotics), which can cause a person such intense inner restlessness that the sufferer is driven to violence and/or suicide.  There are many permutations of akathisia but the number one thing to take away from this episode?  Anytime you start, stop or change the dosage of a medication, BE AWARE!  This is when you are most vulnerable for akathisia or other negative effects of medication.  MISSD is not anti-medication but is pro-information so be sure to listen and be informed today!
Some Highlights the Episode:
Find out some of the medications can lead to akathisia - many of them are probably in your medicine cabinet right now!
Learn what symptoms to look for that might indicate you need to get some help.
Hear how Wendy was inspired to take her tragedy and turn it into advocacy by founding MISSD.
Discover the poignant meaning behind the acronym for MISSD.
Find out why members of the military may be even more at risk.
Hear why the information in this episode is so on point for the COVID vaccine we are all waiting for and why we need to be concerned.
Wendy and her mission with MISSD are a truly inspirational story of life BEYOND tragedy so listen to this episode today!
FOR AN EXTENDED VERSION OF MY INTERVIEW WITH WENDY, GO TO THE DIVORCE & BEYOND PODCAST YOUTUBE CHANNEL WHERE WE CONTINUE THE CONVERSATION INCLUDING:
WENDY'S GROUND-BREAKING LEGAL FIGHT WITH THE DRUG COMPANIES
WHAT SHE LEARNED ABOUT DRUG TRIALS THAT WE ALL NEED TO KNOW, AND
FOR THOSE REBUILDING THEIR LIVES AFTER DIVORCE, HOW WENDY FOUND HER STRENGTH TO THRIVE AFTER TRAGEDY.
More information about Wendy Dolin and MISSD: 
MISSD (The Medication-Induced Suicide Prevention and Education Foundation in Memory of Stewart Dolin) is a unique 501c3 non-profit organization dedicated to honoring the memory of Stewart and other victims of akathisia by raising awareness and educating the public about the dangers of akathisia. MISSD aims to ensure that people suffering from akathisia's symptoms are accurately diagnosed so that needless deaths are prevented. A website, the creation of educational materials and support of conferences will help to raise awareness and knowledge of akathisia and medication-induced suicides. Again, we feel it's important to note that we are not anti-drug, and recognize that prescription drugs can be positive and life-saving for many individuals. We are for truth in disclosure, honesty in reporting and legitimate drug trials.
Reach out to Wendy at MISSD at:  MISSD.co or by eamail to share@missd.co
Go to the MISSD YouTube Channel for informational videos on the topic.
View the "What is Akathisia" video here:  https://youtu.be/x86aCDtvbT0
DONATE TO MISSD HERE:  https://secure.lglforms.com/form_engine/s/wSB0NkKNyrcHxeXRpPiTtw
Follow MISSD on Social Media:
https://twitter.com/MISSDFoundation
https://www.facebook.com/missd.co
**********************
SUSAN GUTHRIE, ESQ., the creator and host of The Divorce and Beyond Podcast, is nationally recognized as one of the top family law and divorce mediation attorneys in the country.  She is one of the Co-Chair's of the American Bar Association's DR Section Mediation Committee and is the Founder of Divorce in a Better Way which provides a curated selection of resources and information for those facing divorce and other life changes.  Susan has created a website of curated resources for those facing divorce.  Find out more at www.divorceinabetterway.com.
*****************************************************************************
THANK YOU TO OUR SPONSOR!
As the Experts in Remote Alcohol Monitoring Technology, Soberlink combines a breathalyzer with wireless connectivity and is the only system with facial recognition, tamper detection, and Advanced Reporting™. The real-time system reduces litigation, fosters peace of mind, and ensures child safety. 
SPECIAL OFFER:  For a limited time, get an exclusive $50 off your device by emailing info@soberlink.com and mentioning Divorce and Beyond.
*****************************************************************************
SPONSORSHIP OPPORTUNITIES AVAILABLE!
If you would like to sponsor the show please reach out to us at  divorceandbeyondpod@gmail.com for pricing and details!!!
*********************************************************************
Remember to follow Susan Guthrie and THE DIVORCE AND BEYOND PODCAST on social media for updates and inside tips and information:
Susan Guthrie on Facebook
Susan on Instagram
Susan on Twitter
Divorce & Beyond Podcast on Instagram
Divorce & Beyond Podcast on Twitter
If you want to see the video version of the podcast episodes they are available on The Divorce & Beyond YouTube Channel!  Make sure to LIKE and SUBSCRIBE so you don't miss a single episode!
Finally, we'd really appreciate it if you would  give us a 5 Star Rating and tell us what you like about the show in a review - your feedback really matters to us! 
You can also get in touch with Susan at divorceandbeyondpod@gmail.com. 
Don't forget to visit the webpage www.divorceandbeyondpod.com and sign up for the free NEWSLETTER to receive a special welcome video from Susan and more!!
*****************************************************************************
DISCLAIMER:  THE COMMENTARY AND OPINIONS AVAILABLE ON THIS PODCAST ARE FOR INFORMATIONAL AND ENTERTAINMENT PURPOSES ONLY AND NOT FOR THE PURPOSE OF PROVIDING LEGAL ADVICE.  YOU SHOULD CONTACT AN ATTORNEY IN YOUR STATE TO OBTAIN LEGAL ADVICE WITH RESPECT TO ANY PARTICULAR ISSUE OR PROBLEM
Share
|
Download