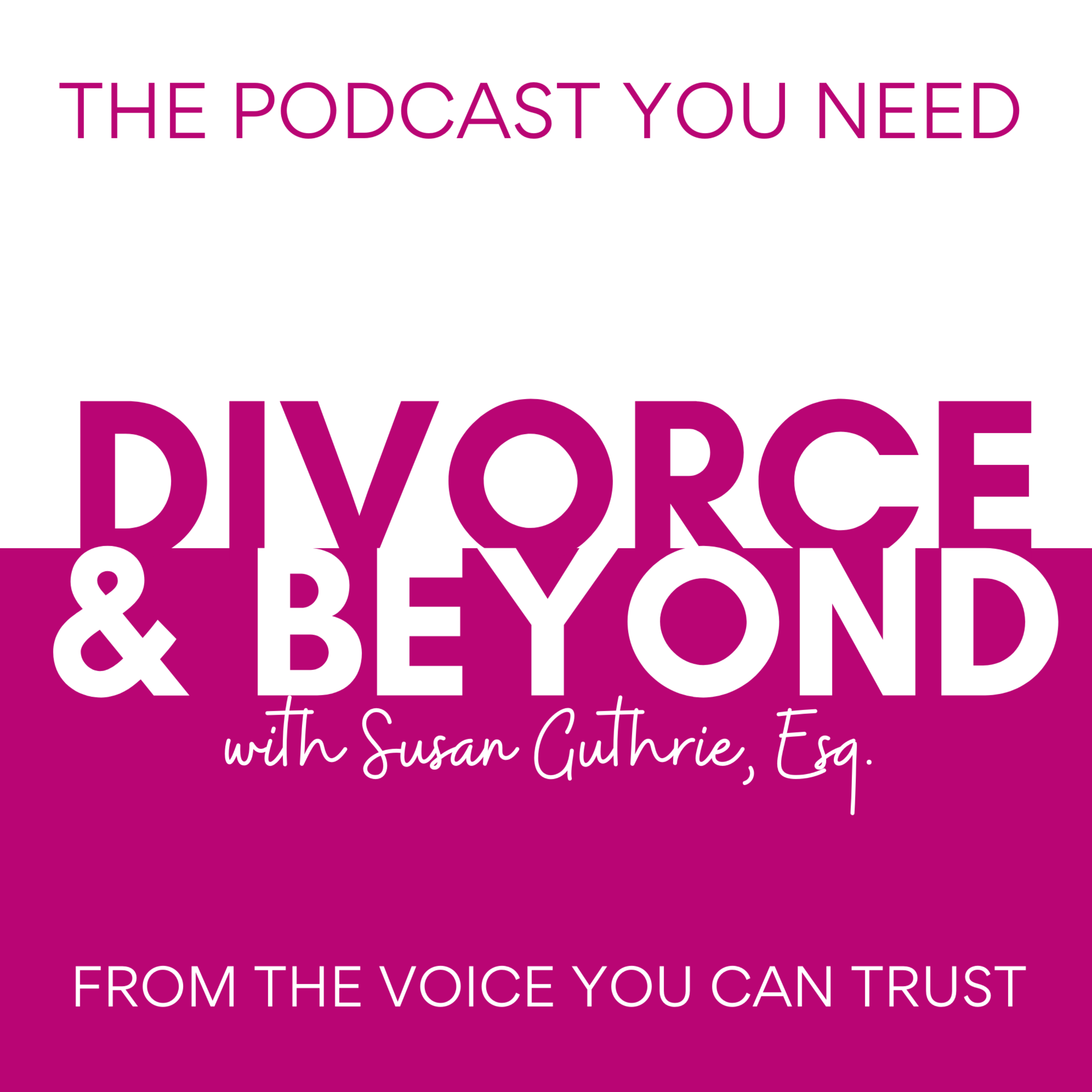 The Forgotten Victims of Gray Divorce: The Effects on Adult Children with Therapists and Authors, Carol Hughes and Bruce Fredenburg #188
Jul 12th, 2021 by divorceandbeyond
In this episode, Susan Guthrie speaks with Therapists, Carol Hughes and Bruce Fredenburg, authors of "Home Will Never Be the Same Again: A Guide for Adult Children of Gray Divorce," about the effects of parental divorce on adult children, and how the negative repurcussions can be minimized.
It is no secret that gray divorce is on the rise world-wide.  In fact, divorce among those who have been married for 30 years or more or who are divorcing later in life, is one of the largest segments of those who are divorcing today.  Much has been written about the unique difficulties faced by those who divorce close to or during retirement and after long-term marriages, but there is a forgotten segment of people who are deeply impacted by the divorce - the adult children whose parents are going through a gray divorce.
Carol Hughes and Bruce Fredenburg, both family therapists, collaborative professionals and mediators, have done a deep dive into this topic with years of personal experience with patients and families as well as a great deal of research which they have distilled into a ground-breaking new book, "Home Will Never Be the Same Again: A Guide for Adult Children of Gray Divorce."  It is easy to believe that children who are adults, perhaps with families of their own, will have little to no impact when their parents divorce but the reverse is actually true.  Carol and Bruce provide guidance for parents, children and even therapists in their book and this episode provides insights and tips into this growing paradigm!
To enter to win one of 5 FREE Audible copies of the book, please send an email to Carol Hughes at drcarolhughes@me.com and mention "Divorce & Beyond!"
More Information About This Week's Special Guests: 
Dr. Carol Hughes holds her doctoral degree in Clinical Psychology, achieving both summa cum laude and Phi Beta Kappa honors. She is also a two-time Fulbright Scholar. Board certified hypnotherapist, and EMDR therapist. A California licensed Marriage and Family Therapist and family-focused divorce professional, she works with children, adolescents, and adults in her private practice in Laguna Hills, California. As a therapist, co-parenting and child specialist, divorce coach, and mediator, she has assisted hundreds of families experiencing separation and divorce. 
In 2003, Carol was a co-founder of Collaborative Divorce Solutions of Orange County.
In 2011, Collaborative Practice California honored Carol with the Eureka Award that recognizes those who have made significant contributions and demonstrated an abiding dedication to establishing and sustaining Collaborative Practice in California.  
Carol is the co-author of Home Will Never Be the Same Again: A Guide for Adult Children of Gray Divorce, published by Rowman and Littlefield Publishing Company.
Carol's Websites:
https://www.divorcepeacemaking.com/
https://www.drcarolhughes.com/
Bruce R. Fredenburg, M.S., LMFT, Co-author of Home Will Never Be the Same Again: A Guide for Adult Children of Gray Divorce helps families solve painful problems that they are struggling with and have not been able to solve on their own. He is a California-licensed Marriage and Family Therapist board certified in clinical hypnosis. He created and taught parenting classes for adoptive and foster parents. Trained and experienced in chronic pain management, trauma, addictions, mediation, and collaborative divorce, Bruce helps families as a therapist, divorce coach, child and co-parenting specialist, and mediator in his practice in Laguna Hills, California. 
Bruce creates and presents training programs for corporations, government agencies, schools, and professional. 
Author of  Audio Learning Self-Help Programs Anxiety Solution, Sleep Solution, Take the Pain Out of Change and Men and Women: How to Understand Each Other.  Bruce has presented multiple times at California's annual statewide conference for collaborative professionals, and to the International Association of Collaborative Professionals annual Forum. In 2018 Bruce was chosen by Collaborative Practice California to receive the Eureka Award which recognizes and honors "those who have made significant contributions and demonstrated an abiding dedication to establishing and sustaining Collaborative Practice in California." 
Bruce's Websites:
https://www.orangecountydivorcecoach.com/
https://www.psychologytoday.com/us/therapists/bruce-r-fredenburg-laguna-hills-ca/803083
@graydivorce - Instagram
**********************************************************************
MEET OUR CREATOR AND HOST!
SUSAN GUTHRIE, ESQ., the creator and host of The Divorce and Beyond Podcast, is nationally recognized as one of the top family law and divorce mediation attorneys in the country.  She is one of the Co-Chair's of the American Bar Association's DR Section Mediation Committee and is the Founder of Divorce in a Better Way which provides a curated selection of resources and information for those facing divorce and other life changes.  Susan has created a website of curated resources for those facing divorce.  Find out more at www.divorceinabetterway.com.  You can find more information about Susan and the Podcast at www.divorceandbeyondpod.com.
Susan is also one of the leading family and divorce mediation trainers in the country and has partnered with legal legend, Forrest "Woody" Mosten, to create the Mosten Guthrie Academy to provide online mediation and collaborative law trainings for professionals.  You can find out more at www.mostenguthrie.com.
*****************************************************************************
THANK YOU TO OUR SPONSOR:
Thriving in divorce and beyond means not having to worry about the safety of your children when it comes to co-parenting. With alcohol abuse on the rise, many co-parents are turning to the system committed to providing proof, protection, and peace of mind. Soberlink's alcohol monitoring system is the most convenient, reliable, and reasonable way for a parent to provide evidence that they are not drinking during parenting time. Soberlink's real-time alerts, facial recognition, and tamper detection ensure the integrity of each test, so you can be confident your kids are with a sober parent. With Soberlink, judges rest assured that your child is safe, attorneys get court-admissible evidence of sobriety, and both parents have empowerment and peace of mind. Pull back the curtain on the mysteries of parenting time and trust The Experts in Remote Alcohol Monitoring Technology™ to keep you informed and your kids safe and secure. For an exclusive $50 off your device and to download the addiction and children resource page that I developed with Soberlink, visit www.Soberlink.com/Susan  
***************************************************************************************************
CHECK OUT THE NEW RESOURCE PAGE ON THE WEBSITE WITH DIVORCE & BEYOND RECOMMENDED READING!  
Remember, knowledge is power and we have the books that will help educate you and support you in all areas of divorce including finance, parenting, healing, conflict resolution and MORE!  Check it out now on the website:  www.divorceandbeyondpod.com/beyond-reading
***************************************
JOIN US IN THE DIVORCE & BEYOND MEMBERS ONLY COMMUNITY!
D & B Members Only will receive a number of benefits including:
Ad and Interruption Free Podcast Archive
BONUS Members Only Podcast Episodes monthly
Downloadable Worksheets, Spreadsheets and Other Forms 
Access to the "Ask Susan Anything" Forum where you can ask your questions and learn from the answers to others.
*****************************************************************************
SPONSORSHIP OPPORTUNITIES AVAILABLE!
If you would like to sponsor the show please reach out to us at  divorceandbeyondpod@gmail.com for pricing and details!!!
*********************************************************************
Remember to follow Susan Guthrie and THE DIVORCE AND BEYOND PODCAST on social media for updates and inside tips and information:
Susan Guthrie on Facebook @susanguthrieesq
Susan on Instagram @susanguthrieesq
Susan on Twitter @guthrielaw
Divorce & Beyond Podcast on Instagram @divorceandbeyond
Divorce & Beyond Podcast on Twitter @DivorceBeyond
If you want to see the video version of the podcast episodes they are available on The Divorce & Beyond YouTube Channel!  Make sure to LIKE and SUBSCRIBE so you don't miss a single episode!
Finally, we'd really appreciate it if you would  give us a 5 Star Rating and tell us what you like about the show in a review - your feedback really matters to us! 
You can get in touch with Susan at divorceandbeyondpod@gmail.com. 
Don't forget to visit the webpage www.divorceandbeyondpod.com and sign up for the free NEWSLETTER to receive a special welcome video from Susan and more!!
*****************************************************************************
DISCLAIMER:  THE COMMENTARY AND OPINIONS AVAILABLE ON THIS PODCAST ARE FOR INFORMATIONAL AND ENTERTAINMENT PURPOSES ONLY AND NOT FOR THE PURPOSE OF PROVIDING LEGAL ADVICE.  YOU SHOULD CONTACT AN ATTORNEY IN YOUR STATE TO OBTAIN LEGAL ADVICE WITH RESPECT TO ANY PARTICULAR ISSUE OR PROBLEM
Share
|
Download