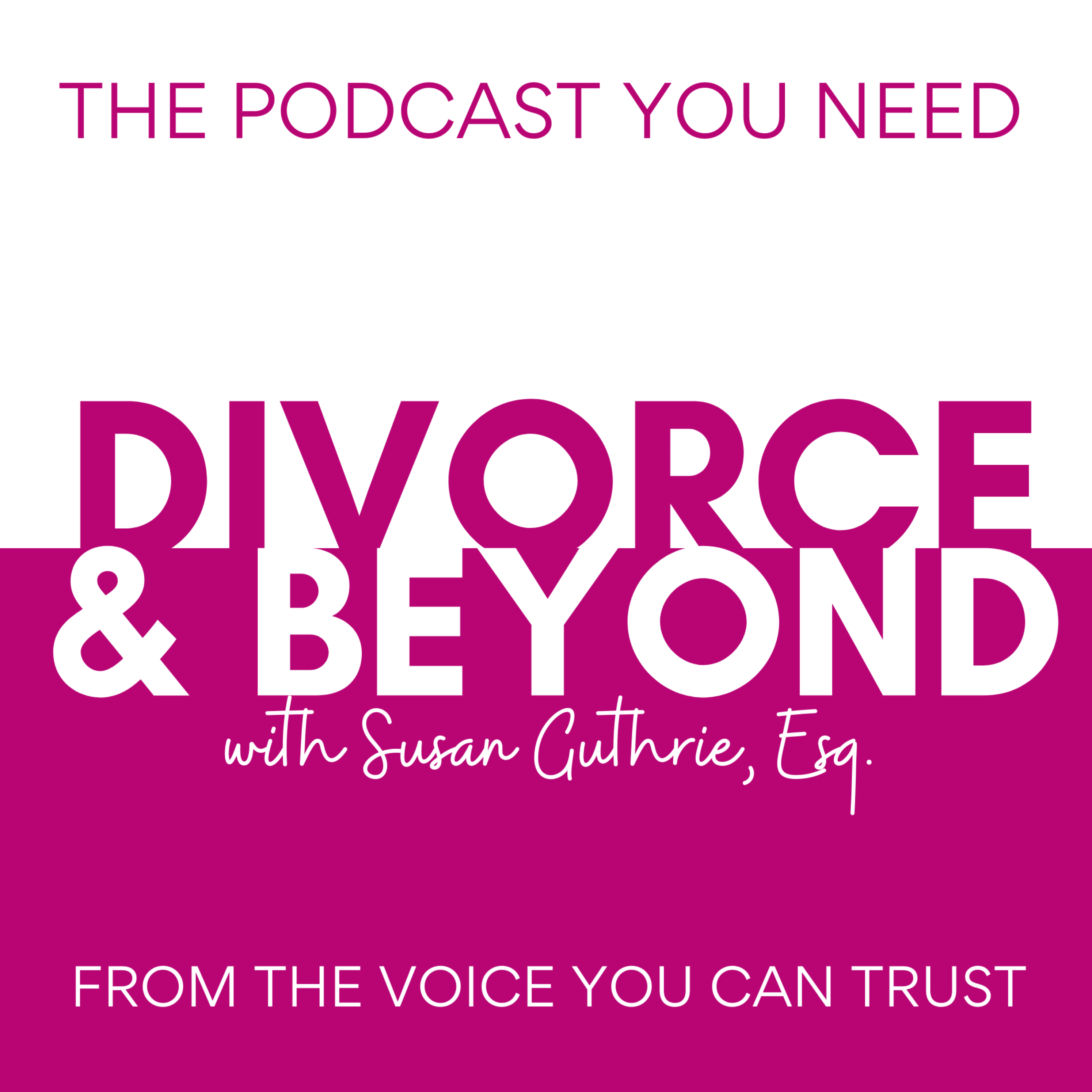 Nationally recognized family law attorney, mediator and award-winning podcaster, Susan Guthrie is at it again! After guiding countless numbers of people through the perilous world of divorce—and speaking to a podcast audience of over 4 million listeners—she's bringing you the "The Divorce & Beyond Podcast" to help you thrive in your life BEYOND divorce!
Episodes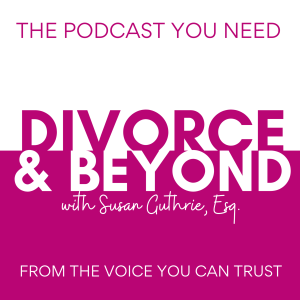 Monday Sep 06, 2021
Monday Sep 06, 2021
This week host, Susan Guthrie, is joined by the woman who is changing the divorce process for couples and families forever!  Erin Levine, Founder and CEO of legal tech phenom, HelloDivorce is here to give you the FYI on DIY Divorce!
The statistics on traditional litigated divorces are staggering:
Recent national statistics suggest that a majority of divorce and separation cases (72%) involve at least one self-represented party.
Divorces that go to trial on two or more issues cost, on average, $23,300.
The average hourly rate for a divorce attorney is $270.
The average total cost of legal fees was $11,300 per spouse when a full-scope divorce attorney was involved.
Divorces take, on average, between 12 and 18 months to finalize.
Is it any wonder that most people going through divorce do not want to, or cannot afford to, hire attorneys?  In fact, there are a number of reasons why people choose a more Do It Yourself approach to the process and this week's guest, the Founder and CEO of Hello Divorce, Erin Levine, is here to give you the FYI on DIY Divorce so that you can take charge of the process yourself and know when and where to go if you need help! Erin is the leading expert on elawyering and online divorce in the country and she and Hello Divorce are here to support you as you face the legalities, and myriad other details, of divorce.  
About this week's special guest:
ERIN LEVINE:
Erin's innovative, disruptive approach to how Americans interact with the law make her both a loved and feared force in the legal world. With her groundbreaking divorce navigator platform, she's revolutionizing the broken divorce process, making it affordable and available to everyone. Erin's access to justice work has been recognized by the legal industry and beyond, with awards and recognition from the likes of Women Founders Network, Forbes, Entrepreneur, and the American Bar Association. And though she's been a sought-after family law attorney for more than 16 years, she vows to never practice law again.
Find out more about Hello Divorce at www.hellodivorce.com
Follow Hello Divorce on Social: 
Instagram:  https://www.instagram/hellodivorce
Facebook:  https://www.facebook.com/hellodivorce
Twitter:  https://www.twitter.com/hellodivorce
Visit the website:  www.hellodivorce.com
Book a FREE 15 minute consultation with Hello Divorce:  https://hellodivorce.com/our-process/book-your-15-minute-strategy-call/
**********************
MEET OUR CREATOR AND HOST:
SUSAN GUTHRIE®, ESQ., the creator and host of The Divorce and Beyond® Podcast, is nationally recognized as one of the top family law and divorce mediation attorneys in the country.  Susan is a member of the Executive Council of the American Bar Association Section of Dispute Resolution and is the Founder of Divorce in a Better Way® which provides a curated selection of resources and information for those facing divorce and other life changes. 
Internationally renownded as one of the leading experts in online mediation, Susan created her Learn to Mediate Online® program and has trained more than 18,000 professionals in how to transition their practice online.  Susan recently partnered with legal and mediation legend, Forrest "Woody" Mosten to create the Mosten Guthrie Academy which provides gold standard, fully online training for mediation and collaborative professionals at all stages of their career.  
*****************************************************************************
THANK YOU TO OUR SPONSOR:
Fayr is the ONLY co-parenting app that Susan recommends because Fayr is everything you need to co-parent in one app.  Fayr's fresh, easy to use interface allows co-parents to effortlessly communicate, create a shared calendar, keep track of expenses, prepare legal documents and more.  
Most importantly, it allows you to experience co-parenting in a totally new way: simply, inexpensively, transparently, and fairly.
Subscribe at BEFAYR.com and then download FAYR from the APP STORE or GOOGLE PLAY
Go to FAYR.com for more details.  Use the discount code "SUSANG18" to receive 20% off!
***************************************************************************************************
CHECK OUT THE NEW RESOURCE PAGE ON THE WEBSITE WITH DIVORCE & BEYOND RECOMMENDED READING!  
Remember, knowledge is power and we have the books that will help educate you and support you in all areas of divorce including finance, parenting, healing, conflict resolution and MORE!  Check it out now on the website:  www.divorceandbeyondpod.com/beyond-reading
***************************************
JOIN US IN THE DIVORCE & BEYOND MEMBERS ONLY COMMUNITY!
D & B Members Only will receive a number of benefits including:
Ad and Interruption Free Podcast Archive
BONUS Members Only Podcast Episodes monthly
Downloadable Worksheets, Spreadsheets and Other Forms 
Access to the "Ask Susan Anything" Forum where you can ask your questions and learn from the answers to others.
*****************************************************************************
SPONSORSHIP OPPORTUNITIES AVAILABLE!
If you would like to sponsor the show please reach out to us at  divorceandbeyondpod@gmail.com for pricing and details!!!
*********************************************************************
Remember to follow Susan Guthrie and THE DIVORCE AND BEYOND PODCAST on social media for updates and inside tips and information:
Susan Guthrie on Facebook @susanguthrieesq
Susan on Instagram @susanguthrieesq
Susan on Twitter @guthrielaw
If you want to see the video version of the podcast episodes they are available on The Divorce & Beyond YouTube Channel!  Make sure to LIKE and SUBSCRIBE so you don't miss a single episode!
Finally, we'd really appreciate it if you would  give us a 5 Star Rating and tell us what you like about the show in a review - your feedback really matters to us! 
You can get in touch with Susan at divorceandbeyondpod@gmail.com. 
Don't forget to visit the webpage www.divorceandbeyondpod.com and sign up for the free NEWSLETTER to receive a special welcome video from Susan and more!!
*****************************************************************************
DISCLAIMER:  THE COMMENTARY AND OPINIONS AVAILABLE ON THIS PODCAST ARE FOR INFORMATIONAL AND ENTERTAINMENT PURPOSES ONLY AND NOT FOR THE PURPOSE OF PROVIDING LEGAL ADVICE.  YOU SHOULD CONTACT AN ATTORNEY IN YOUR STATE TO OBTAIN LEGAL ADVICE WITH RESPECT TO ANY PARTICULAR ISSUE OR PROBLEM