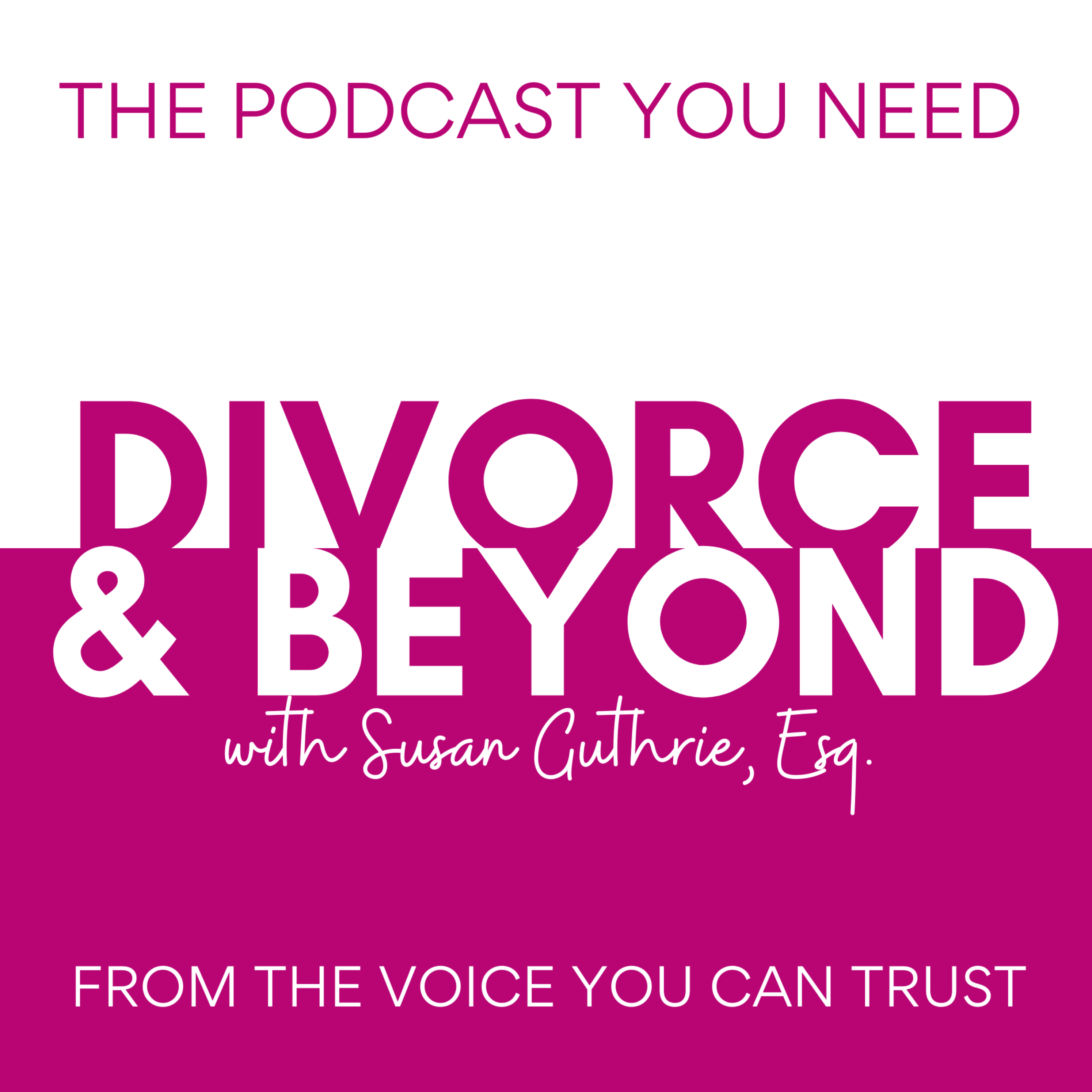 Nationally recognized family law attorney, mediator and award-winning podcaster, Susan Guthrie is at it again! After guiding countless numbers of people through the perilous world of divorce—and speaking to a podcast audience of over 4 million listeners—she's bringing you the "The Divorce & Beyond Podcast" to help you thrive in your life BEYOND divorce!
Episodes
Monday Jul 20, 2020
Monday Jul 20, 2020
In this episode Susan Guthrie, Esq., talks with TEDX phenomenom and Best-Selling Author, Jill Sherer Murray, about "Big Wild Love," her new book that takes up where the TEDx stopped and shares Jill's journey and secret sauce for finding your own Big Wild Love and Letting Go of whatever it is that is holding you back forever!  
If you are one of the over 2.5 million viewers of Jill Sherer Murray's TEDx Talk, "The Unstoppable Power of Letting Go" then you already know the power of her message and how letting go of a long-term but ultimately unfulfilling relationship led her to become truly unstoppable in love and in life!  The only downside to the TEDx?  It's only 18 minutes long!  But now, Jill has just released her instant best-seller, "Big Wild Love: The Unstoppable Power of Letting Go" that goes well beyond just the power of letting go, and actually reveals the secret of how to actually DO IT!  We are held back by so many things in our lives, failing relationships, dead-end jobs, toxic friendships, and more, but letting go often seems impossible.  This episode is here to show you that letting go is VERY POSSIBLE, and the key to doing so is finding your own BIG WILD LOVE!  Find out what Jill means by this and learn to the step to move forward in this very special episode!
GET JILL'S SPECIAL GIFT FOR LISTENERS:  You can download a copy of Jill's special gift for listeners of the Divorce & Beyond Podcast, 6 Steps for Letting Go in a Global Pandemic, here:  https://letgoforit.com/wp-content/uploads/2020/03/six-steps-global-pandemic.pdf
More about this week's VERY SPECIAL GUEST:  JILL SHERER MURRAY is a TEDx speaker, influencer, author, coach, and founder of Let Go For It®, helping individuals let go for a better life and businesses let go for better results. She's an award-winning journalist and communications leader who can trace her success in career, love life, and more to letting go.Her TEDx talk, "The Unstoppable Power of Letting Go" has been viewed by millions and she recently released Big Wild Love: The Unstoppable Power of Letting Go in response to the many all over the globe who've reached out to her for advice after seeing her TEDx Talk. Jill studied improv at Second City in Chicago, wrote a popular blog called "Diary of a Writer in Mid-Life Crisis", and let go of just about everything to put her weight in Shape Magazine as part of a year-long assignment to document her weight loss journey.
You can reach Jill at jillsherermurray@gmail.com
Follow her on Instagram:  @letgoforit
Get Jill's Book:
Don't forget to leave a REVIEW FOR THE BOOK ONCE YOU HAVE READ IT!!  You can do that here:  https://www.amazon.com/review/create-review/edit?ie=UTF8&channel=glance-detail&asin=1631528521
If you loved the episode, don't miss JILL AND SUSAN'S VIRTUAL BOOK EVENT on August 20th at 6:30 pm Central!  You can find out more on Jill's Facebook page at:  https://www.facebook.com/letgoforit/
 ********************************************************************************************
SUSAN GUTHRIE, ESQ., the creator and host of The Divorce and Beyond Podcast, is nationally recognized as one of the top family law and divorce mediation attorneys in the country.  She is one of the Co-Chair's of the American Bar Association's DR Section Mediation Committee and is the Founder of Divorce in a Better Way which provides a curated selection of resources and information for those facing divorce and other life changes.  Susan has created a website of curated resources for those facing divorce.  Find out more at www.divorceinabetterway.com.
*****************************************************************************
THE LEARN TO MEDIATE ONLINE ACADEMY:  www.learntomediateonline.com
LEARN TO MEDIATE ONLINE:  THE LEARN TO MEDIATE ONLINE TRAINING PROGRAM IS NOW AVAILABLE AS AN ONLINE COURSE!!  As one of the leading online mediation experts in the country, Susan Guthrie has created a simple and efficient online training program that allows mediation professionals to quickly and easily add an online platform to their practice!  The two hour online program covers the basics of conducting mediations through an online platform like Zoom, and reviews the ethical and practical considerations that arise in this format.  You even receive a copy of, and the right to use, Susan's Online Mediation Guidelines and Ground Rules to make your online mediations even easier for mediator and clients alike!  More than 15,000 professionals have benefited from one of Susan's trainings!  You can find the program at https://learntomediateonline.teachable.com/p/learn-to-mediate-online-training-program or just go to the website www.learntomediateonline.com!
Also available at the LTMO ACADEMY:  Social Media Musts for Professionals and DIY Website Builder!
**************************
Susan's Family Mediation Training Webinar:  To find out more about Susan's BRAND NEW Divorce & Family Mediation Primer that will help you set up your family mediation practice, go to the website www.learntomediateonline.com!
This webinar is focused specifically on the fundamentals of setting up a mediation process for parties facing divorce and other family law issues. Susan Guthrie, one of the leading family law and mediation attorneys in the country, shares her practice tips for providing a superior mediation experience to clients while also meeting your needs as a practitioner. 
The program will cover suggestions regarding:
Establishing Processes and procedures 
Effective Consultations
Efficient fact and data gathering 
Document preparation
Establishing Fees and Packages
Streamlined Use of an Agenda
Mediation format both online and in-person 
and MORE!
Efficiency, client satisfaction, technology and troubleshooting will be reviewed with an eye to making practitioners aware of technology that can be implemented to assist both mediator and clients. 
All live webinars will include a live Q & A with Susan at the end of the webinar for those who wish to stay online.  
Best of all?  Each participant will receive a sample Consultation Checklist, Mediation Agenda and four more handouts for use in their own practice. 
This fast-paced webinar program will be conducted in one two-hour session and the LIVE Q & A will follow.
Join us for the next webinar for only $297 on:
AUGUST 6TH AT 9 AM PT / 12 PM ET
**********************************************
 FAYR, the BEST Co-Parenting App on the Market!   What makes FAYR different?  At FAYR it's not just about efficiency and ease (though they love those).  They also help you create a better co-parenting experience by providing tools for: constructive communication, argument diffusion, and emotional support.  For information on our FAYR, the ONLY co-parenting app recommended by Susan Guthrie and The Divorce and Beyond Podcast,  visit their website at www.fayr.com.  Don't forget to use the code "SUSANG18" for 20% off!!
*****************************************************************************
SPONSORSHIP OPPORTUNITIES AVAILABLE!
If you would like to sponsor the show please reach out to us at  divorceandbeyondpod@gmail.com for pricing and details!!!
*********************************************************************
Remember to follow Susan Guthrie and THE DIVORCE AND BEYOND PODCAST on social media for updates and inside tips and information:
Susan Guthrie on Facebook
Susan on Instagram
Susan on Twitter
Divorce & Beyond Podcast on Instagram
Divorce & Beyond Podcast on Twitter
If you want to see the video version of the podcast episodes they are available on The Divorce & Beyond YouTube Channel!  Make sure to LIKE and SUBSCRIBE so you don't miss a single episode!
Finally, we'd really appreciate it if you would  give us a 5 Star Rating and tell us what you like about the show in a review - your feedback really matters to us! 
You can also get in touch with Susan at divorceandbeyondpod@gmail.com. 
Don't forget to visit the webpage www.divorceandbeyondpod.com and sign up for the free NEWSLETTER to receive a special welcome video from Susan and more!!
*****************************************************************************
DISCLAIMER:  THE COMMENTARY AND OPINIONS AVAILABLE ON THIS PODCAST ARE FOR INFORMATIONAL AND ENTERTAINMENT PURPOSES ONLY AND NOT FOR THE PURPOSE OF PROVIDING LEGAL ADVICE.  YOU SHOULD CONTACT AN ATTORNEY IN YOUR STATE TO OBTAIN LEGAL ADVICE WITH RESPECT TO ANY PARTICULAR ISSUE OR PROBLEM.