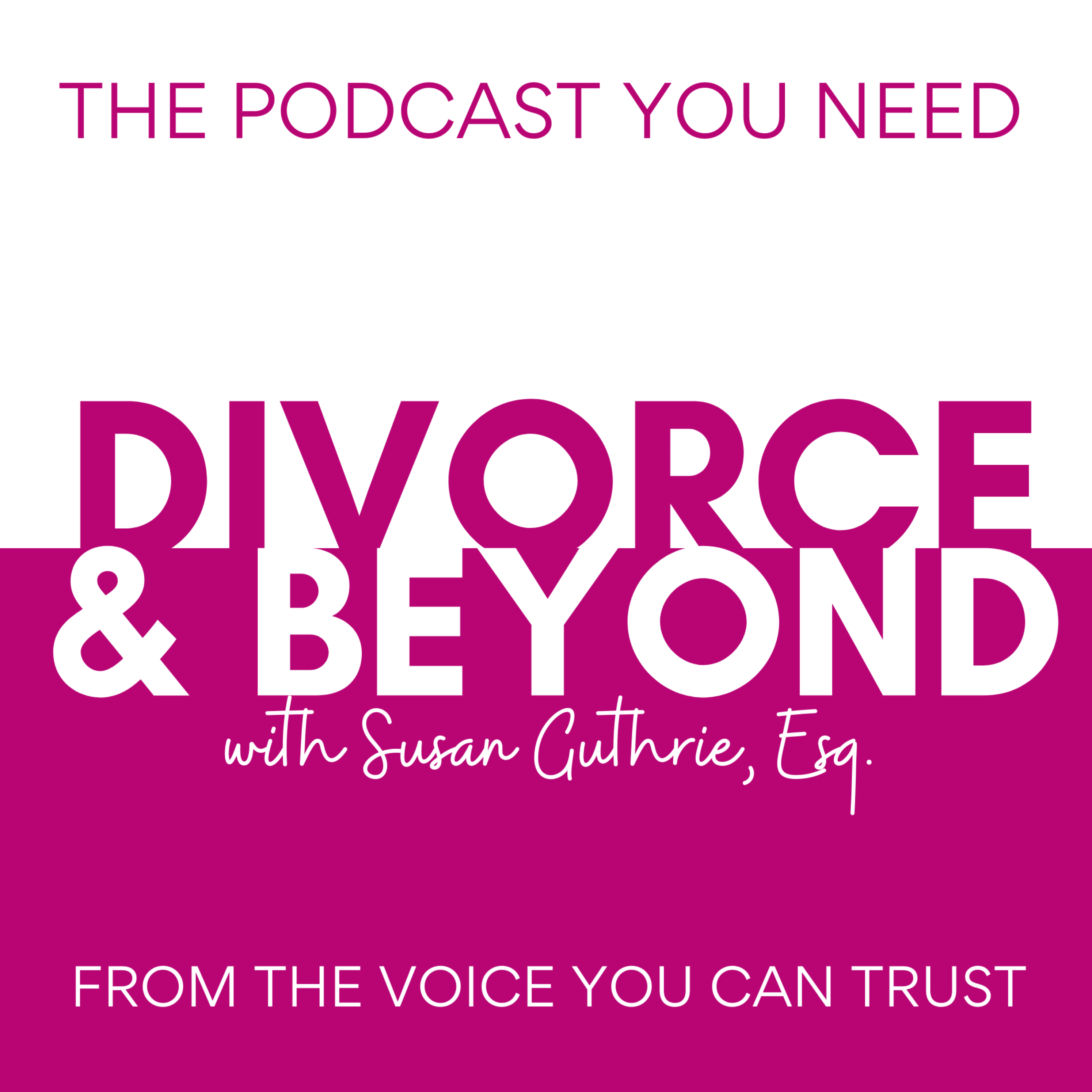 The Top 8 Reasons Why Your Ex is Being a Jerk and What to Do About It with Divorced Girl Smiling, Jackie Pilossoph #194
Aug 16th, 2021 by divorceandbeyond
This week on The Divorce & Beyond® Podcast, Jackie Pilossoph, Founder of Divorced Girl Smiling, chats with with Host, Susan Guthrie® about the top 8 reasons that your ex is being such a jerk and what you can do to deal with it!
One of the most perplexing parts of getting divorced can be the complete change in personality that your ex seems to undergo during the process.  That person that promised to love you and who was your partner in life and parenting suddenly becomes the biggest jerk on the planet.  Why?  How?  What to do?
As we always say, knowledge is power so in this episode, Jackie Pilossoph, founder of Divorced Girl Smiling, shares with you the top 8 reasons why your ex is behaving so poorly.  Your insight into the underpinnings of their nastiness can help you to reduce, circumvent or at least understand their actions and that, in turn, will help you to transcend the conflict and move your divorce forward!
More information About This Week's Special Guest:  Jackie Pilossoph
Jackie Pilossoph is the creator and editor-in-chief of Divorced Girl Smiling, a website, podcast and app. Jackie, who went through a divorce several years ago, is a former TV and newspaper journalist who spent 8 years writing her syndicated weekly column, Love Essentially for the Pioneer Press/Chicago Tribune.
Contact Jackie Pilossoph:
W: www.divorcedgirlsmiling.com
Instagram: @divorced_girl_smiling
Facebook:  @divorcedgirlsmiling
**********************
MEET THE CREATOR AND HOST OF DIVORCE & BEYOND®
SUSAN GUTHRIE®, ESQ. is nationally recognized as one of the top family law and divorce mediation attorneys in the country.  Susan is a member of the Executive Council of the American Bar Association Section of Dispute Resolution and is the Founder of Divorce in a Better Way® which provides a curated selection of resources and information for those facing divorce and other life changes. 
Internationally renowned as one of the leading experts in online mediation, Susan created her Learn to Mediate Online® program and has trained more than 18,000 professionals in how to transition their practice online.  Susan recently partnered with legal and mediation legend, Forrest "Woody" Mosten to create the Mosten Guthrie Academy which provides gold standard, fully online training for mediation and collaborative professionals at all stages of their career.  
*****************************************************************************
THANK YOU TO OUR SPONSOR!
dtour.life is an easy to navigate system that finally brings much needed technology to an inefficient system. Spouses and family law professionals can now collect the endless data, manage the piles of documents, explore various settlements, detail budgets and most importantly, collaborate with the entire team with a single click. And we built this from the ground up with industry best practices and the most advanced security and encryption technology available.  Be sure to check it out today!
SPECIAL OFFER:  Sign up for the FREE TRIAL here:  https://www.dtour.life/sign-up and then use special code "SUSAN20" to receive 20% off the cost of a subscription!
*********************************************
 THE DIVORCE & BEYOND MEMBERS ONLY COMMUNITY IS LIVE!!
Subscribe now for only $10 per month and take your Divorce & Beyond experience BEYOND!!
D & B Members Only will receive a number of benefits including:
Ad and Interruption Free Podcast Archive
BONUS Members Only Podcast Episodes monthly
Downloadable Worksheets, Spreadsheets and Other Forms 
Access to the "Ask Susan Anything" Forum where you can ask your questions and learn from the answers to others.
*****************************************************************************
CHECK OUT THE NEW RESOURCE PAGE ON THE WEBSITE WITH DIVORCE & BEYOND RECOMMENDED READING!  
Remember, knowledge is power and we have the books that will help educate you and support you in all areas of divorce including finance, parenting, healing, conflict resolution and MORE!  Check it out now on the website:  www.divorceandbeyondpod.com/beyond-reading
SPONSORSHIP OPPORTUNITIES AVAILABLE!
If you would like to sponsor the show please reach out to us at  divorceandbeyondpod@gmail.com for pricing and details!!!
*********************************************************************
Remember to follow Susan Guthrie and THE DIVORCE AND BEYOND PODCAST on social media for updates and inside tips and information:
Susan Guthrie on Facebook @susanguthrieesq
Susan on Instagram @susanguthrieesq
Susan on Twitter @guthrielaw
If you want to see the video version of the podcast episodes they are available on The Divorce & Beyond YouTube Channel!  Make sure to LIKE and SUBSCRIBE so you don't miss a single episode!
Finally, we'd really appreciate it if you would  give us a 5 Star Rating and tell us what you like about the show in a review - your feedback really matters to us! 
You can get in touch with Susan at divorceandbeyondpod@gmail.com. 
Don't forget to visit the webpage www.divorceandbeyondpod.com and sign up for the free NEWSLETTER to receive a special welcome video from Susan and more!!
*****************************************************************************
DISCLAIMER:  THE COMMENTARY AND OPINIONS AVAILABLE ON THIS PODCAST ARE FOR INFORMATIONAL AND ENTERTAINMENT PURPOSES ONLY AND NOT FOR THE PURPOSE OF PROVIDING LEGAL ADVICE.  YOU SHOULD CONTACT AN ATTORNEY IN YOUR STATE TO OBTAIN LEGAL ADVICE WITH RESPECT TO ANY PARTICULAR ISSUE OR PROBLEM
Share
|
Download