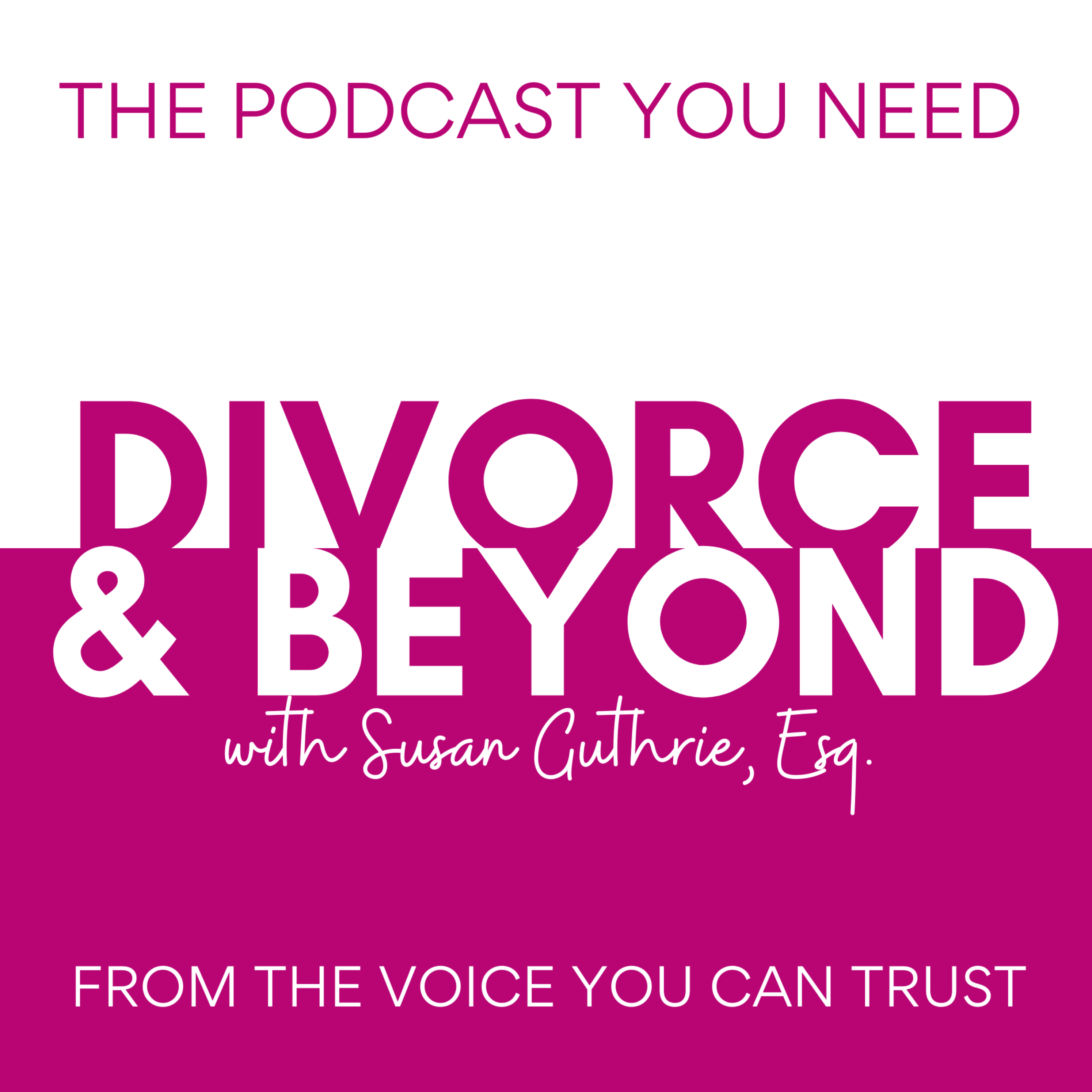 Nationally recognized family law attorney, mediator and award-winning podcaster, Susan Guthrie is at it again! After guiding countless numbers of people through the perilous world of divorce—and speaking to a podcast audience of over 4 million listeners—she's bringing you the "The Divorce & Beyond Podcast" to help you thrive in your life BEYOND divorce!
Episodes
Monday Apr 05, 2021
Monday Apr 05, 2021
In this episode Susan Guthrie talks with divorce journalist, Ilyssa Panitz, author of the insanely popular series of articles in Authority Magazine from Medium.com entitled, "The 5 Things You Need to Know to Survive and Thrive During and After Your Divorce!"  Ilyssa has interviewed hundreds of the top divorce professionals in the country and in this episode she shares HER top 5 tips to help YOU!
When you are facing divorce so often it feels overwhelming and incredibly scary and we just want someone who has been there and who knows how to help to tell you what to do.  This is that episode for you!  Ilyssa Panitz, took her twenty years of experience as a celebrity interviewer (wait until you hear a short list of just who she has interviewed in the episode!) and decided to help those facing divorce by interviewing divorce experts and sharing their wisdom with those that need it.  Ilyssa knows just what to ask having been there herself and she knows what you need to know. 
Some highlights from the episode:
Find out who was Ilyssa's favorite celebrity interview out of the hundreds that she has done;
Learn why a divorce can be the do-over we all need;
Discover the healing and empowerment that can come from a new "nest;"
Hear how you can use your own reporting skills to manage your divorce; and
Be encouraged by Dorothy's journey in the Land of Oz; and
MUCH MORE!
Ilyssa  has done all the research and interviews for you and now you can reqp the benefits.  Be sure to listen today!
More information about This week's Special Guest:
Ilyssa Panitz is a Divorce Journalist/Columnist. 
Ilyssa writes a daily column on "Authority Magazine" on Medium called, "5 Things You Need to Know How to Survive and Thrive During & After A Divorce." Ilyssa also serves as the Content/Editorial Producer for The National Association of Divorce Professionals and is the Co-Host of "All Things Divorce" on Clubhouse every Wednesday & Sunday evenings. 
During the course of her career, Ilyssa has worked at: CNN, MSNBC, 1010 WINS Radio in NY, WCBS-AM, New York-1 News, Westwood One, Star Magazine, Closer Magazine, and Meredith Publishing. 
Among some of the big news events Ilyssa covered include: The Tony Awards, The MTV Movie Awards, the Television Network Upfronts, the 2012 Summer Olympic Games in London, The September 11th Attacks on America, The NBA Finals and the 1994/1995 Major League Baseball Strike. 
Ilyssa is best known for producing hundreds of Celebrity "At Home" photo shoots and sitting-down with some of the biggest names in Hollywood for "exclusive" one-on-one interviews. 
Follow Ilyssa on social media:
Instagram:  @ilyssapanitz
Facebook:  https://www.facebook.com/ilyssa.panitzlipschultz
Twitter:  @ilyssapanitz
**********************
SUSAN GUTHRIE, ESQ., the creator and host of The Divorce and Beyond Podcast, is nationally recognized as one of the top family law and divorce mediation attorneys in the country.  She is one of the Co-Chair's of the American Bar Association's DR Section Mediation Committee and is the Founder of Divorce in a Better Way which provides a curated selection of resources and information for those facing divorce and other life changes.  Susan has created a website of curated resources for those facing divorce.  Find out more at www.divorceinabetterway.com.
*****************************************************************************
THANK YOU TO OUR SPONSOR!!
As the Experts in Remote Alcohol Monitoring Technology, Soberlink combines a breathalyzer with wireless connectivity and is the only system with facial recognition, tamper detection, and Advanced Reporting™. The real-time system reduces litigation, fosters peace of mind, and ensures child safety. 
SPECIAL OFFER:  For a limited time, get an exclusive $50 off your device by emailing info@soberlink.com and mentioning Divorce and Beyond.
*********************************************
 THE DIVORCE & BEYOND MEMBERS ONLY COMMUNITY IS LIVE!!
Subscribe now for only $10 per month and take your Divorce & Beyond experience BEYOND!!
D & B Members Only will receive a number of benefits including:
Ad and Interruption Free Podcast Archive
BONUS Members Only Podcast Episodes monthly
Downloadable Worksheets, Spreadsheets and Other Forms 
Access to the "Ask Susan Anything" Forum where you can ask your questions and learn from the answers to others.
*****************************************************************************
SPONSORSHIP OPPORTUNITIES AVAILABLE!
If you would like to sponsor the show please reach out to us at  divorceandbeyondpod@gmail.com for pricing and details!!!
*********************************************************************
Remember to follow Susan Guthrie and THE DIVORCE AND BEYOND PODCAST on social media for updates and inside tips and information:
Susan Guthrie on Facebook @susanguthrieesq
Susan on Instagram @susanguthrieesq
Susan on Twitter @guthrielaw
Divorce & Beyond Podcast on Instagram @divorceandbeyond
Divorce & Beyond Podcast on Twitter @DivorceBeyond
If you want to see the video version of the podcast episodes they are available on The Divorce & Beyond YouTube Channel!  Make sure to LIKE and SUBSCRIBE so you don't miss a single episode!
Finally, we'd really appreciate it if you would  give us a 5 Star Rating and tell us what you like about the show in a review - your feedback really matters to us! 
You can get in touch with Susan at divorceandbeyondpod@gmail.com. 
Don't forget to visit the webpage www.divorceandbeyondpod.com and sign up for the free NEWSLETTER to receive a special welcome video from Susan and more!!
*****************************************************************************
DISCLAIMER:  THE COMMENTARY AND OPINIONS AVAILABLE ON THIS PODCAST ARE FOR INFORMATIONAL AND ENTERTAINMENT PURPOSES ONLY AND NOT FOR THE PURPOSE OF PROVIDING LEGAL ADVICE.  YOU SHOULD CONTACT AN ATTORNEY IN YOUR STATE TO OBTAIN LEGAL ADVICE WITH RESPECT TO ANY PARTICULAR ISSUE OR PROBLEM