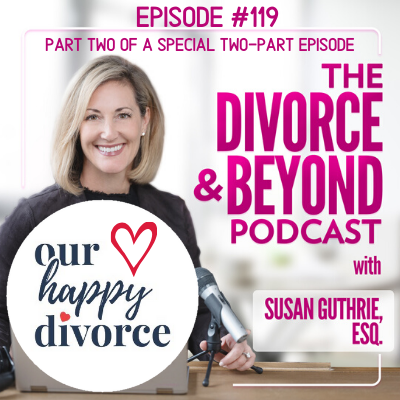 The Unicorn Divorce: How Ending Their Marriage Brought Them Together with the Authors of "Our Happy Divorce", Nikki DeBartolo and Benjamin Heldfond on The Divorce & Beyond Podcast PART TWO #119
Apr 20th, 2020 by divorceandbeyond
On this week's episode, which is Part Two of a Special Two-Part Episode, Susan Guthrie, nationally recognized family law attorney and mediator, continues her conversation with Nikki DeBartolo and Benjamin Heldfond, the authors of "Our Happy Divorce: How Ending Our Marriage Brought Us Together" which shares their journey through marriage, divorce and finding a different kind of love.
"Our Happy Divorce" - Now that you have listened to Part One of this interview (If you haven't heard it yet, click here) , I know that you too must be a huge fan of  Nikki and Ben's story and there is so much more to hear!  In Part One, we heard their unusual path to create their own definition of divorce and how they measured every decision that they made by the phrase "What's best for Asher?"  Now, in Part Two, Nikki DeBartolo and Benjamin Heldfond share the details of their journey after the divorce was final and they both moved into new relationships and a new relationship with each other.  As Ben says in the episode, "if Nikki and I can do it, then anyone can do it!"  Find out how they made it all work and hear how things are now, 13 years down the road.  You will be inspired - Listen now!
Highlights from this episode:
Nikki and Ben hit a major roadblock soon after the divorce was final - find out what that was and how they handled it.
How have Ben and Nikki continued to measure everything by "What's best for Asher as they moved into their new lives?"
How did Nikki and Nadia meet for the first time, and what role did Asher play in the introduction?
What did Chad do that won Ben over?
Why is the last chapter of the book so significant?
Ben and Nikki forged their own path through divorce and created a new and lasting love, relationship and family.  Listen to this episode to find out how you can do the same!
More about Nikki and Ben: From weeknight dinners and homework sessions with their son to Christmas card photos and vacations, Nikki DeBartolo and Benjamin Heldfond have created a tight-knit, enviable family. They work and play well together, from the smallest daily tasks to the biggest life events—and it only took a divorce to get them there. Though their marriage has been over for nearly a decade, they still share a happy life with each other and their son Asher, along with their new amazing spouses and children.
Nikki knows how being supported by a strong, loving family can influence the way a person navigates life, love, marriage, and motherhood. Having grown up as a member of the iconic San Francisco 49ers football family, she was thrown into the limelight at a young age. The values her family instilled in her have helped shape who she is today, and she continues to live by them.
Ben intimately understands the detriment divorce can cause in the lives of children. The example of his parents' divorce instilled in him a deep commitment to do better by his own kids. Ben is an investor, board member, philanthropist, golfer, and sports enthusiast. But above all, he is a dedicated father and family man who understands the importance of putting his ego aside and his children first.
You can find out more about Our Happy Divorce, Ben and Nikki at www.ourhappydivorce.com
Follow Our Happy Divorce on Instagram, Twitter and Facebook.
Buy the Book on Amazon or on the website www.ourhappydivorce.com. 
You can also reach out to Ben and Nikki for a FREE COPY of the book - just mention The Divorce & Beyond Podcast!  The best way to reach them is to DM them on Instagram at @ourhappydivorce.
Read the Our Happy Divorce Guest Blog on Gabrielle Hartley's Better Apart website!
******************************************************************** 
 SUSAN GUTHRIE, ESQ., the creator and host of The Divorce and Beyond Podcast, is nationally recognized as one of the top family law and divorce mediation attorneys in the country.  She is one of the Co-Chair's of the American Bar Association's DR Section Mediation Committee and is the Founder of Divorce in a Better Way which provides a curated selection of resources and information for those facing divorce and other life changes.  Susan also provides legal coaching and divorce mediation services to select clients around the world through an online platform.  Find out more at www.divorceinabetterway.com.
****************************************************************************
THANK YOU TO OUR SPONSORS: 
Gabrielle Hartley, the Creator of the Better Apart Method:  Leading divorce lawyer, coach and mediator, Gabrielle Hartley's book book "Better Apart: The Radically Positive Way to Separate" is a runaway best-seller and now she has created the Better Apart Master Class, available for download online, which provides powerful tools to help you get clear, feel better and reclaim your life!  For a limited time you will receive a mini consultation with Gabrielle herself when you sign up for the Master Class.  Listeners of the podcast receive $25 off the price of the Master Class with code "BEYOND25"!!!
For Divorce Professionals:  As one of the country's leading experts in online mediation, Susan is now sharing her expertise and knowledge and offering her ONLINE MEDIATION TRAINING PROGRAM which will show you how to implement an online platform into to your existing practice in just two short one-hour online sessions!  Increase your potential client base, convenience and income by learning the ethical and practical considerations to know when mediating online!  Find out more at www.learntomediateonline.com and mention you are a listener of the Divorce and Beyond Podcast to get $50 off the cost of the 1:1 training! 
If you would like to sponsor the show please reach out to us at  divorceandbeyondpod@gmail.com for pricing and details!!!
********************************************************************
Don't forget to check out the Divorce & Beyond Podcast website at www.divorceandbeyondpod.com where you can find all of our episodes, links to sponsors and special offers and SIGN UP FOR THE FREE NEWSLETTER and Receive a Special Welcome Video from Susan!
Remember to follow Susan Guthrie and THE DIVORCE AND BEYOND PODCAST on social media for updates and inside tips and information:
Susan Guthrie on Facebook @Susan Guthrie
Susan on Instagram @susanguthrieesq
Susan on Twitter @guthrielaw
Divorce & Beyond Podcast on Instagram @divorceandbeyond
Divorce & Beyond on Twitter @DivorceBeyond
If you want to see the video version of the podcast episodes they are available on The Divorce & Beyond YouTube Channel!  Make sure to LIKE and SUBSCRIBE so you don't miss a single episode!
Finally, we'd really appreciate it if you would  give us a 5 Star Rating and tell us what you like about the show in a review - your feedback really matters to us!  You can also get in touch with Susan at divorceandbeyondpod@gmail.com.
****************************************************************************
DISCLAIMER:  THE COMMENTARY AND OPINIONS AVAILABLE ON THIS PODCAST ARE FOR INFORMATIONAL AND ENTERTAINMENT PURPOSES ONLY AND NOT FOR THE PURPOSE OF PROVIDING LEGAL ADVICE.  YOU SHOULD CONTACT AN ATTORNEY IN YOUR STATE TO OBTAIN LEGAL ADVICE AND COUNSEL.
Share
|
Download