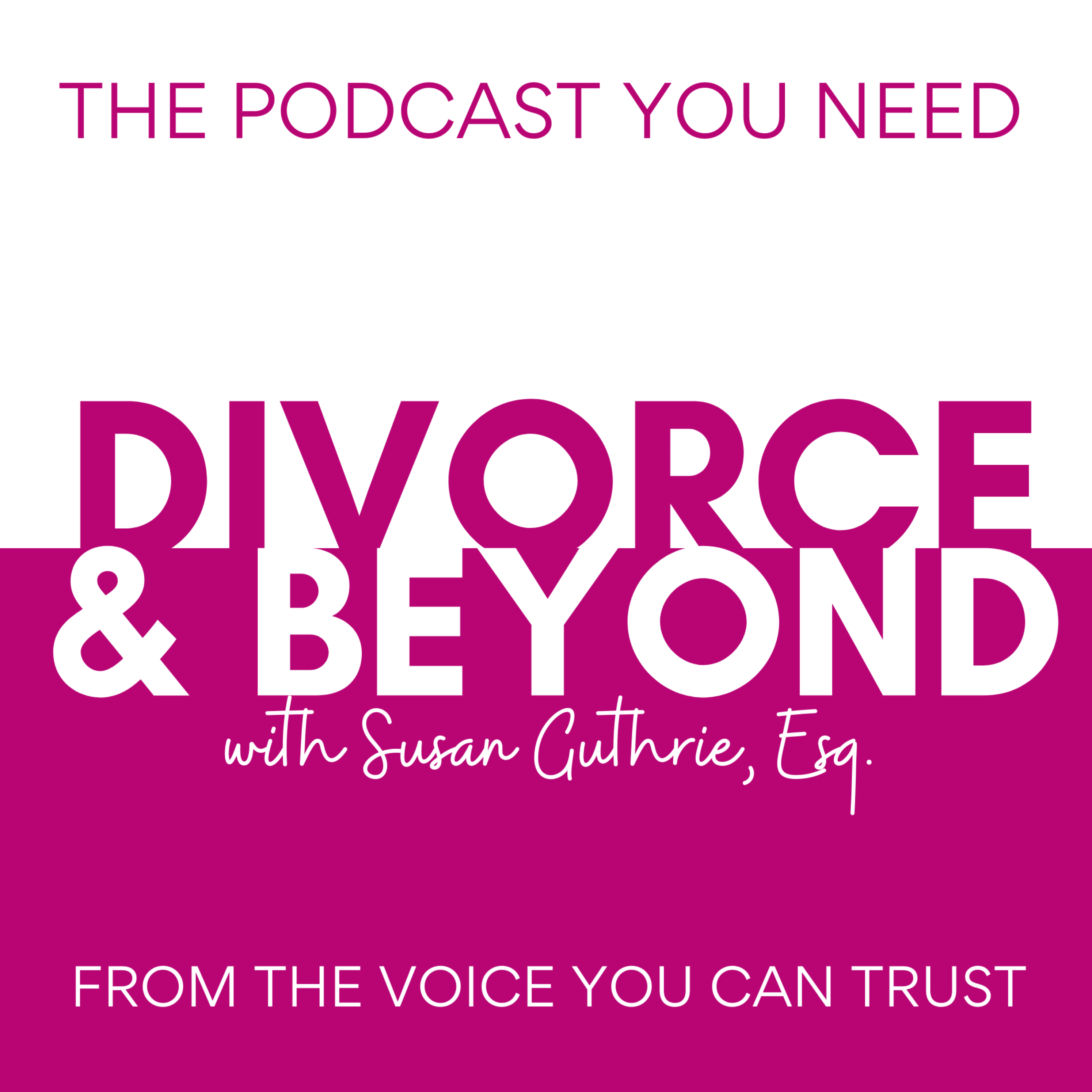 Nationally recognized family law attorney, mediator and award-winning podcaster, Susan Guthrie is at it again! After guiding countless numbers of people through the perilous world of divorce—and speaking to a podcast audience of over 4 million listeners—she's bringing you the "The Divorce & Beyond Podcast" to help you thrive in your life BEYOND divorce!
Episodes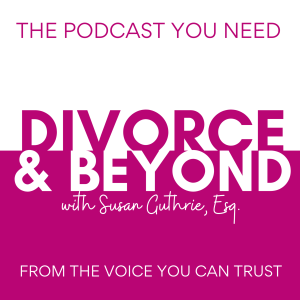 Monday May 15, 2023
Monday May 15, 2023
This week on Divorce & Beyond, Susan Guthrie, Esq, welcomes Rosemarie Ferrante to discuss what a "no-fault divorce" means and why it's a good thing! 
No fault divorce exists for a reason and benefits society in many ways. All 50 states and the District of Columbia have no-fault laws. However, some conservative states, such as Texas, are pushing to repeal them. 
Rosemarie Ferrante joins Susan Guthrie, Esq. for an important conversation about no-fault grounds for divorce, what it means, and what the impact would be if it were removed from the law books. 
Topics and Golden Nuggets include:
The benefits of no-fault divorce include the ability to de-escalate conflict. 

The difference between no-fault grounds for divorce and fault

Fault does NOT impact the division of assets, nor does it affect custodial rights

If no-fault divorce is revoked, it will have dire impacts 

Why Texas legislation that seeks to abolish no-fault divorce is alarming

How to advocate for keeping no-fault divorce in legislation 
****************************************
About this week's special guests: Rosemarie Ferrante
Rosemarie Ferrante is a family attorney who has been practicing exclusively family law for over 25 years. She focuses her practice on non-adversarial divorce through mediation and the collaborative divorce processes. Rosemarie's goal is to make a positive impact on the divorce process by giving couples the resources and tools they need to help their family transition smoothly through the restructuring of their family.
Rosemarie founded Divorce Resource CT to provide public education and awareness and support to those contemplating divorce. In partnership with Hollis Hardiman, CDFA, she offers education, support and wellness workshops for individuals not only contemplating divorce, but also for those going through the process, as well as those seeking post-divorce information. The workshops are presented by herself and Hollis and various esteemed mental health professionals and are offered throughout Fairfield County, CT and online.
Rosemarie is Vice President of CCND, The Connecticut Council for Non Adversarial Divorce, the statewide non-profit professional organization of Connecticut mediators and collaborative divorce practitioners. She is a member of the Academy of Professional Family Mediators (APFM) and the International Academy of Collaborative Professionals (IACP). She is a founding chapter leader of the National Association of Divorce Professionals (NADP), the first national organization that unites professionals who serve clients going through all stages of the divorce process. Her bar association memberships include the American Bar Association (Family Law section), the Connecticut Bar Association (CBA), including the Alternate Dispute Resolution (ADR) and Family Law sections, the Danbury Bar Association and the Fairfield County Bar Association.
Rosemarie is a frequent guest on podcasts where she discusses the benefits of an integrative divorce process in which a team of interdisciplinary professionals best suited for the individual family guides the family through the divorce process to ensure a positive post-divorce co-parenting and financial life. She co-edited a book on divorce in Connecticut, "Divorce and Separation, Connecticut Edition" available on Amazon.
She earned her bachelor's degree from Cornell University in 1993 and her law degree from Brooklyn Law School in 1996, where she was Primary Notes & Comments Editor of the Brooklyn Law Review. She was admitted to the Connecticut Bar in 1996 and the New York Bar in 1997.
Rosemarie's website: www.divorcemediationct.com
Rosemarie on Facebook: https://www.facebook.com/divorcemediationct
Rosemarie on LinkedIn: https://www.linkedin.com/in/rosemarieferrantedivorceprofessional
Rosemarie on Instagram: https://www.instagram.com/divorcemediationct
Mentioned in this episode:
Why Divorcing with Respect is Your Key to a Better BEYOND with CCND's Deborah Noonan and Jennifer Luise Champagne of CCND
Divorce and Separation - Connecticut Edition
TikTok About Texas Legislation that Seeks to Abolish No-Fault Divorce
*****************************************
Your divorce, your way. 
Say hello to an easier, kinder, and less expensive divorce. 
They can handle almost every divorce without a court for thousands less than hiring a lawyer. 
Easy, quick online divorce process 

We review, file, and serve for you 

Expert legal and financial help as you go 
Get more information, resources, and support at hellodivorce.com/beyond and receive $100 off your service with the code BEYOND!  Visit hellodivorce.com/beyond for $100 OFF!
___________
HOLLIS HARDIMAN

Regardless of where you are in the divorce process, Hollis can provide the insights and tools to make informed decisions and secure your financial future. 
Schedule your complimentary consultation with Hollis by emailing hhardiman@meritfa.com. Be sure to tell her you heard about her on Divorce & Beyond. 
*********************************************************************
SPONSORSHIP OPPORTUNITIES ARE AVAILABLE!  https://divorcebeyond.com/Sponsorship-Info
*******************************************************************
MEET OUR CREATOR AND HOST:
SUSAN GUTHRIE®, ESQ., the creator and host of The Divorce and Beyond® Podcast, is nationally recognized as one of the top family law and divorce mediation attorneys in the country.  Susan is the Vice Chair of the American Bar Association Section of Dispute Resolution and is a sought-after keynote speaker, business and practice consultant, coach and trainer. You can find out more about Susan and her services here:  https://neon.page/susanguthrie
Internationally renowned as one of the leading experts in online mediation, Susan created her Learn to Mediate Online® program and has trained more than 25,000 professionals in how to transition their practice online.  Susan recently partnered with legal and mediation legend, Forrest "Woody" Mosten to create the Mosten Guthrie Academy which provides gold-standard, fully online training for mediation and collaborative professionals at all stages of their careers.  
Follow Susan Guthrie and THE DIVORCE AND BEYOND PODCAST on social media for updates and inside tips and information:
Susan on LinkedIn: https://www.linkedin.com/in/susaneguthrie/
Susan on Instagram @susanguthrieesq
*********************************************************************
We'd really appreciate it if you would give us a 5 Star Rating and tell us what you like about the show in a review - your feedback really matters to us! 
You can get in touch with Susan at divorceandbeyondpod@gmail.com. 
Don't forget to visit the webpage www.divorceandbeyondpod.com and sign up for the free NEWSLETTER to receive a special welcome video from Susan and more!!
*********************************************************************
DISCLAIMER:  THE COMMENTARY AND OPINIONS AVAILABLE ON THIS PODCAST ARE FOR INFORMATIONAL AND ENTERTAINMENT PURPOSES ONLY AND NOT FOR THE PURPOSE OF PROVIDING LEGAL ADVICE.  YOU SHOULD CONTACT AN ATTORNEY IN YOUR STATE TO OBTAIN LEGAL ADVICE WITH RESPECT TO ANY PARTICULAR ISSUE OR PROBLEM.