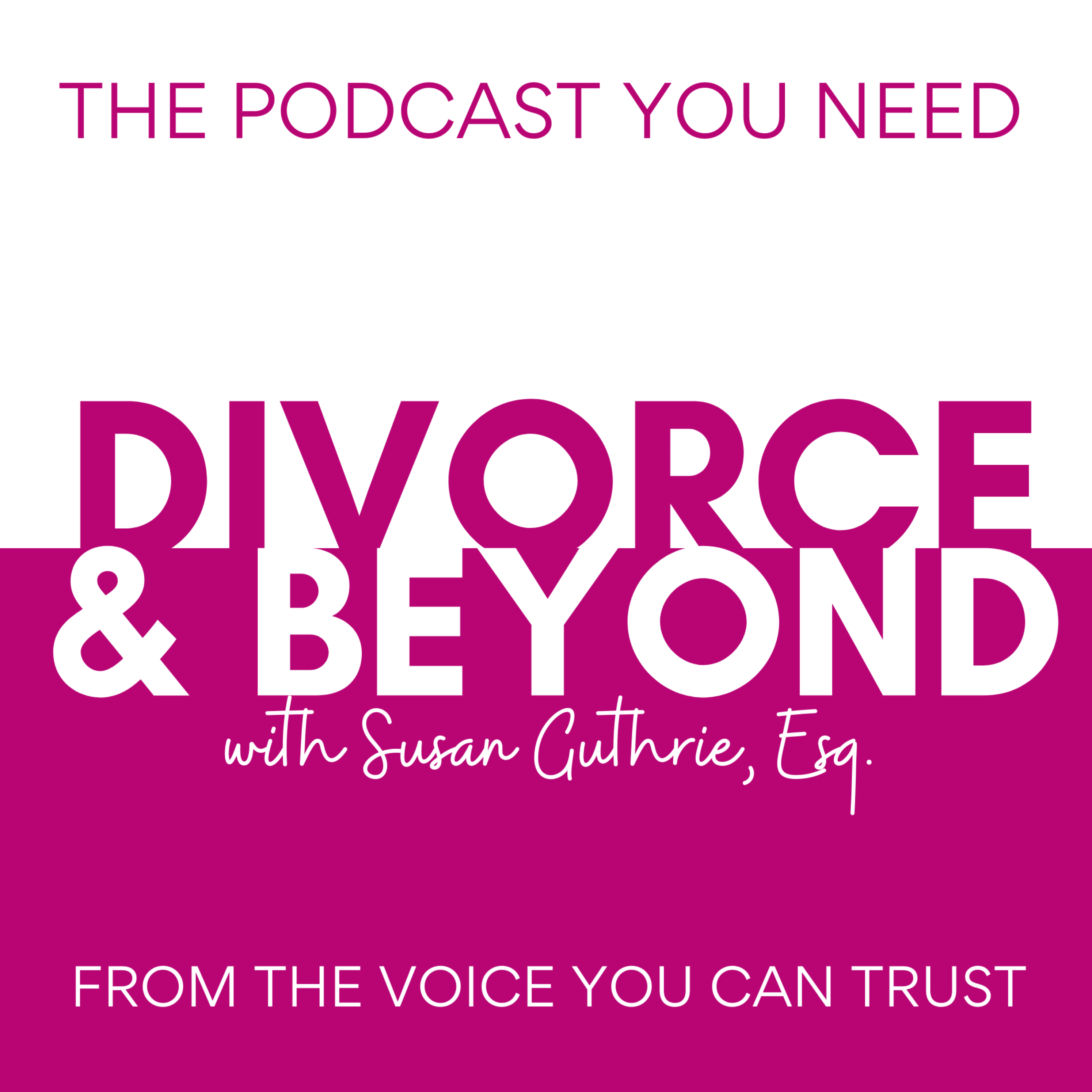 Nationally recognized family law attorney, mediator and award-winning podcaster, Susan Guthrie is at it again! After guiding countless numbers of people through the perilous world of divorce—and speaking to a podcast audience of over 4 million listeners—she's bringing you the "The Divorce & Beyond Podcast" to help you thrive in your life BEYOND divorce!
Episodes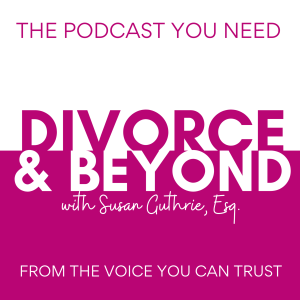 Monday Sep 25, 2023
Monday Sep 25, 2023
The Champion of Change, Jenny Stevens, re-joins Susan Guthrie on this week's episode of Divorce & Beyond!  Jenny shares insights and lessons learned from her devastatingly difficult year. She opens up about how she weathered the changes and came out on the other side stronger, happier, and ready to help you navigate your life as it goes in new directions.
Jenny Stevens is a professional clinical counselor and Personal and Professional Coach. Having personally gone through her share of difficult life changes, she has gained tremendous insight into how change affects your life and how to keep moving forward. Her calling is to help people fully realize and design a life they love despite many challenges. 
Topics and Golden Nuggets include:

Resistance to change is normal, but you have to learn how to face it

Jenny opens up about the life-altering challenges she faced in 2022 

Why Jenny says it is important to allow people to support you and be there for you during difficult times

Some changes

do

alter the way you move through the world.
****************************************
About this week's special guest: Jenny Stevens

Having personally gone through her share of difficult life changes, Jenny Stevens has gained tremendous insight into how change affects your life and how to keep moving forward. Her calling is to help people fully realize and design a life they love despite life's many challenges. She is a professional clinical counselor and now a Personal and Professional Coach. She brings an honest, approachable, no-BS style to her client interactions. She cares deeply about helping others and supporting her clients to make the changes that they have always wanted but weren't equipped with the right tools to make happen.
Jenny's credentials include:
Masters in Professional Counseling at Argosy Chicago 

B.A. in Health and Fitness Promotion from Texas Christian University 

Mediation Skills Training from Northwestern University

Licensed Clinical Professional Counselor by the State of Illinois



She is now the owner and founder of Jenny Stevens Coaching, offering personal and professional coaching to individuals looking to make positive change.
Jenny's website: http://jennystevenscoach.com
Reach out to Jenny at: jenny@jennystevenscoach.com

Jenny on Instagram: http://instagram.com/jennystevenscoach
*****************************************
Your divorce, your way. 
Say hello to an easier, kinder, and less expensive divorce. 
They can handle almost every divorce without a court for thousands less than hiring a lawyer. 
Easy, quick online divorce process 

We review, file, and serve for you 

Expert legal and financial help as you go 
Get more information, resources, and support at hellodivorce.com/beyond and receive $100 off your service with the code BEYOND!  Visit hellodivorce.com/beyond for $100 OFF!
________________________
Have you discovered the "Her Empowered Divorce podcast" with Beverly Price yet? With over 30 years as a leading women's divorce and empowerment coach, Beverly is the empowering divorce coach who guides women on their journey before, during and after divorce to eliminate pain, overwhelm, and anger, make fewer mistakes and create more knowledge, skill and happiness than she experienced herself. She interviews industry leading guests who bring helpful insights and actionable tips to help you through the challenging times of your divorce. No matter where you are in this journey, "Her Empowered Divorce" is here for you. Listen to the fascinating episodes of "Her Empowered Divorce" at https://www.herempowereddivorce.com and be empowered!🌟

*********************************************************************
SPONSORSHIP OPPORTUNITIES ARE AVAILABLE!  https://divorcebeyond.com/Sponsorship-Info
*******************************************************************
MEET OUR CREATOR AND HOST:
SUSAN GUTHRIE®, ESQ., the creator and host of The Divorce and Beyond® Podcast, is nationally recognized as one of the top family law and divorce mediation attorneys in the country.  Susan is the Vice Chair of the American Bar Association Section of Dispute Resolution and is a sought-after keynote speaker, business and practice consultant, coach and trainer. You can find out more about Susan and her services here:  https://neon.page/susanguthrie
Internationally renowned as one of the leading experts in online mediation, Susan created her Learn to Mediate Online® program and has trained more than 25,000 professionals in how to transition their practice online.  Susan recently partnered with legal and mediation legend, Forrest "Woody" Mosten to create the Mosten Guthrie Academy which provides gold-standard, fully online training for mediation and collaborative professionals at all stages of their careers.  
Follow Susan Guthrie and THE DIVORCE AND BEYOND PODCAST on social media for updates and inside tips and information:
Susan on LinkedIn: https://www.linkedin.com/in/susaneguthrie/
Susan on Instagram @susanguthrieesq
*********************************************************************
We'd really appreciate it if you would give us a 5 Star Rating and tell us what you like about the show in a review - your feedback really matters to us! 
You can get in touch with Susan at divorceandbeyondpod@gmail.com. 
Don't forget to visit the webpage www.divorceandbeyondpod.com and sign up for the free NEWSLETTER to receive a special welcome video from Susan and more!!
*********************************************************************
DISCLAIMER:  THE COMMENTARY AND OPINIONS AVAILABLE ON THIS PODCAST ARE FOR INFORMATIONAL AND ENTERTAINMENT PURPOSES ONLY AND NOT FOR THE PURPOSE OF PROVIDING LEGAL ADVICE.  YOU SHOULD CONTACT AN ATTORNEY IN YOUR STATE TO OBTAIN LEGAL ADVICE WITH RESPECT TO ANY PARTICULAR ISSUE OR PROBLEM.