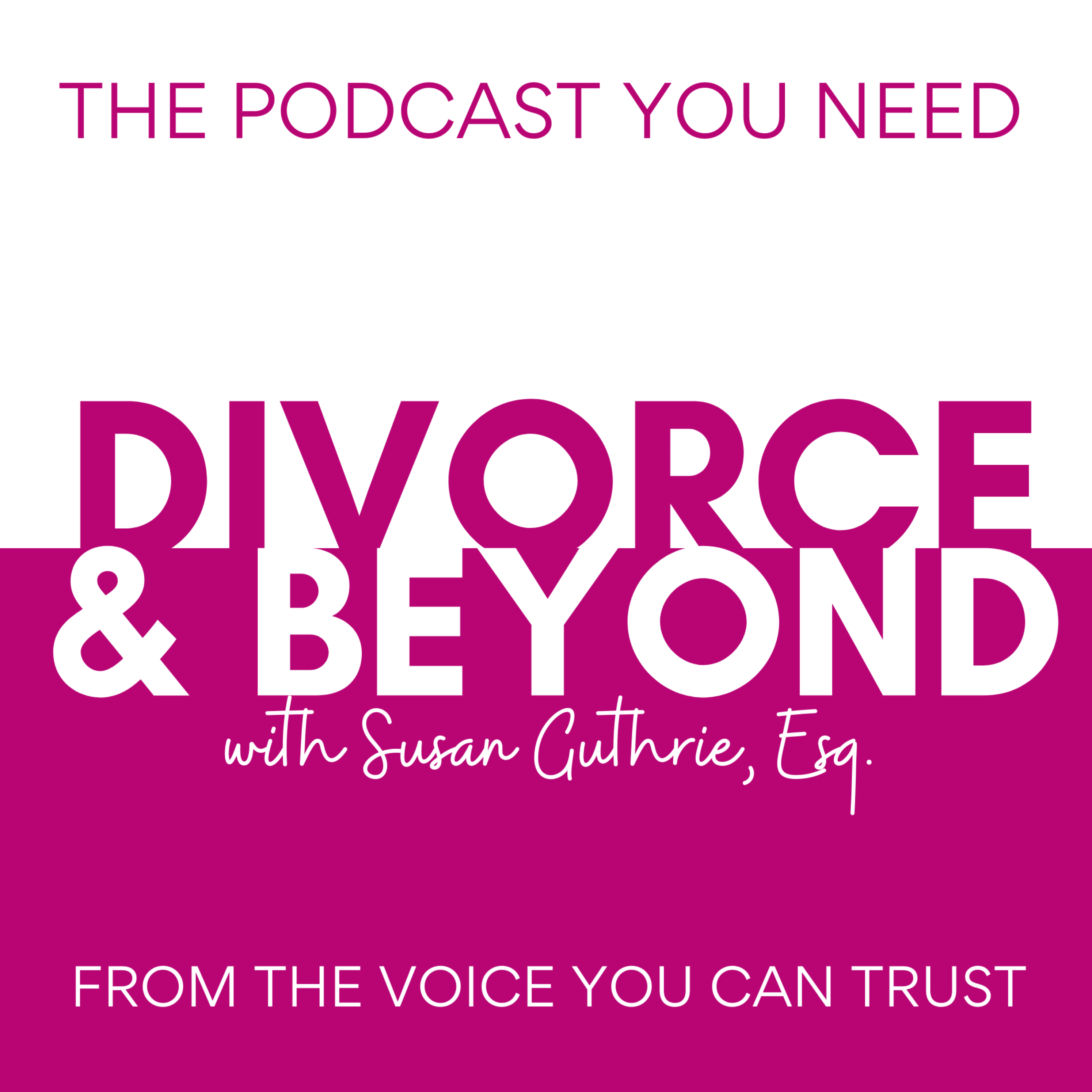 Nationally recognized family law attorney, mediator and award-winning podcaster, Susan Guthrie is at it again! After guiding countless numbers of people through the perilous world of divorce—and speaking to a podcast audience of over 4 million listeners—she's bringing you the "The Divorce & Beyond Podcast" to help you thrive in your life BEYOND divorce!
Episodes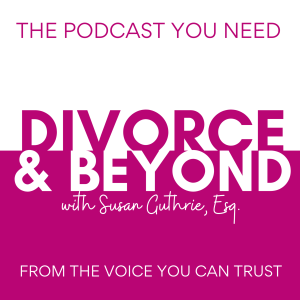 Monday Jul 17, 2023
Monday Jul 17, 2023
This week on Divorce & Beyond, Susan Guthrie, Esq., invites Author Andy Heller to talk about taking the high road in your divorce and how it allows you to divorce with compassion for your family and yourself. 
Andy offers a masterful perspective on navigating the divorce process. Andy's book "Take the High Road, Divorce with Compassion for Yourself and Your Family" shares forty-six tools, tips, and strategies. The book is his give back to make the divorce process easier for those considering or on the divorce path.
Andy is a successful businessman, not a divorce professional. While navigating through his own divorce, he read countless support books to help him navigate the process. While helpful, Andy identified a crucial hole in the self-help space for men and women navigating divorce.
Topics and Golden Nuggets include:
What Andy means by "take the high road" in divorce

"Always tell the truth and avoid playing games."

How to help your children manage life changes and communication guidelines when your child is with their co-parent

Don't forget about your own needs when divorcing. Self-care is the most critical when you are going through a stressful time. 

Beware of the two categories of advice givers - know who to listen to and who to not listen to!

Healthy dealings with your ex: "Put on an imaginary rubber suit." 
****************************************
About this week's special guest: Andy Heller
Andy Heller is a successful businessman and not a divorce professional such as a divorce attorney, mediator, therapist, co-parenting counselor, or the host of other professionals that support and service those going through divorce. Among his professional accomplishments, Andy co-authored two best-selling real estate investment books in the 2000s. While the books were well received, Andy had no interest in writing another book.
That decision changed after his own divorce.
While navigating through his own divorce Andy read countless support books to help him navigate through the process. While helpful, Andy identified a crucial hole in the self-help space for men and women navigating through divorce. Andy's book "Take the High Road, Divorce with Compassion for Yourself and Your Family" is his give back with a stated goal of making the divorce process easier for those who are considering or who are on the divorce path.
Several factors make his book truly groundbreaking. First, Andy brings a businessman's objective perspective into his counsel. Andy interviewed attorneys, divorcees, therapists, co-parenting counselors, mediators, special masters, and others to arrive at advice and guidance from the leading industry experts. Andy presents the guidance in 46 strategies, tools, and tips that armed with the experience and counsel of these experts, the readers can themselves, hopefully their former spouses, and most importantly their children land in a healthier place in the months and years after the conclusion of their divorces.
Andy's book: Take the High Road, Divorce with Compassion for Yourself and Your Family

Andy on Facebook: https: /www.facebook.com/takethehighroadbook
Andy on Instagram: https: /www.instagram.com/andyhheller/
*****************************************
Thriving in divorce and beyond means not having to worry about the safety of your children when it comes to co-parenting. With alcohol abuse on the rise, many co-parents are turning to the system committed to providing proof, protection, and peace of mind. Soberlink's alcohol monitoring system is the most convenient, reliable, and reasonable way for a parent to provide evidence that they are not drinking during parenting time.
Soberlink's real-time alerts, facial recognition, and tamper detection ensure the integrity of each test, so you can be confident your kids are with a sober parent. With Soberlink, judges rest assured that your child is safe, attorneys get court-admissible evidence of sobriety, and both parents have empowerment and peace of mind. 
Pull back the curtain on the mysteries of parenting time and trust The Experts in Remote Alcohol Monitoring Technology™ to keep you informed and your kids safe and secure. To download the addiction and children resource page that I developed with Soberlink, visit www.Soberlink.com/Susan  
*********************************************************************
SPONSORSHIP OPPORTUNITIES ARE AVAILABLE!  https://divorcebeyond.com/Sponsorship-Info
*******************************************************************
MEET OUR CREATOR AND HOST:
SUSAN GUTHRIE®, ESQ., the creator and host of The Divorce and Beyond® Podcast, is nationally recognized as one of the top family law and divorce mediation attorneys in the country.  Susan is the Vice Chair of the American Bar Association Section of Dispute Resolution and is a sought-after keynote speaker, business and practice consultant, coach and trainer. You can find out more about Susan and her services here:  https://neon.page/susanguthrie
Internationally renowned as one of the leading experts in online mediation, Susan created her Learn to Mediate Online® program and has trained more than 25,000 professionals in how to transition their practice online.  Susan recently partnered with legal and mediation legend, Forrest "Woody" Mosten to create the Mosten Guthrie Academy which provides gold-standard, fully online training for mediation and collaborative professionals at all stages of their careers.  
Follow Susan Guthrie and THE DIVORCE AND BEYOND PODCAST on social media for updates and inside tips and information:
Susan on LinkedIn: https://www.linkedin.com/in/susaneguthrie/
Susan on Instagram @susanguthrieesq
*********************************************************************
We'd really appreciate it if you would give us a 5 Star Rating and tell us what you like about the show in a review - your feedback really matters to us! 
You can get in touch with Susan at divorceandbeyondpod@gmail.com. 
Don't forget to visit the webpage www.divorceandbeyondpod.com and sign up for the free NEWSLETTER to receive a special welcome video from Susan and more!!
*********************************************************************
DISCLAIMER:  THE COMMENTARY AND OPINIONS AVAILABLE ON THIS PODCAST ARE FOR INFORMATIONAL AND ENTERTAINMENT PURPOSES ONLY AND NOT FOR THE PURPOSE OF PROVIDING LEGAL ADVICE.  YOU SHOULD CONTACT AN ATTORNEY IN YOUR STATE TO OBTAIN LEGAL ADVICE WITH RESPECT TO ANY PARTICULAR ISSUE OR PROBLEM.