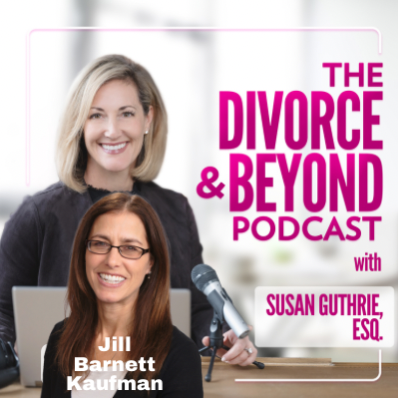 What Now? A Step-By-Step Guide to Starting Your Divorce withTherapist, Coach and Author, Jill Barnett Kaufman on The Divorce & Beyond Podcast with Susan Guthrie, Esq. #146
Oct 26th, 2020 by divorceandbeyond
In this episode, Susan Guthrie speaks with Therapist, Coach and Author, Jill Barnett Kaufman who provides her top tips to help you get your divorce started off on the right foot.
The decision to get a divorce often takes a long time to arrive at and then you hit the "WHAT NOW?" phase. The divorce process can be intimidating and many people feel overwhelmed as they try to determine the best way to navigate the process. Jill Barnett Kaufman, a therapist, mediator and coach just released her book, "I'm Getting Divorced, Now What?" that will help you figure it all out. Jill, who admits to making mistakes in her own divorce, shares a step-by-step starter guide to get you moving forward without making the mistakes she made. This episode has the perfect combination of personal insights and professional expertise so that you can take control of your divorce and your life!
More Information on This Week's Special Guest:  Jill Barnett Kaufman is a therapist, divorce coach, author, divorce mediator and parent educator with over 20 years of experience helping hundreds of individuals and families work through the transitions of divorce with less stress, more confidence and a greater sense of peace. She is the mother of 3 adult children and am committed to helping families thrive through divorce. 
You can find out more and contact Jill at www.divorcecoachjill.com
Join Jill's Facebook Support Group at: https://www.facebook.com/groups/336970726708968/
Jill's Special Gift for Listeners:  10% off her next group coaching program  with coupon code
"DivorceandBeyond" 
****************************************************
SUSAN GUTHRIE, ESQ., the creator and host of The Divorce and Beyond Podcast, is nationally recognized as one of the top family law and divorce mediation attorneys in the country.  She is one of the Co-Chair's of the American Bar Association's DR Section Mediation Committee and is the Founder of Divorce in a Better Way which provides a curated selection of resources and information for those facing divorce and other life changes.  Find out more at www.divorceinabetterway.com.
*****************************************************************************
THANK YOU TO OUR SPONSOR!
As the Experts in Remote Alcohol Monitoring Technology, Soberlink combines a breathalyzer with wireless connectivity and is the only system with facial recognition, tamper detection, and Advanced Reporting™. The real-time system reduces litigation, fosters peace of mind, and ensures child safety. 
SPECIAL OFFER:  For a limited time, get an exclusive $50 off your device by emailing info@soberlink.com and mentioning Divorce and Beyond.
*****************************************************************************
SPONSORSHIP OPPORTUNITIES AVAILABLE!
If you would like to sponsor the show please reach out to us at  divorceandbeyondpod@gmail.com for pricing and details!!!
*********************************************************************
Remember to follow Susan Guthrie and THE DIVORCE AND BEYOND PODCAST on social media for updates and inside tips and information:
Susan Guthrie on Facebook
Susan on Instagram
Susan on Twitter
Divorce & Beyond Podcast on Instagram
Divorce & Beyond Podcast on Twitter
If you want to see the video version of the podcast episodes they are available on The Divorce & Beyond YouTube Channel!  Make sure to LIKE and SUBSCRIBE so you don't miss a single episode!
Finally, we'd really appreciate it if you would  give us a 5 Star Rating and tell us what you like about the show in a review - your feedback really matters to us! 
You can also get in touch with Susan at divorceandbeyondpod@gmail.com. She loves to hear from listeners and you might hear your comment or question on an upcoming episode!
Don't forget to visit the webpage www.divorceandbeyondpod.com and sign up for the free NEWSLETTER to receive a special welcome video from Susan and more!!
*****************************************************************************
DISCLAIMER:  THE COMMENTARY AND OPINIONS AVAILABLE ON THIS PODCAST ARE FOR INFORMATIONAL AND ENTERTAINMENT PURPOSES ONLY AND NOT FOR THE PURPOSE OF PROVIDING LEGAL ADVICE.  YOU SHOULD CONTACT AN ATTORNEY IN YOUR STATE TO OBTAIN LEGAL ADVICE WITH RESPECT TO ANY PARTICULAR ISSUE OR PROBLEM
Share
|
Download