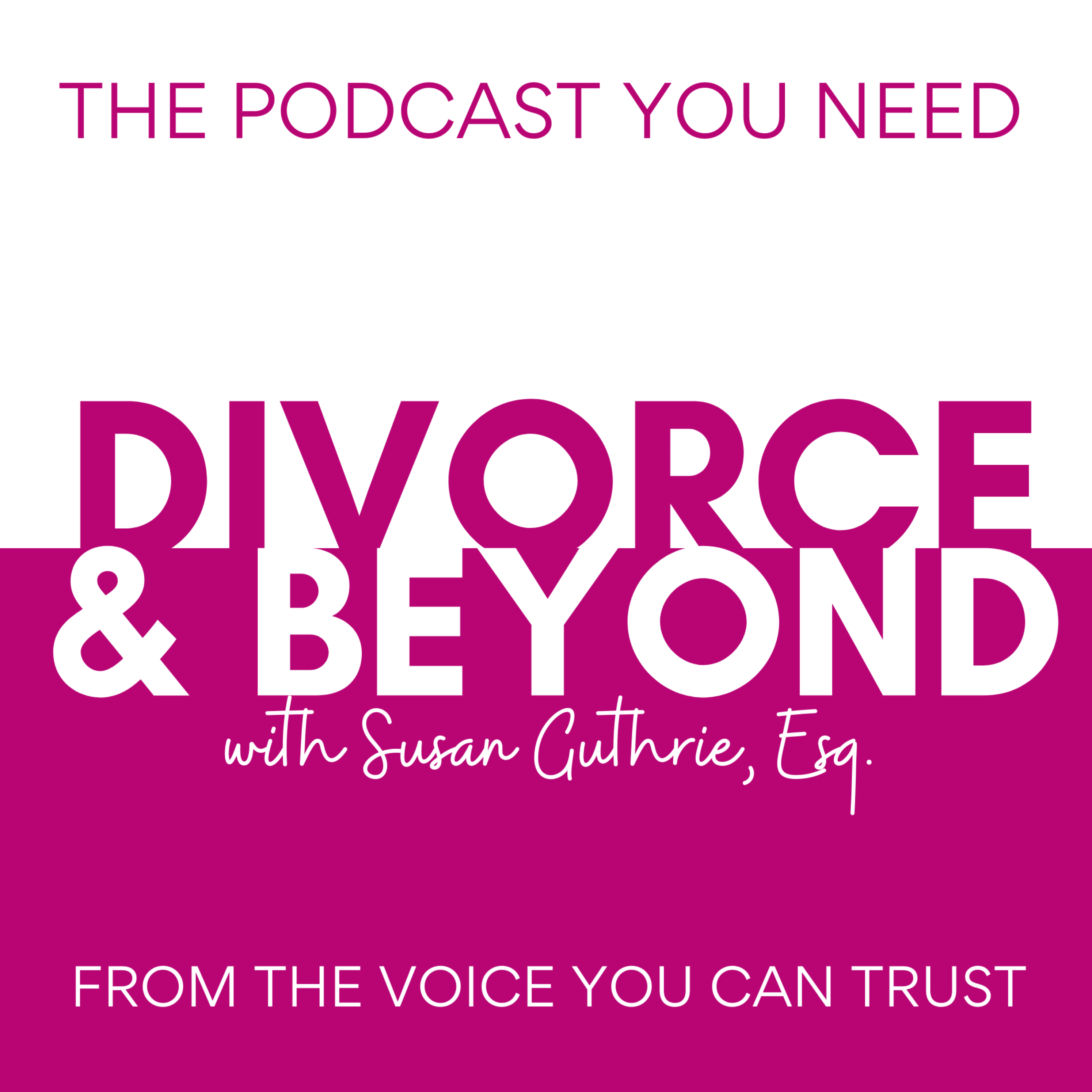 Nationally recognized family law attorney, mediator and award-winning podcaster, Susan Guthrie is at it again! After guiding countless numbers of people through the perilous world of divorce—and speaking to a podcast audience of over 4 million listeners—she's bringing you the "The Divorce & Beyond Podcast" to help you thrive in your life BEYOND divorce!
Episodes
Monday Jan 20, 2020
Monday Jan 20, 2020
In this episode, Susan Guthrie, top family law attorney and mediator, and the former host of Breaking Free: A Modern Divorce Podcast, speaks with America's Divorce Recovery Specialist, Wendy Sterling, about the ties that hold us back from moving forward from our divorce and how to get started with the necessary healing with Divorce Rehab.
Divorce is hard.  No one will argue with you about that but an unfortunate phenomena for many is that even when the divorce is finalized it can be hard to move on and forge a new path into the future.  In fact, so many individuals suffer from being "stuck" in their divorce, almost like an addiction, that Wendy Sterling has created her specialized "Divorce Rehab" program to help you heal and move on.  Like any rehab, tough love is needed and a gentle (or not so gentle) kick in the a$$ may be called for.  Wendy has become the country's leading Divorce Recovery Specialist by delivering that needed push along with critical support and she shares her top tips to get started with your recovery in this episode!  Take a listen now and start moving into your healthy new future today!
Wendy Sterling is a Divorce Recovery Specialist, a certified life coach, writer, author and speaker who founded The Divorce Rehab™ Program. Wendy helps divorced women recover from their divorce by helping them to remember who they are and what they are capable of by ending their pity party, mourning their marriage and MOVING FORWARD with dignity to see how much better life is afterwards.  She believes divorce can be an empowering experience that women go through to find their true identity and voice to create the life they want instead of the life they feel stuck with.  Wendy is a graduate from UCLA and a Certified Professional Co-Active Coach (CPCC) from The Co-Active Training Institute.  She is also an Associate Certified Coach (SCC) through International Coach Federation. Wendy is a divorced, single mom who transformed her own life from Corporate America employee to entrepreneur and currently lives in Sherman Oaks, CA with her two boys and dog.
You can find out more about Wendy and her FREE "Divorce Recovery Made Easier Summit," which starts on February 4, 2020, by visiting her website www.wendysterling.net.  
Wendy's Special Offer:  A FREE 15 minute personal Divorce Recovery Session with her can be accessed by clicking here!
********************************************************************
SUSAN GUTHRIE, ESQ., the creator and host of The Divorce and Beyond Podcast, is nationally recognized as one of the top family law and divorce mediation attorneys in the country.  She is one of the Co-Chair's of the American Bar Association's DR Section Mediation Committee and is the Founder of Divorce in a Better Way which provides a curated selection of resources and information for those facing divorce and other life changes.  Susan also provides legal coaching and divorce mediation services to select clients around the world through an online platform.  Find out more at www.divorceinabetterway.com.
*****************************************************************************
THIS WEEK'S SPONSOR INFORMATION:
HELLO DIVORCE: Hello Divorce is a first-of-it's-kind DIY divorce website that allows individuals in California to complete the necessary forms for divorce as well as provides invaluable help with informative videos, articles, affordable legal advice and services all in an online platform and easy to use app!  Listeners of The Divorce & Beyond Podcast can use the discount code "DIVORCEBEYOND" to receive $50 off the cost of any service or subscription!  Find out more at www.hellodivorce.com.
LEARN TO MEDIATE ONLINE:  As one of the leading online mediation experts in the country, Susan Guthrie has created a simple and efficient online training program that allows mediation professionals to quickly and easily add an online platform to their practice!  The two hour online program covers the basics of conducting mediations through an online platform like Zoom, and reviews the ethical and practical considerations that arise in this format.  You even receive a copy of, and the right to use, Susan's Online Mediation Guidelines and Ground Rules to make your online mediations even easier for mediator and clients alike!  Learn more at www.learntomediateonline.com or reach out to Susan directly at susan@learntomediateonline.com.  Listeners of The Divorce & Beyond Podcast receive $50 off the cost of the one-on-one training so be sure to mention that you heard about it here!
If you would like to sponsor the show please reach out to us at  divorceandbeyondpod@gmail.com for pricing and details!!!
*********************************************************************
Remember to follow Susan Guthrie and THE DIVORCE AND BEYOND PODCAST on social media for updates and inside tips and information:
Susan Guthrie on Facebook
Susan on Instagram
Susan on Twitter
Divorce & Beyond Podcast on Instagram
Divorce & Beyond Podcast on Twitter
If you want to see the video version of the podcast episodes they are available on The Divorce & Beyond YouTube Channel!  Make sure to LIKE and SUBSCRIBE so you don't miss a single episode!
Finally, we'd really appreciate it if you would  give us a 5 Star Rating and tell us what you like about the show in a review - your feedback really matters to us! 
You can also get in touch with Susan at divorceandbeyondpod@gmail.com.
*****************************************************************************
DISCLAIMER:  THE COMMENTARY AND OPINIONS AVAILABLE ON THIS PODCAST ARE FOR INFORMATIONAL AND ENTERTAINMENT PURPOSES ONLY AND NOT FOR THE PURPOSE OF PROVIDING LEGAL ADVICE.  YOU SHOULD CONTACT AN ATTORNEY IN YOUR STATE TO OBTAIN LEGAL ADVICE WITH RESPECT TO ANY PARTICULAR ISSUE OR PROBLEM.