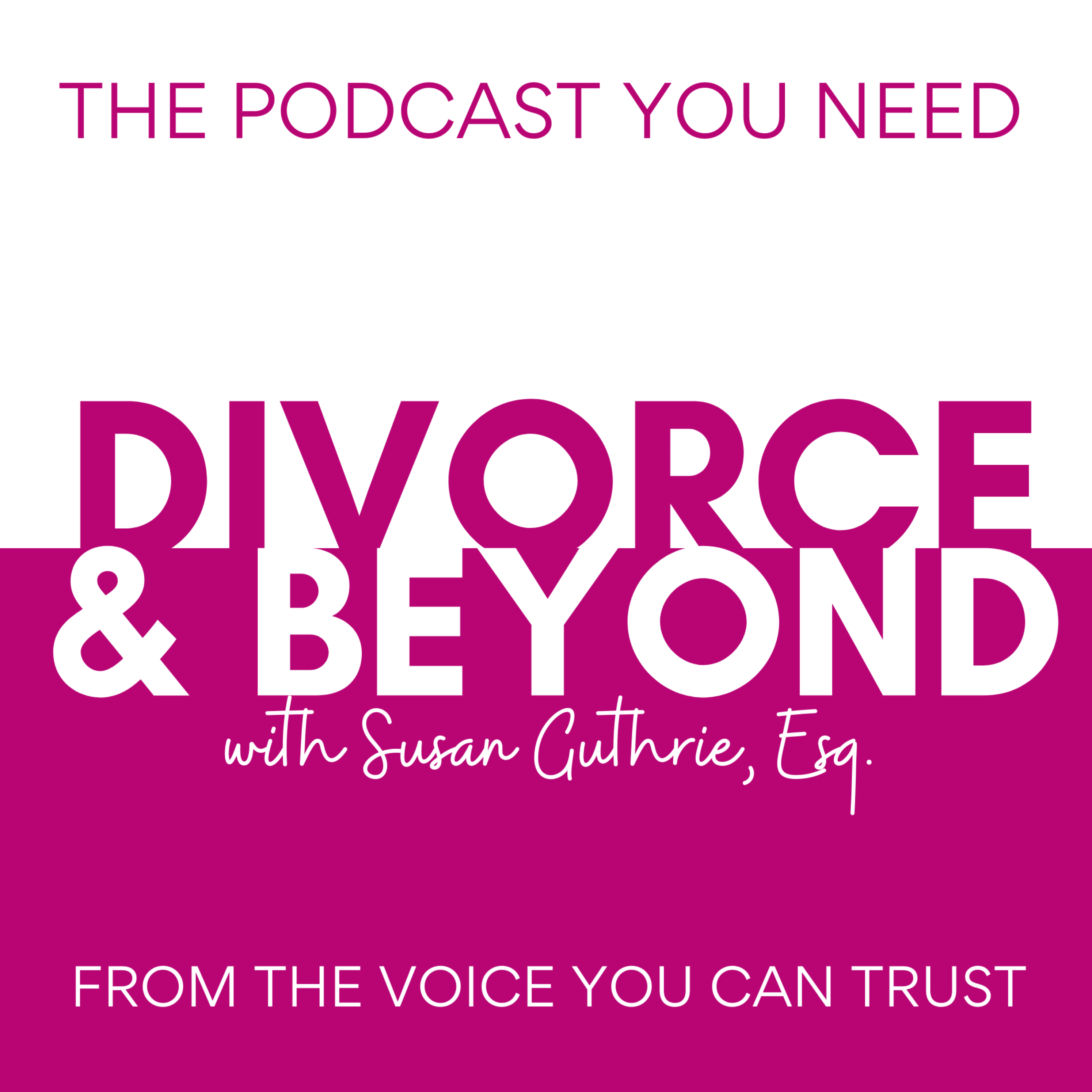 Nationally recognized family law attorney, mediator and award-winning podcaster, Susan Guthrie is at it again! After guiding countless numbers of people through the perilous world of divorce—and speaking to a podcast audience of over 4 million listeners—she's bringing you the "The Divorce & Beyond Podcast" to help you thrive in your life BEYOND divorce!
Episodes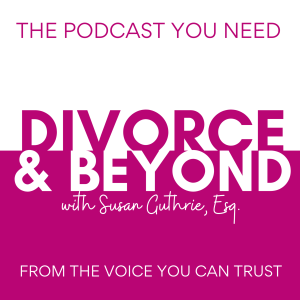 Monday Feb 21, 2022
Monday Feb 21, 2022
This week on Divorce & Beyond, Host Susan Guthrie talks with Alex Beattie, whose own experience of divorce, led her to co-create the Divide & Thrive Divorce Organizer to help others get organized and thinking clearly so that they can approach their own divorces feeling empowered and in control!
All divorce professionals know that one of the biggest pain points for their clients is pulling together and keeping organized all of the often complicated information is needed in order to identify the issues and make good decisions about their divorce.  Alex Beattie knows this intimately having gone through her own complicated split.  Rather than let herself get overwhelmed, Alex used her skills as an entertainment producer to bring organization, process and method to her divorce approach and she WOWED her divorce team!  Alex quickly realized that sharing her experience and insights could make the process easier and better for so many others.  Alex and her friend, Jenny Pithie, also banded together to create the Divide & Thrive Divorce Planner to help you take organization to the next level!
Here are just a few things that Alex and Susan discuss in this episode:
When should someone start getting organized for a divorce? 
What are the benefits of preparing for a divorce early in the process?
What are the most common mistakes people make when preparing for a divorce?
What should people be focused on when preparing for a divorce?
If you are facing divorce and feel overwhelmed, anxious and even just a little bit freaked out about where and how to get started, this is the episode for you!
Alex was recently featured in the New York Times article: Divorce is Hard: Here's How You Can Help Someone Going Through One
More About Alex Beattie and the Divide & Thrive Divorce Planner:
After navigating her own split, Alex Beattie co-created the Divide & Thrive Divorce Organizer to give the consumer a low-cost way to take control of the divorce process and guide them during a time of uncertainty.
Recommended by financial planners, divorce attorneys and divorce coaches, the digital organizer works on iPads and computers, or can be printed out and put into a binder. By putting your Divorce information into one portable program, the consumer has all of their vital information at their fingertips during meetings with attorneys, mediators, or other divorce professions — which saves them time and money.
 
As a creative producer with twenty plus years of experience, Alex Beattie has developed and produced series and feature films for Showtime, NBC, Paramount, Starz, FOX, Amazon, and more. 
Want to get your own Divide & Thrive Divorce Organizer?  Alex has a 20% off discount only for listeners of Divorce & Beyond!  Alex shares the information on how to get your discount at the end of the episode!
*****************************************************************************
MEET OUR CREATOR AND HOST:
SUSAN GUTHRIE®, ESQ., the creator and host of The Divorce and Beyond® Podcast, is nationally recognized as one of the top family law and divorce mediation attorneys in the country.  Susan is a member of the Executive Council of the American Bar Association Section of Dispute Resolution and is the Founder of Divorce in a Better Way® which provides a curated selection of resources and information for those facing divorce and other life changes. 
Internationally renowned as one of the leading experts in online mediation, Susan created her Learn to Mediate Online® program and has trained more than 20,000 professionals in how to transition their practice online.  Susan recently partnered with legal and mediation legend, Forrest "Woody" Mosten to create the Mosten Guthrie Academy which provides gold standard, fully online training for mediation and collaborative professionals at all stages of their career.  
***************************************
Remember to follow Susan Guthrie and THE DIVORCE AND BEYOND PODCAST on social media for updates and inside tips and information:
Susan Guthrie on Facebook @susanguthrieesq
Susan on Instagram @susanguthrieesq @divorceandbeyond
Susan on Twitter @guthrielaw
If you want to see the video version of the podcast episodes they are available on The Divorce & Beyond YouTube Channel!  Make sure to LIKE and SUBSCRIBE so you don't miss a single episode!
Finally, we'd really appreciate it if you would  give us a 5 Star Rating and tell us what you like about the show in a review - your feedback really matters to us! Here's a link to the show on Apple Podcasts: https://podcasts.apple.com/us/podcast/the-divorce-and-beyond-podcast-with-susan-guthrie-esq/id1490881800
You can get in touch with Susan at divorceandbeyondpod@gmail.com. 
Don't forget to visit the webpage www.divorceandbeyondpod.com and sign up for the free NEWSLETTER to receive a special welcome video from Susan and more!!
********************************************************************
THANK YOU TO OUR SPONSOR: 
*******************************************************
SPONSORSHIP OPPORTUNITIES AVAILABLE!
If you would like to sponsor the show please reach out to us at  divorceandbeyondpod@gmail.com for pricing and details!!!
*********************************************************************
DISCLAIMER:  THE COMMENTARY AND OPINIONS AVAILABLE ON THIS PODCAST ARE FOR INFORMATIONAL AND ENTERTAINMENT PURPOSES ONLY AND NOT FOR THE PURPOSE OF PROVIDING LEGAL ADVICE.  YOU SHOULD CONTACT AN ATTORNEY IN YOUR STATE TO OBTAIN LEGAL ADVICE WITH RESPECT TO ANY PARTICULAR ISSUE OR PROBLEM