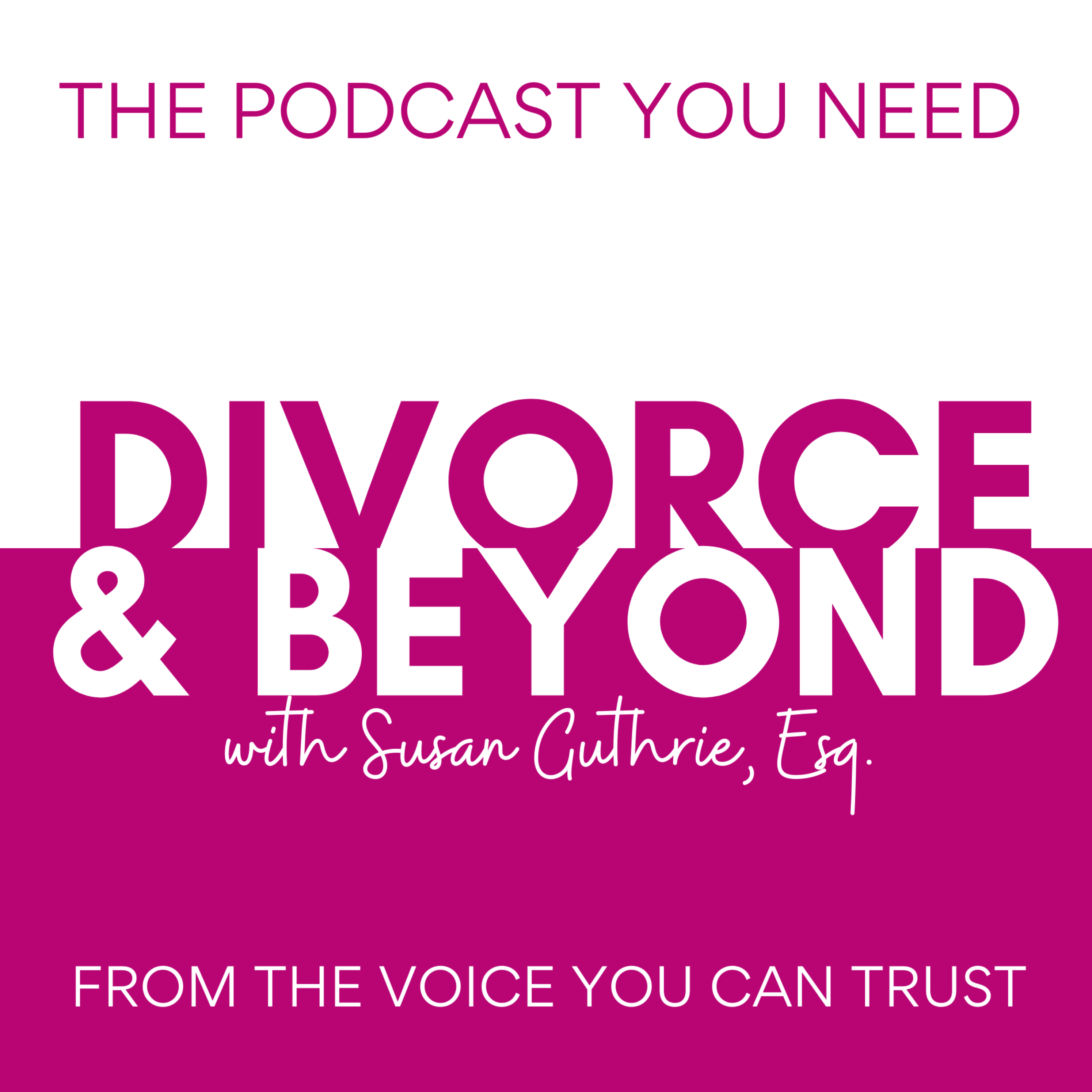 Your Survival Guide to Co-Parenting with a Narcissist or Other High Conflict Person with the CEO of The High Conflict Institute, Megan Hunter on The Divorce & Beyond Podcast #200
Sep 27th, 2021 by divorceandbeyond
In this very special 100th episode of Divorce & Beyond, Host Susan Guthrie is joined by the CEO of The High Conflict Institute, Megan Hunter, to help tackle one of the most difficult issues in divorce: trying to co-parent with a narcissist or other high conflict person.  
Divorce is hard under the best of circumstances, but for most people, it will come to an end and their lives will smooth out and they will go forward with their lives and even co-parent peacefully for the most part, but then there are the high conflict cases.  The ones where your ex tries to turn the kids against you, drags you back to court every other week and continues to cause chaos and havoc in your life no matter how long ago the divorce was finalized.  How do you survive that High-Conflict Co-Parenting paradigm and more importantly, how do you help your kids through it all?
Megan Hunter, the CEO of The High Conflict Institute with Co-Founder, Bill Eddy, is here to help with her book: The High-Conflict Co-Parenting Survival Guide!  Megan shares invaluable advice and practical strategies on ways to manage your anger, stress, fear and worry as you continue to have to maintain a co-parenting relationship with a narcissist or other high conflict person.  Listen to this episode and you WILL have HOPE and a game-plan for the future!
As a special offer for this 100th episode, Susan is giving away a copy of Megan's book, The High Conflict Co-Parenting Survival Guide!  Want to enter?  Just send an email to divorceandbeyondpod@gmail.com with a short statement of why you listen to Divorce & Beyond and we will pick a winner in the second week of October!
************************************************
More Information About This Week's Special Guest: 
Megan Hunter is The High Conflict Institute's co-founder, Chief Executive Officer and Vice President. As an expert on high conflict disputes and complicated relationships, she has facilitated hundreds of seminars across the U.S. and in seven countries. She provides dynamic keynote presentations based on the concept. She has over 13 years of experience as the Family Law Specialist with the Arizona Supreme Court, and Child Support Manager of the Dawes County Attorney's Office in Nebraska. She is the founder and publisher of Unhooked Books and has written five books on high conflict situations and people in dating, in the workplace, in the church, at home. 
Contact Megan Hunter:
Website 
Social Media Handles 

@highconflictinstitute - Instagram
GET THE BOOK!   "The High-Conflict Co-Parenting Survival Guide" here:  https://amzn.to/39DtwWH
**********************
MEET OUR CREATOR AND HOST:
SUSAN GUTHRIE®, ESQ., the creator and host of The Divorce and Beyond® Podcast, is nationally recognized as one of the top family law and divorce mediation attorneys in the country.  Susan is a member of the Executive Council of the American Bar Association Section of Dispute Resolution and is the Founder of Divorce in a Better Way® which provides a curated selection of resources and information for those facing divorce and other life changes. 
Internationally renownded as one of the leading experts in online mediation, Susan created her Learn to Mediate Online® program and has trained more than 18,000 professionals in how to transition their practice online.  Susan recently partnered with legal and mediation legend, Forrest "Woody" Mosten to create the Mosten Guthrie Academy which provides gold standard, fully online training for mediation and collaborative professionals at all stages of their career.  
*****************************************************************************
THANK YOU TO OUR SPONSOR:
Thriving in divorce and beyond means not having to worry about the safety of your children when it comes to co-parenting. With alcohol abuse on the rise, many co-parents are turning to the system committed to providing proof, protection, and peace of mind. Soberlink's alcohol monitoring system is the most convenient, reliable, and reasonable way for a parent to provide evidence that they are not drinking during parenting time. Soberlink's real-time alerts, facial recognition, and tamper detection ensure the integrity of each test, so you can be confident your kids are with a sober parent. With Soberlink, judges rest assured that your child is safe, attorneys get court-admissible evidence of sobriety, and both parents have empowerment and peace of mind. Pull back the curtain on the mysteries of parenting time and trust The Experts in Remote Alcohol Monitoring Technology™ to keep you informed and your kids safe and secure. To download the addiction and children resource page that I developed with Soberlink, visit www.Soberlink.com/Susan  
***************************************************************************************************
CHECK OUT THE NEW RESOURCE PAGE ON THE WEBSITE WITH DIVORCE & BEYOND RECOMMENDED READING!  
Remember, knowledge is power and we have the books that will help educate you and support you in all areas of divorce including finance, parenting, healing, conflict resolution and MORE!  Check it out now on the website:  www.divorceandbeyondpod.com/beyond-reading
***************************************
JOIN US IN THE DIVORCE & BEYOND MEMBERS ONLY COMMUNITY!
D & B Members Only will receive a number of benefits including:
Ad and Interruption Free Podcast Archive
BONUS Members Only Podcast Episodes monthly
Downloadable Worksheets, Spreadsheets and Other Forms 
Access to the "Ask Susan Anything" Forum where you can ask your questions and learn from the answers to others.
*****************************************************************************
SPONSORSHIP OPPORTUNITIES AVAILABLE!
If you would like to sponsor the show please reach out to us at  divorceandbeyondpod@gmail.com for pricing and details!!!
*********************************************************************
Remember to follow Susan Guthrie and THE DIVORCE AND BEYOND PODCAST on social media for updates and inside tips and information:
Susan Guthrie on Facebook @susanguthrieesq
Susan on Instagram @susanguthrieesq
Susan on Twitter @guthrielaw
If you want to see the video version of the podcast episodes they are available on The Divorce & Beyond YouTube Channel!  Make sure to LIKE and SUBSCRIBE so you don't miss a single episode!
Finally, we'd really appreciate it if you would  give us a 5 Star Rating and tell us what you like about the show in a review - your feedback really matters to us! 
You can get in touch with Susan at divorceandbeyondpod@gmail.com. 
Don't forget to visit the webpage www.divorceandbeyondpod.com and sign up for the free NEWSLETTER to receive a special welcome video from Susan and more!!
*****************************************************************************
DISCLAIMER:  THE COMMENTARY AND OPINIONS AVAILABLE ON THIS PODCAST ARE FOR INFORMATIONAL AND ENTERTAINMENT PURPOSES ONLY AND NOT FOR THE PURPOSE OF PROVIDING LEGAL ADVICE.  YOU SHOULD CONTACT AN ATTORNEY IN YOUR STATE TO OBTAIN LEGAL ADVICE WITH RESPECT TO ANY PARTICULAR ISSUE OR PROBLEM
Share
|
Download