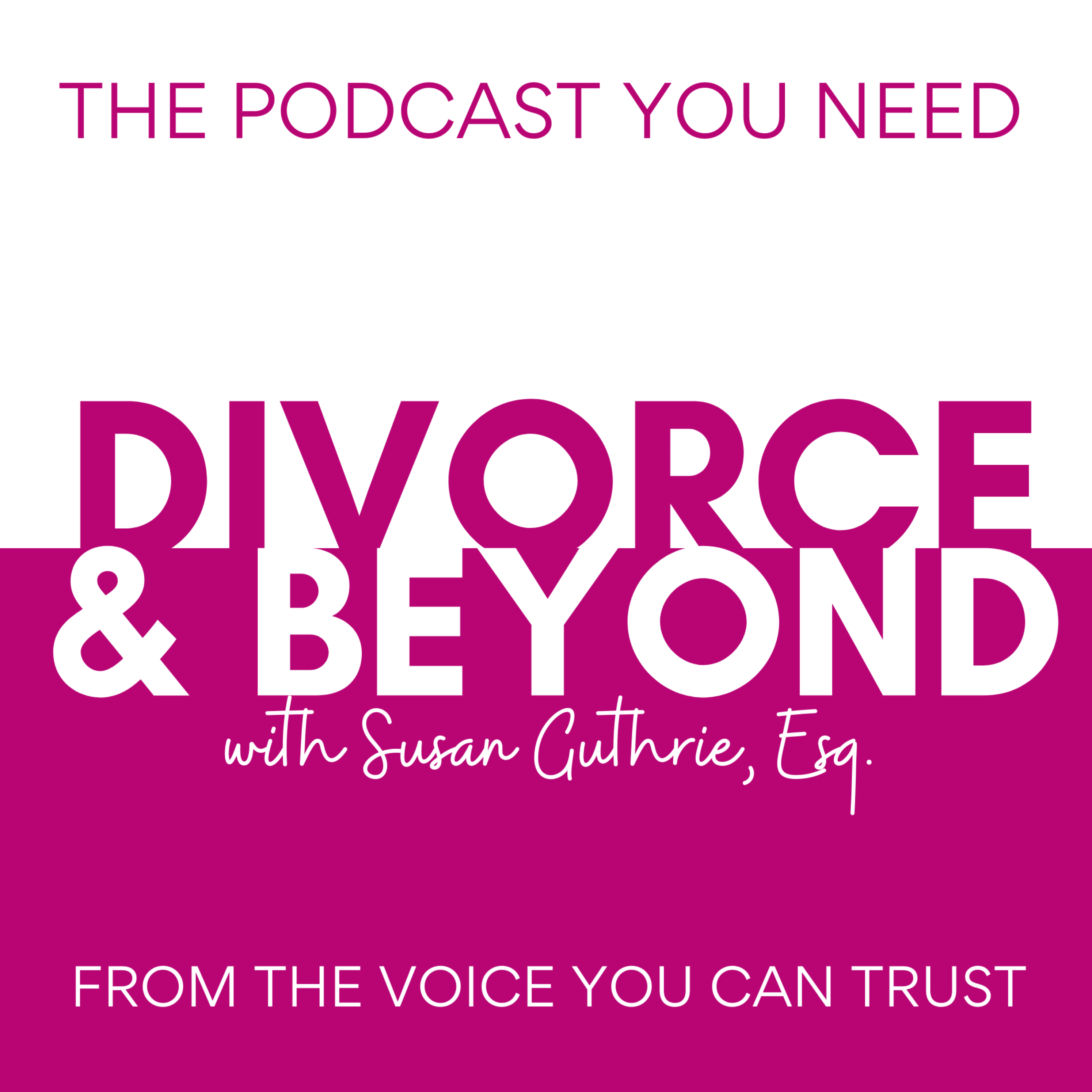 Nationally recognized family law attorney, mediator and award-winning podcaster, Susan Guthrie is at it again! After guiding countless numbers of people through the perilous world of divorce—and speaking to a podcast audience of over 4 million listeners—she's bringing you the "The Divorce & Beyond Podcast" to help you thrive in your life BEYOND divorce!
Episodes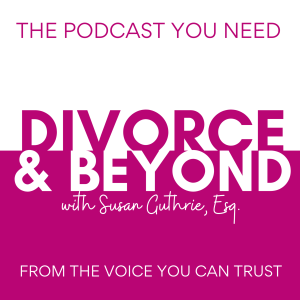 Monday Apr 03, 2023
Monday Apr 03, 2023
Today on Divorce & Beyond, Susan Guthrie, Esq. welcomes Wendy Sterling to discuss her book "Divorce Sucks: Now What?" Together they help to turbo-charge your divorce recovery.
In this episode, returning guest Wendy Sterling shares how her own divorce was a gift and how the divorce process, while difficult, can also be an empowering journey. Wendy is an international best-selling author, leading Divorce Empowerment Coach & Healer, and the founder of The Divorce Rehab™. 
If you're going through a divorce or know someone who is, this episode is packed with practical advice and inspiration to help you move forward with confidence and hope. 
Topics and Golden Nuggets include
"Nobody walks down the aisle thinking they need a Plan B." 

The divorce process sucks, but it can be an empowering process too. Wendy shares how her divorce was a gift.

Divorce requires a team, not just legal and financial support but emotional support too.

How Wendy's mom's ovarian cancer diagnosis came on the same day as her husband asking for a divorce, and how it led to a parallel path in faith and love

Three of the biggest steps to jumpstart your divorce recovery: take responsibility, own it, and practice forgiveness 

It's not about changing your ex; it's about the change within.
****************************************
About this week's special guest:  Wendy Sterling 
Wendy Sterling is an international best-selling author, leading Divorce Empowerment Coach & Healer, and the founder of The Divorce Rehab™. She helps women who are having trouble moving forward and are tired of feeling stuck in pain, fear, resentment, anger, and guilt to find joy, self-worth, and freedom.  Wendy is a Certified Professional Co-Active Coach (CPCC), a Certified Divorce Specialist (CDS), an Advanced ThetaHealer®, and a Certified Sound Healer.  She hosts her own podcast, The Divorced Woman's Guide, and has been featured on NBC, The List, Daily Blast Live, and Good Day LA.
Wendy's website: http://www.wendysterling.net/
Divorce Sucks: Now What?: http://divorcesucksnowwhat.com/
The Divorce Women's Guide Podcast: https://wendysterling.net/podcast/
Wendy on Instagram/TikTok: @divorcerehabwithwendy
Wendy's 5-Steps For Divorce Recovery: https://divorcerehab.activehosted.com/f/41
Mentioned in this episode:
Co-Parenting: The Quicksand of Divorce and How to Get Unstuck - A Special Bonus Episode with Wendy Sterling 
"Why Divorce Rehab Just Might Be the Kick in the A$$ You Need with THE Divorce Recovery Specialist, Wendy Sterling"
*****************************************
THANK YOU TO OUR SPONSORS: 
Your divorce, your way. 
Say hello to an easier, kinder, and less expensive divorce. 
They can handle almost every divorce without a court for thousands less than hiring a lawyer. 
Easy, quick online divorce process 

We review, file, and serve for you 

Expert legal and financial help as you go 
Get more information, resources, and support at hellodivorce.com/beyond and receive $100 off your service with the code BEYOND!  Visit hellodivorce.com/beyond for $100 OFF!
_______
Learn more about working with Bela Gandhi and the team at The Smart Dating Academy at https://smartdatingacademy.com.  Isn't it time to get psychotically optimistic about finding the lid to your pot?!  Don't forget to check out The Smart Dating Academy Podcast with Bela Gandhi while you are there and get your weekly dose of dating and love insights, tips, and inspiration!
*********************************************************************
SPONSORSHIP OPPORTUNITIES ARE AVAILABLE!  https://divorcebeyond.com/Sponsorship-Info
*******************************************************************
MEET OUR CREATOR AND HOST:
SUSAN GUTHRIE®, ESQ., the creator and host of The Divorce and Beyond® Podcast, is nationally recognized as one of the top family law and divorce mediation attorneys in the country.  Susan is the Vice Chair of the American Bar Association Section of Dispute Resolution and is a sought-after keynote speaker, business and practice consultant, coach and trainer. You can find out more about Susan and her services here:  https://neon.page/susanguthrie
Internationally renowned as one of the leading experts in online mediation, Susan created her Learn to Mediate Online® program and has trained more than 25,000 professionals in how to transition their practice online.  Susan recently partnered with legal and mediation legend, Forrest "Woody" Mosten to create the Mosten Guthrie Academy which provides gold-standard, fully online training for mediation and collaborative professionals at all stages of their careers.  
Follow Susan Guthrie and THE DIVORCE AND BEYOND PODCAST on social media for updates and inside tips and information:
Susan on LinkedIn: https://www.linkedin.com/in/susaneguthrie/
Susan on Instagram @susanguthrieesq
*********************************************************************
We'd really appreciate it if you would give us a 5 Star Rating and tell us what you like about the show in a review - your feedback really matters to us! 
You can get in touch with Susan at divorceandbeyondpod@gmail.com. 
Don't forget to visit the webpage www.divorceandbeyondpod.com and sign up for the free NEWSLETTER to receive a special welcome video from Susan and more!!
*********************************************************************
DISCLAIMER:  THE COMMENTARY AND OPINIONS AVAILABLE ON THIS PODCAST ARE FOR INFORMATIONAL AND ENTERTAINMENT PURPOSES ONLY AND NOT FOR THE PURPOSE OF PROVIDING LEGAL ADVICE.  YOU SHOULD CONTACT AN ATTORNEY IN YOUR STATE TO OBTAIN LEGAL ADVICE WITH RESPECT TO ANY PARTICULAR ISSUE OR PROBLEM.