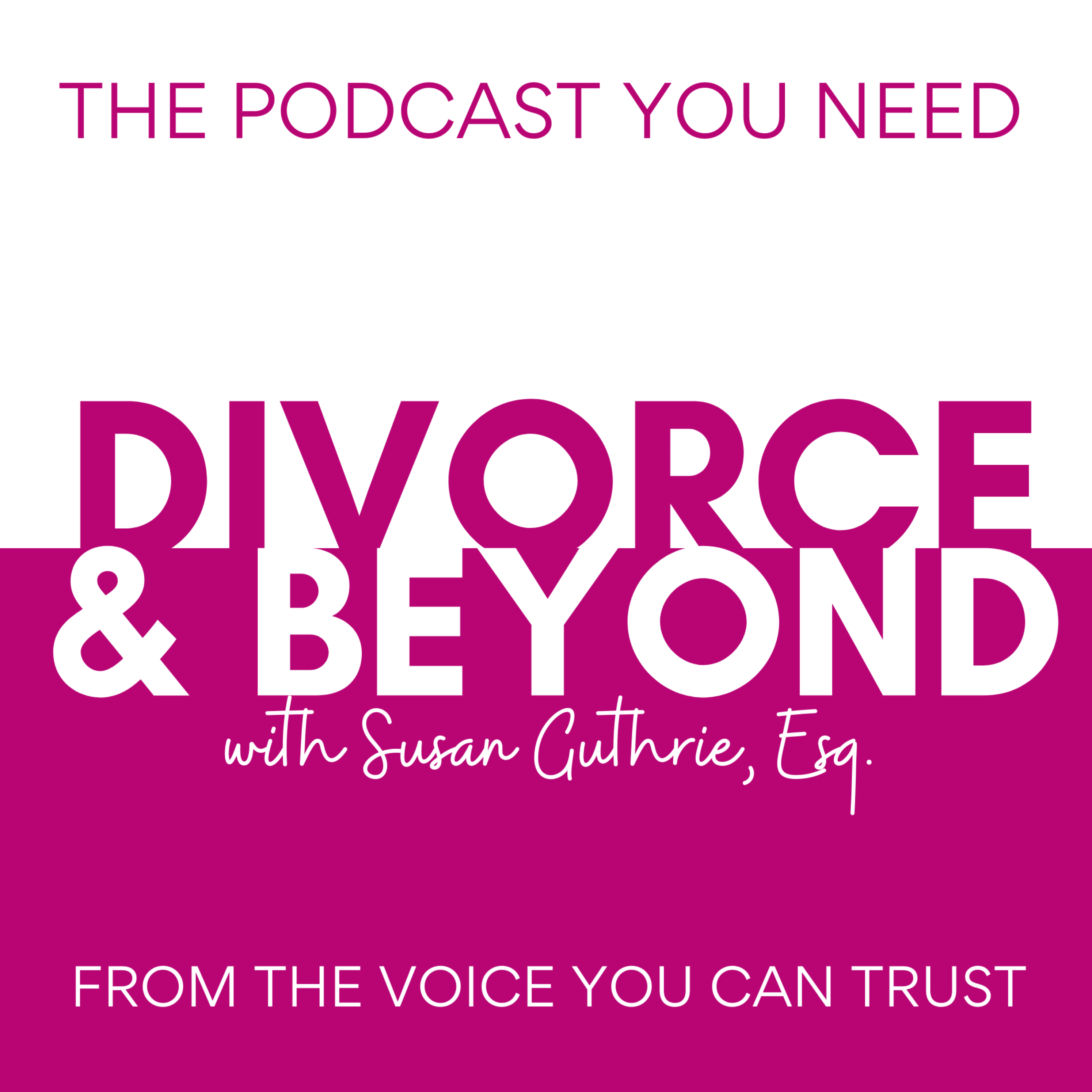 Nationally recognized family law attorney, mediator and award-winning podcaster, Susan Guthrie is at it again! After guiding countless numbers of people through the perilous world of divorce—and speaking to a podcast audience of over 4 million listeners—she's bringing you the "The Divorce & Beyond Podcast" to help you thrive in your life BEYOND divorce!
Episodes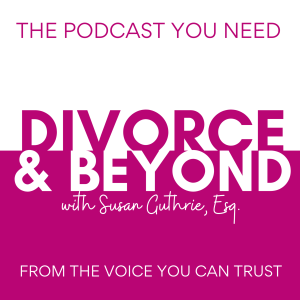 Monday Sep 13, 2021
Monday Sep 13, 2021
This week host Susan Guthrie talks with the amazing Kate Anthony, Host of The Divorce Survival Guide Podcast, who is here to help you with a comprehensive program she has developed to be your one-stop educational resource for your divorce that incorporates your favorite guest experts, like Dr. Elizabeth Cohen, Attorney Eric Broder, Dating Expert Bela Gandhi and many more!  Susan will be participating as well and The Divorce Course will be the place where you can come to not only learn what you need to know about divorce, but to also do the work you need to do to get through the process!
In today's episode you will get a sneak peek from Kate with some sage advice from her in the areas of her expertise:
Communication during and after divorce, including some important tips for telling your spouse it is coming;
Boundaries, boundaries, boundaries - how to set them and how to keep them; and 
The importance of understanding what is and what is NOT your f'ing job!
Kate is the master communicator and as one of the top divorce coaches and experts in the country, she know how important it is that you have access to the best information from experts who have the knowledge you need and the skill needed to make it as accessible as possible for you.  The Divorce Course, coming at the beginning of October, 2021, will be everything you need to survive your divorce, and more!
You can sign up for advance notice of The Divorce Course availability at www.kateanthony.com
About this week's special guest:
KATE ANTHONY:
Kate Anthony is the host of the critically acclaimed podcast The Divorce Survival Guide Podcast and the creator of the groundbreaking online coaching program, Should I Stay or Should I Go? which helps women make the most difficult decision of their lives using coaching tools, relationship education, geeky neuroscience, community support, and deep self-work.

Kate empowers women to find their strength, passion, and confidence even in the most disempowering of circumstances and helps them move forward with concrete plans set on a solid foundation, putting their children at the center (not in the middle) of all their decisions.

In addition to her online programs, Kate works privately with clients all over the world.

Kate lives in Los Angeles with her teenage son (whom she lovingly co-parents with her ex-husband), their two dogs, and a handful of fish.
Find out more about The Divorce Course, The Divorce Survival Guide Podcast and Kate's Coaching Services at www.kateanthony.com
Follow Kate on Social: 
Instagram:  https://www.instagram/thedivorcesurvivalguide
Facebook:  https://www.facebook.com/yourdivorcesurvivalguide
Listen to Kate's other Divorce & Beyond episodes:
"Is it Time to Say Goodbye or Time to Say 'Let's Try?'"
"Alimony: Why You Want It and Why It's Not All That Part Two"
**********************
MEET OUR CREATOR AND HOST:
SUSAN GUTHRIE®, ESQ., the creator and host of The Divorce and Beyond® Podcast, is nationally recognized as one of the top family law and divorce mediation attorneys in the country.  Susan is a member of the Executive Council of the American Bar Association Section of Dispute Resolution and is the Founder of Divorce in a Better Way® which provides a curated selection of resources and information for those facing divorce and other life changes. 
Internationally renownded as one of the leading experts in online mediation, Susan created her Learn to Mediate Online® program and has trained more than 18,000 professionals in how to transition their practice online.  Susan recently partnered with legal and mediation legend, Forrest "Woody" Mosten to create the Mosten Guthrie Academy which provides gold standard, fully online training for mediation and collaborative professionals at all stages of their career.  
*****************************************************************************
THANK YOU TO OUR SPONSOR:
Fayr is the ONLY co-parenting app that Susan recommends because Fayr is everything you need to co-parent in one app.  Fayr's fresh, easy to use interface allows co-parents to effortlessly communicate, create a shared calendar, keep track of expenses, prepare legal documents and more.  
Most importantly, it allows you to experience co-parenting in a totally new way: simply, inexpensively, transparently, and fairly.
Subscribe at BEFAYR.com and then download FAYR from the APP STORE or GOOGLE PLAY
Go to FAYR.com for more details.  Use the discount code "SUSANG18" to receive 20% off!
***************************************************************************************************
CHECK OUT THE NEW RESOURCE PAGE ON THE WEBSITE WITH DIVORCE & BEYOND RECOMMENDED READING!  
Remember, knowledge is power and we have the books that will help educate you and support you in all areas of divorce including finance, parenting, healing, conflict resolution and MORE!  Check it out now on the website:  www.divorceandbeyondpod.com/beyond-reading
***************************************
JOIN US IN THE DIVORCE & BEYOND MEMBERS ONLY COMMUNITY!
D & B Members Only will receive a number of benefits including:
Ad and Interruption Free Podcast Archive
BONUS Members Only Podcast Episodes monthly
Downloadable Worksheets, Spreadsheets and Other Forms 
Access to the "Ask Susan Anything" Forum where you can ask your questions and learn from the answers to others.
*****************************************************************************
SPONSORSHIP OPPORTUNITIES AVAILABLE!
If you would like to sponsor the show please reach out to us at  divorceandbeyondpod@gmail.com for pricing and details!!!
*********************************************************************
Remember to follow Susan Guthrie and THE DIVORCE AND BEYOND PODCAST on social media for updates and inside tips and information:
Susan Guthrie on Facebook @susanguthrieesq
Susan on Instagram @susanguthrieesq
Susan on Twitter @guthrielaw
If you want to see the video version of the podcast episodes they are available on The Divorce & Beyond YouTube Channel!  Make sure to LIKE and SUBSCRIBE so you don't miss a single episode!
Finally, we'd really appreciate it if you would  give us a 5 Star Rating and tell us what you like about the show in a review - your feedback really matters to us! 
You can get in touch with Susan at divorceandbeyondpod@gmail.com. 
Don't forget to visit the webpage www.divorceandbeyondpod.com and sign up for the free NEWSLETTER to receive a special welcome video from Susan and more!!
*****************************************************************************
DISCLAIMER:  THE COMMENTARY AND OPINIONS AVAILABLE ON THIS PODCAST ARE FOR INFORMATIONAL AND ENTERTAINMENT PURPOSES ONLY AND NOT FOR THE PURPOSE OF PROVIDING LEGAL ADVICE.  YOU SHOULD CONTACT AN ATTORNEY IN YOUR STATE TO OBTAIN LEGAL ADVICE WITH RESPECT TO ANY PARTICULAR ISSUE OR PROBLEM