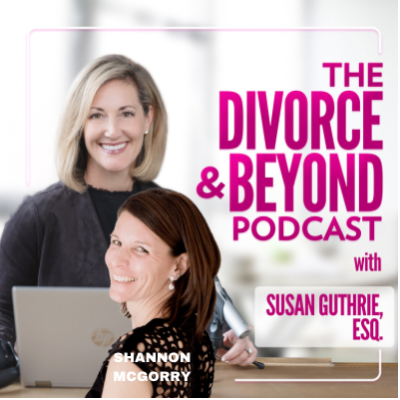 Fed Up With Fine: What to Do When the Status Quo Isn't Enough with Shannon McGorry on The Divorce & Beyond Podcast with Susan Guthrie, Esq. #148
Nov 9th, 2020 by divorceandbeyond
In this episode, Empowerment Coach, Shannon McGorry returns to talk with Susan Guthrie about what you can do to pump up the volume when you are "fed up with fine."
Change can be an easy choice when things are awful but what about when they are "fine?"  I mean, things are ok, there's nothing wrong really so it all just fine.  So why do we sometimes feel so unsettled and restless when things are fine?  Why do we feel that there should be more?
Shannon McGorry, the guest expert from the hugely popular Episode #127, "Avoiding the Void: Facing the Future and Thriving After Divorce" rejoins us to help you navigate your way out of "fine." Shannon uses a variety of techniques and tools, that she shares with you, to help you to define your values and principals and to help you to find "what lights you up" because that's what takes life from fine to fantastic!  If you are fed up with fine and suspect that there is more out there for you, this is the episode that is going to get you on your way!
Find Out More About Shannon McGorry:   Shannon is a Certified Professional Coach specializing in Divorce and Life Empowerment.
Expertise, Prioritization, Clarity, and Accountability are the principles of Shannon's practice. Shannon empowers her clients to show up confident, well informed, and educated as they make decisions and take consistent, intentional action in support of their future reality.
So whether it's divorce, a change in professional or personal circumstances, or being faced with the question "What's Next?!" Shannon is passionate about holding women accountable to their future. She helps clients move from fine to a life they intentional create (and love).
Shannon obtained her coaching certification through the Institute for Professional Excellence in Coaching, and she graduated Magna Cum Laude from Siena College with a Bachelor of Arts in Economics.
She is a woman of faith, a mom of two daughters, a yoga enthusiast, a huge fan of the beach, of being outside, and of laughter. Shannon is available for private coaching, workshops, and speaking engagements via her website, http://www.lovestrengthandgrace.com.
Follow Shannon on Instagram at @lovestrengthandgrace
Access Shannon's wonderful gift for listeners:  Offering - Meet Shannon Landing Page including a link to a FREE Fed Up With Fine Coaching Session as well as a link to a FREE Guide to the "Unexpected Divorce" 
**********************
SUSAN GUTHRIE, ESQ., the creator and host of The Divorce and Beyond Podcast, is nationally recognized as one of the top family law and divorce mediation attorneys in the country.  She is one of the Co-Chair's of the American Bar Association's DR Section Mediation Committee and is the Founder of Divorce in a Better Way which provides a curated selection of resources and information for those facing divorce and other life changes.  Susan has created a website of curated resources for those facing divorce.  Find out more at www.divorceinabetterway.com.
*****************************************************************************
*********************************************
THANK YOU TO OUR SPONSOR!
dtour.life is an easy to navigate system that finally brings much needed technology to an inefficient system. Spouses and family law professionals can now collect the endless data, manage the piles of documents, explore various settlements, detail budgets and most importantly, collaborate with the entire team with a single click. And we built this from the ground up with industry best practices and the most advanced security and encryption technology available.  Be sure to check it out today!
SPECIAL OFFER:  Sign up for the FREE TRIAL here:  https://www.dtour.life/sign-up and then use special code "SUSAN20" to receive 20% off the cost of a subscription!
 FAYR, the BEST Co-Parenting App on the Market!   What makes FAYR different?  At FAYR it's not just about efficiency and ease (though they love those).  They also help you create a better co-parenting experience by providing tools for: constructive communication, argument diffusion, and emotional support.  For information on our FAYR, the ONLY co-parenting app recommended by Susan Guthrie and The Divorce and Beyond Podcast,  visit their website at www.fayr.com.  Don't forget to use the code "SUSANG18" for 20% off!!
*****************************************************************************
SPONSORSHIP OPPORTUNITIES AVAILABLE!
If you would like to sponsor the show please reach out to us at  divorceandbeyondpod@gmail.com for pricing and details!!!
*********************************************************************
Remember to follow Susan Guthrie and THE DIVORCE AND BEYOND PODCAST on social media for updates and inside tips and information:
Susan Guthrie on Facebook
Susan on Instagram
Susan on Twitter
Divorce & Beyond Podcast on Instagram
Divorce & Beyond Podcast on Twitter
If you want to see the video version of the podcast episodes they are available on The Divorce & Beyond YouTube Channel!  Make sure to LIKE and SUBSCRIBE so you don't miss a single episode!
Finally, we'd really appreciate it if you would  give us a 5 Star Rating and tell us what you like about the show in a review - your feedback really matters to us! 
You can also get in touch with Susan at divorceandbeyondpod@gmail.com. She loves to hear from listeners and you might hear your comment or question on an upcoming episode!
Don't forget to visit the webpage www.divorceandbeyondpod.com and sign up for the free NEWSLETTER to receive a special welcome video from Susan and more!!
*****************************************************************************
DISCLAIMER:  THE COMMENTARY AND OPINIONS AVAILABLE ON THIS PODCAST ARE FOR INFORMATIONAL AND ENTERTAINMENT PURPOSES ONLY AND NOT FOR THE PURPOSE OF PROVIDING LEGAL ADVICE.  YOU SHOULD CONTACT AN ATTORNEY IN YOUR STATE TO OBTAIN LEGAL ADVICE WITH RESPECT TO ANY PARTICULAR ISSUE OR PROBLEM.
Share
|
Download