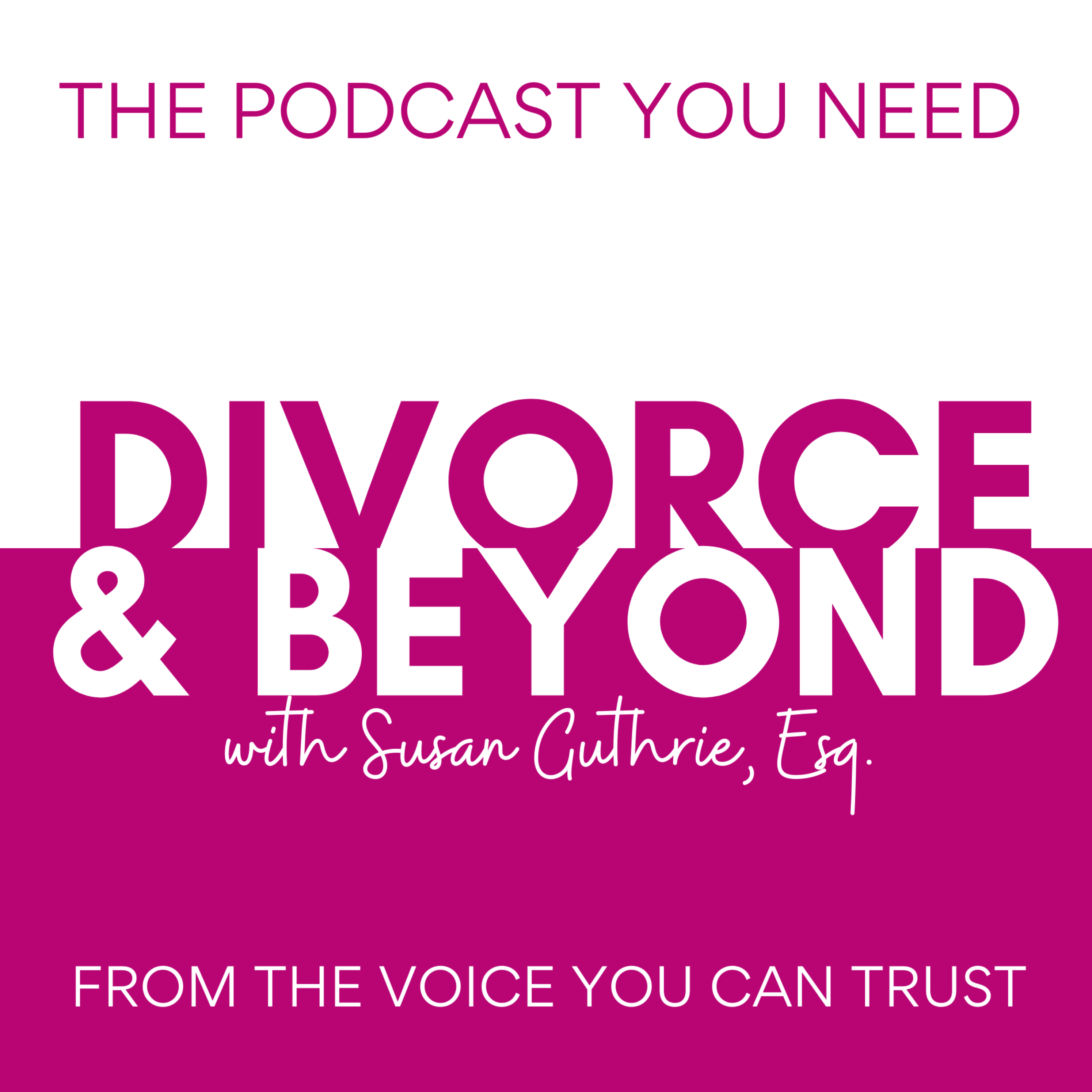 Nationally recognized family law attorney, mediator and award-winning podcaster, Susan Guthrie is at it again! After guiding countless numbers of people through the perilous world of divorce—and speaking to a podcast audience of over 4 million listeners—she's bringing you the "The Divorce & Beyond Podcast" to help you thrive in your life BEYOND divorce!
Episodes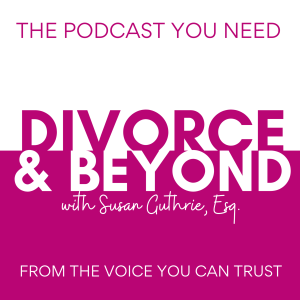 Monday Mar 27, 2023
Monday Mar 27, 2023
Susan Guthrie, Esq. welcomes returning guest Vassia Sarantopoulou to the Divorce & Beyond podcast!  Together, Susan and Vassia explore the pros and cons of living apart and the vital need for healthy boundaries to protect our relationships

In this episode, Susan and Vassia discuss the deeper reasons behind the decision to live together, apart; and how to maintain a healthy relationship when doing so. They also delve into the benefits of living apart, such as clear distinctions in the division of labor and personal space. However, they also highlight that living apart may not be beneficial for mental health and the overall health of the relationship.
Tune in to this thought-provoking episode of Divorce & Beyond to gain insights on living apart in relationships and how to maintain a healthy connection with your partner wherever you reside.
Topics and Golden Nuggets include
What it means to "live apart" and its positive and negative effects on a relationship 

When living apart

is not

beneficial to your mental health and the health of a relationship

How to keep a relationship healthy, have open communication, and maintain boundaries

without

having to live apart 
****************************************
About this week's special guest:  Vassia Sarantopoulou
Vassia Sarantopoulou is the Founder, CEO and Head Psychologist of AntiLoneliness, a company offering mental health services in The Netherlands and also worldwide. She is also a Mental Health Educator, promoting Inner Peace, Mental Strength and Healthy Relationships with others and with our Self. Through AntiLoneliness and her team of psychologists, she offers individual, couples or groups sessions to those who struggle with anxiety, depression, trauma, grief, burnout, loneliness, relationship issues, transition/change, expat life. She is trained in (Group) Schema Therapy and Emotionally Focused Therapy, among other approaches (CBT, ACT, CFT), and she is a member of NIP (Dutch Institute for Psychologists), ICEEFT (International Center of Excellence in Emotionally Focused Therapy) and ISST (International Society of Schema Therapy). She is an advocate of a life without mental health stigma, with an abundance of kindness and with an undying openness to self-awareness and self-growth, and that's what she promotes through her services and online courses, and also through her collaboration with universities, companies, and organizations.
Website: https://www.antiloneliness.com/
Vassia on LinkedIn: https://www.linkedin.com/in/vassia-sarantopoulou 
Vassia on Facebook: https://www.facebook.com/antilonelinessproject 
Vassia on Instagram: https://www.instagram.com/antiloneliness/ 
Vassia on YouTube: https://www.youtube.com/c/AntiLoneliness

Podcast listeners: Get a 30% discount off on Vassia's relationship courses with the code PODCAST at https://www.antiloneliness.com/
Mentioned in this episode:
Loneliness & Divorce: Why Alone and Lonely Aren't the Same Thing with Vassia Sarantopoulou, Creator of Antiloneliness.com 
Overcoming the Trap of Perfectionism with Vassia Sarantopoulou
The Wife Left, but They're Still Together
Audible: Did you know you can now listen to The Divorce & Beyond podcast on your favorite audiobook platform, Audible?  If you are like me and love your audiobooks along with your podcasts, this is a great time to check out Audible memberships – they have two levels: 
Audible Plus and Audible Premium Plus 
You can get a free trial of Audible Plus and if you decide to subscribe to Audible Premium Plus you will also get up to two free audiobooks!   
Check it out today and it makes a great gift too: Audible Gift Memberships 
*****************************************
THANK YOU TO OUR SPONSORS: 
Susan recently launched a new podcast called the Make Money Mediating Podcast!  In this new podcast, she shares not only her own tips and insights into building a successful business or businesses but Susan welcomes some of the top experts in all related fields to share their wisdom to help you build your dream business and achieve success however you define that. 
Tune in, listen, and tell Susan what you think – you can find the podcast on all your favorite podcast outlets, including Apple Podcasts, Spotify, Audible, Stitcher, and more.
You can also simply visit the website to listen: MakeMoneyMediating.Podbean.com
_______
Learn more about working with Bela Gandhi and the team at The Smart Dating Academy at https://smartdatingacademy.com.  Isn't it time to get psychotically optimistic about finding the lid to your pot?!  Don't forget to check out The Smart Dating Academy Podcast with Bela Gandhi while you are there and get your weekly dose of dating and love insights, tips, and inspiration!
*********************************************************************
SPONSORSHIP OPPORTUNITIES ARE AVAILABLE!  https://divorcebeyond.com/Sponsorship-Info
*******************************************************************
MEET OUR CREATOR AND HOST:
SUSAN GUTHRIE®, ESQ., the creator and host of The Divorce and Beyond® Podcast, is nationally recognized as one of the top family law and divorce mediation attorneys in the country.  Susan is the Vice Chair of the American Bar Association Section of Dispute Resolution and is a sought-after keynote speaker, business and practice consultant, coach and trainer. You can find out more about Susan and her services here:  https://neon.page/susanguthrie
Internationally renowned as one of the leading experts in online mediation, Susan created her Learn to Mediate Online® program and has trained more than 25,000 professionals in how to transition their practice online.  Susan recently partnered with legal and mediation legend, Forrest "Woody" Mosten to create the Mosten Guthrie Academy which provides gold-standard, fully online training for mediation and collaborative professionals at all stages of their careers.  
Follow Susan Guthrie and THE DIVORCE AND BEYOND PODCAST on social media for updates and inside tips and information:
Susan on LinkedIn: https://www.linkedin.com/in/susaneguthrie/
Susan on Instagram @susanguthrieesq
*********************************************************************
We'd really appreciate it if you would give us a 5 Star Rating and tell us what you like about the show in a review - your feedback really matters to us! 
You can get in touch with Susan at divorceandbeyondpod@gmail.com. 
Don't forget to visit the webpage www.divorceandbeyondpod.com and sign up for the free NEWSLETTER to receive a special welcome video from Susan and more!!
*********************************************************************
DISCLAIMER:  THE COMMENTARY AND OPINIONS AVAILABLE ON THIS PODCAST ARE FOR INFORMATIONAL AND ENTERTAINMENT PURPOSES ONLY AND NOT FOR THE PURPOSE OF PROVIDING LEGAL ADVICE.  YOU SHOULD CONTACT AN ATTORNEY IN YOUR STATE TO OBTAIN LEGAL ADVICE WITH RESPECT TO ANY PARTICULAR ISSUE OR PROBLEM.