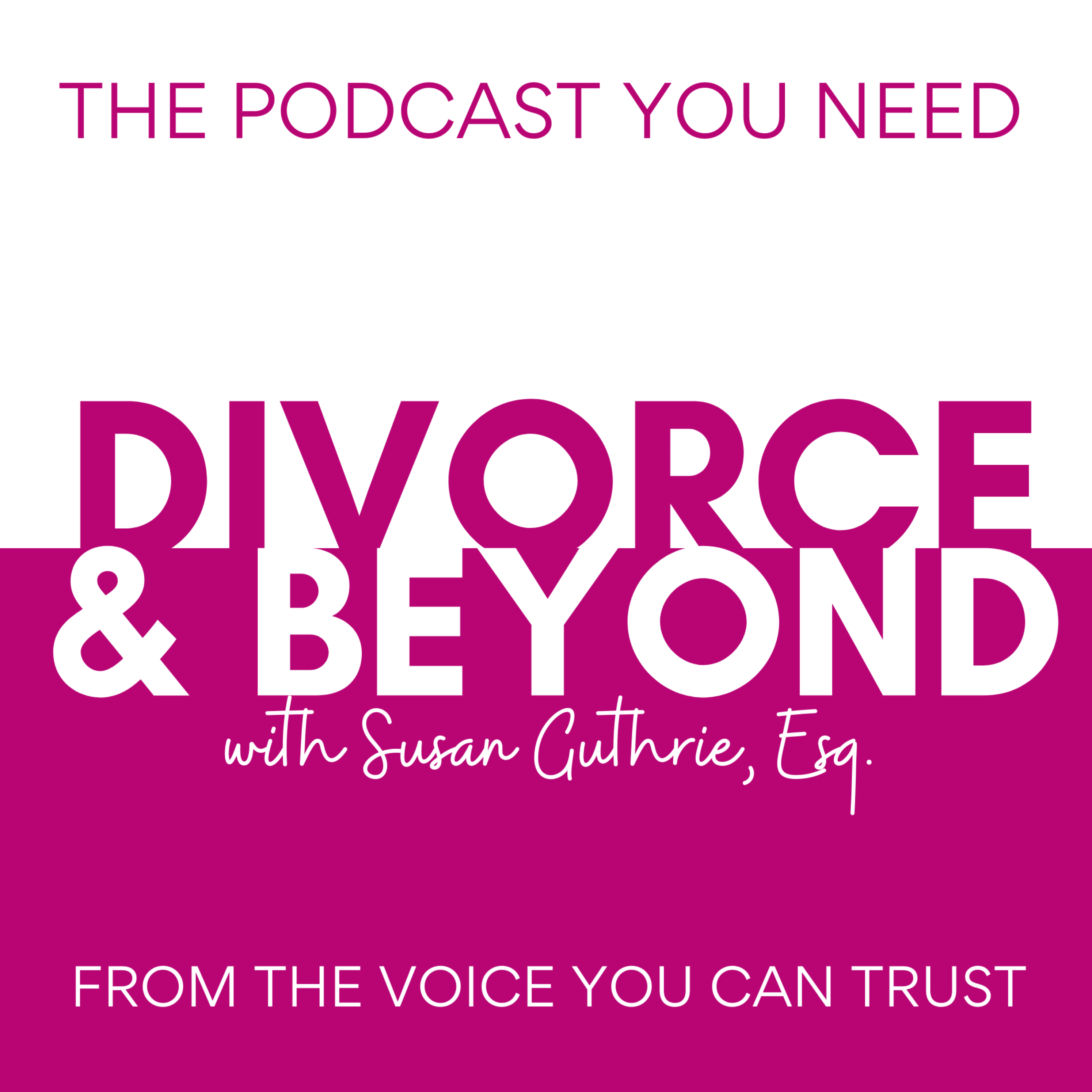 Nationally recognized family law attorney, mediator and award-winning podcaster, Susan Guthrie is at it again! After guiding countless numbers of people through the perilous world of divorce—and speaking to a podcast audience of over 4 million listeners—she's bringing you the "The Divorce & Beyond Podcast" to help you thrive in your life BEYOND divorce!
Episodes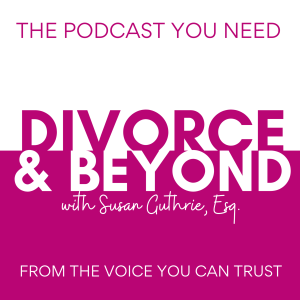 Monday Nov 28, 2022
Monday Nov 28, 2022
In this episode, Susan Guthrie, Esq. is joined by philanthropist Caren Yanis who shares the many ways that being generous and sharing with others can actually help you heal after divorce.   
Being philanthropic is not just about money. We have social capital, intellectual capital, time or the ability to be purposeful with lots of different tools. Whether someone has millions of dollars or is on a shoestring budget, being able to give, in some way, can make a difference.
Caren Yanis joins Susan Guthrie for a conversation about philanthropy as it intersects with divorce, families, your future, and the beyond. There is power in giving. It can help you heal, be an outlet for your children during divorce, and make the world a better place to live. 
Caren Yanis is the principal of Croland Consulting, a philanthropic advisory group that guides families, athletes, and celebrities in building a culture of purpose and legacy.
Topics and Golden Nuggets include 
Divorce is a prime time to do something with your children that is outward-focused, such as giving

The benefit of having a philanthropic advisor or sherpa to create a long view goals of giving

Philanthropy can help you heal from the trauma of a difficult divorce

Examples of women who come at philanthropy not with a lot of financial resources but with energy and attention, and do amazing things

Engaging in the arts and using the arts to help other people is a fabulous way to elevate everybody
Whether you have billions of dollars or zero dollars, we all have something to give and to benefit others.
About this week's special guest: Caren Yanis
Caren is the principal of Croland Consulting, a philanthropic advisory group that guides families, athletes, and celebrities in building a culture of purpose and legacy.
She was Executive Director of the Oprah Winfrey Foundation and Oprah's Angel Network, (2000-2009) the height of the Oprah Winfrey Show. 
She went on to become President of Crown Family Philanthropies in Chicago. 
Caren's focus is on deepening intergenerational engagement and social impact using a variety of assets and strategies. Keynotes, podcasts, and panel discussions have included Family Business Magazine's Legacy and Wealth Conference, Yale's Philanthropy Conference, and the Society for Trust and Estate Planners annual and regional conferences. She has been a guest on podcasts including The Heart of Giving (Better Business Bureau), Denton's, Alliance Bernstein, and Family Business Magazine's Legacy and Wealth Conference. 
She is an adjunct professor at Tulane University, the University of Chicago Booth School in their Private Wealth Management program, and at the Spertus Institute where she also mentors graduate students. University speaking engagements include Northwestern Law, NYU, Duke and Johns Hopkins.
Caren chairs the board of The Poetry Foundation (which received a significant bequest from Ruth Lilly in 2002) and has guided it through meaningful organizational and governance change. She is an advisor to the Aubrey and Marla Dan Foundation, and to the (Deepak) Chopra Foundation, is a member of the Board of Visitors at the Lilly Family School of Philanthropy at Indiana University, and the Women's Philanthropy Institute, a research organization focused on trends in giving.
In her spare time, Caren hosts salons that bring bold thinkers together for meaningful conversations. She has a passion for listening deeply, navigating challenges, and guiding people who have the potential to make the world a better place. 
Caren Croland Yanis | Philanthropic Advising: caren@crolandconsulting.com 
Caren's website: CrolandConsulting.com 
Caren on Linkedin: http://linkedin.com/in/carenyanis
Also mentioned in this episode:

Book a Strategy Session with Susan! 

Singing "Single Bells" This Holiday? Surviving the Solitary Season with Special Guest, Jenny Stevens 
PoetryMagazine.org/EventsOffer:1 year of Poetry Magazine for $20. Regular price is $35.  
Generosity Project: https://www.ted.com/talks/sasha_dichter_the_generosity_experiment 
Women's Philanthropy Institute – The Women's and Girls Index: https://scholarworks.iupui.edu/bitstream/handle/1805/21010/wgi-infographic.pdf 
Women's Philanthropy Institute -Women as Change Agents: 
https://scholarworks.iupui.edu/bitstream/handle/1805/21440/change-agents-infographic.pdf 
Women Moving Millions: https://womenmovingmillions.org/ 
Thresholds  - mental health and breaking the cycle of poverty: https://www.thresholds.org/ 
Friends of the Children – mentoring high risk children: https://friendschicago.org/about 
Multiple Myeloma Research Foundation: theMMRF.org 
If you want to see the video version of the podcast episodes they are available on The Divorce & Beyond YouTube Channel!  Make sure to LIKE and SUBSCRIBE so you don't miss a single episode!
THANK YOU TO OUR SPONSOR: HELLO DIVORCE
Your divorce, your way. 
Say hello to an easier, kinder, and less expensive divorce. 
They can handle almost every divorce without a court for thousands less than hiring a lawyer. 
Easy, quick online divorce process 

We review, file, and serve for you 

Expert legal and financial help as you go 
Get more information, resources, and support at hellodivorce.com/beyond and receive $100 off your service with the code BEYOND! 
Visit hellodivorce.com/beyond for $100 OFF!
*********************************************************************
SPONSORSHIP OPPORTUNITIES ARE AVAILABLE!  https://divorcebeyond.com/Sponsorship-Info
*******************************************************************
MEET OUR CREATOR AND HOST:
SUSAN GUTHRIE®, ESQ., the creator and host of The Divorce and Beyond® Podcast, is nationally recognized as one of the top family law and divorce mediation attorneys in the country.  Susan is the Vice Chair of the American Bar Association Section of Dispute Resolution and is a sought-after keynote speaker, business and practice consultant, coach and trainer. You can find out more about Susan and her services here:  https://neon.page/susanguthrie
Internationally renowned as one of the leading experts in online mediation, Susan created her Learn to Mediate Online® program and has trained more than 25,000 professionals in how to transition their practice online.  Susan recently partnered with legal and mediation legend, Forrest "Woody" Mosten to create the Mosten Guthrie Academy which provides gold standard, fully online training for mediation and collaborative professionals at all stages of their career.  
Follow Susan Guthrie and THE DIVORCE AND BEYOND PODCAST on social media for updates and inside tips and information:
Susan on LinkedIn: https://www.linkedin.com/in/susaneguthrie/
Susan on Instagram @susanguthrieesq
*********************************************************************
We'd really appreciate it if you would give us a 5 Star Rating and tell us what you like about the show in a review - your feedback really matters to us! 
You can get in touch with Susan at divorceandbeyondpod@gmail.com. 
Don't forget to visit the webpage www.divorceandbeyondpod.com and sign up for the free NEWSLETTER to receive a special welcome video from Susan and more!!
*********************************************************************
DISCLAIMER:  THE COMMENTARY AND OPINIONS AVAILABLE ON THIS PODCAST ARE FOR INFORMATIONAL AND ENTERTAINMENT PURPOSES ONLY AND NOT FOR THE PURPOSE OF PROVIDING LEGAL ADVICE.  YOU SHOULD CONTACT AN ATTORNEY IN YOUR STATE TO OBTAIN LEGAL ADVICE WITH RESPECT TO ANY PARTICULAR ISSUE OR PROBLEM.