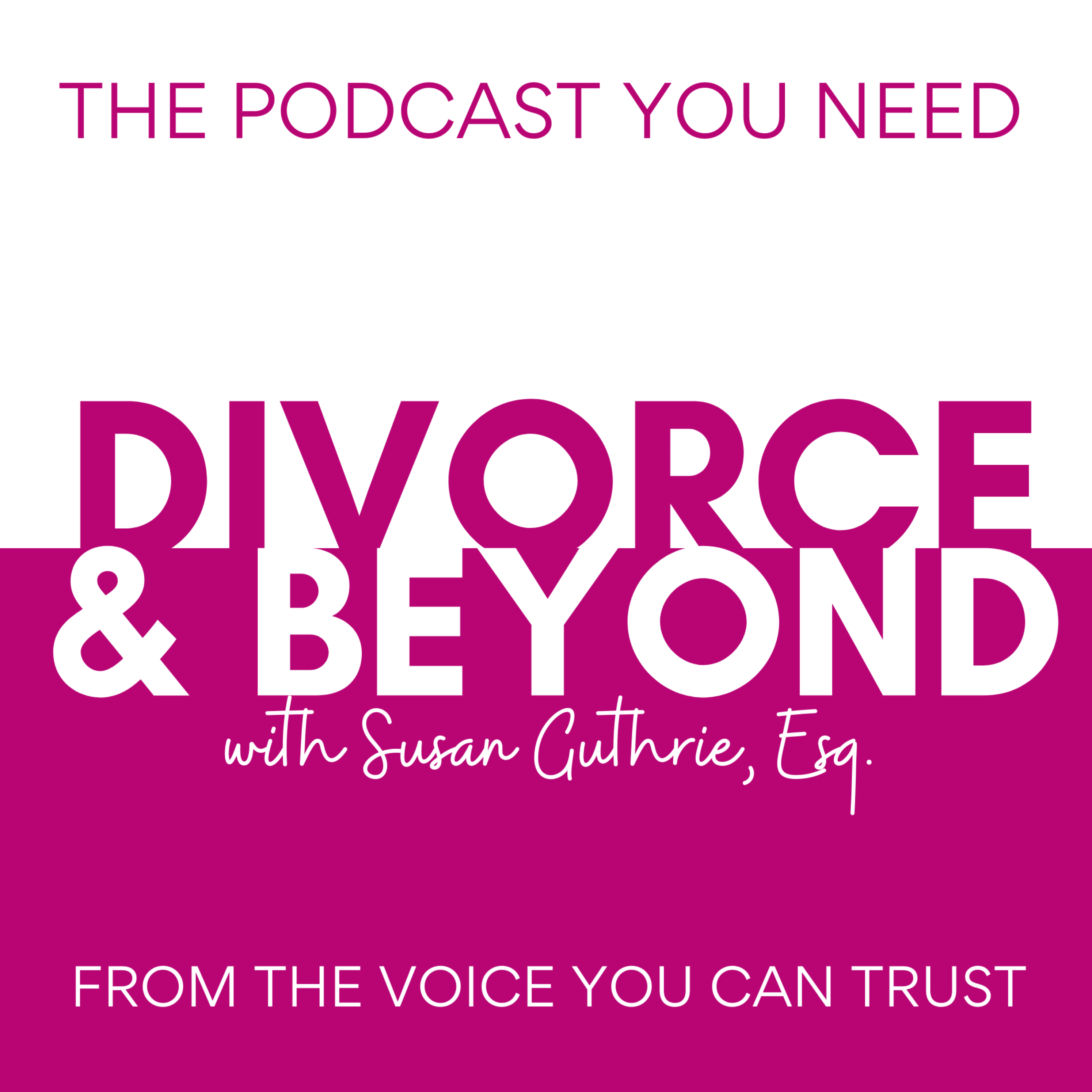 Nationally recognized family law attorney, mediator and award-winning podcaster, Susan Guthrie is at it again! After guiding countless numbers of people through the perilous world of divorce—and speaking to a podcast audience of over 4 million listeners—she's bringing you the "The Divorce & Beyond Podcast" to help you thrive in your life BEYOND divorce!
Episodes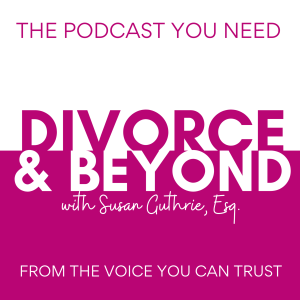 Thursday Nov 10, 2022
Thursday Nov 10, 2022
As November is Family Court Awareness Month which closely follows on the heels of Domestic Violence Awareness month in October, Susan Guthrie, Esq. brings you a special Bonus Episode where the two topics are joined.  Susan chats again with Investigative Journalist and Coach, Amy Polacko to shine a light on what the laws do and do not do to protect victims of intimate partner violence and coercive control, what has been done and what more needs to be done.
Amy Polacko recently wrote a revealing article for Ms. Magazine entitled, "Empowered: Women Tell Family Court Judges of Experiences With Coercive Control Using New Domestic Abuse Law" that received a great deal of attention from women and survivors of domestic abuse.  As outlined in the article, one year ago, Connecticut enacted Jennifers' Law, which added coercive control to the definition of domestic violence for those seeking relief, becoming one of only 5 states to pass such protections.  Amy's article looks at how the law has impacted domestic violence victims since the passing of the law, highlighting the benefits but also the many shortcomings and difficulties in applying the law in a court of law.  
In this episode, Amy shares her insights from speaking directly with the women who have been in the legal trenches, those who continue to struggle with litigation abuse and some tips for managing if you find yourself in this dangerous situation.  This is incredibly important information for everyone to hear as domestic violence rips at the fabric of our society.
About this week's special guest: Amy Polacko
Amy Polacko is a Freedom Warrior - and is committed to helping women live life on their own terms during/after a toxic relationship or divorce. As a divorced single mom, she is passionate about coaching women one-on-one and founded the empowerment group Strong Savvy Women to provide support, inspiration, and guidance to single women. Amy is also an award-winning journalist who sheds light on women's issues including divorce, domestic abuse, coercive control, and singlehood. 
Her recent journalistic work has appeared in The Washington Post, Newsweek, NBC News THINK, and Ms. Magazine. After graduating from Columbia University's Graduate School of Journalism, Amy worked as a newspaper reporter for Newsday and was part of the Pulitzer Prize-winning team covering the TWA Flight 800 crash. She then transitioned to television journalism, working as a writer and producer in New York City. Amy was an award-winning on-air reporter in Fargo, ND, where she traveled to Kosovo for a series on the North Dakota National Guard, and in Philadelphia, where she covered the national D.C. Sniper story. She also headed up an investigative reporting unit in Albany, NY, where she uncovered consumer scams, crime, and government corruption as part of her I-Team Investigations -- one of which exposed a loophole in the state's sex offender registry. 
Amy has spoken publicly on women's issues, empowerment and entrepreneurship at Yale University, the Women's Forum in Ridgefield, CT, the Women's Center of Greater Danbury, CT, the Hayvn co-working space for women, the Believe Inspire Grow national empowerment organization for women, and many other groups both virtually and in person. 
Website:  www.freedomwarrior.info 
Instagram: https://www.instagram.com/freedomwarriortribe/
Facebook: https://www.facebook.com/freedomwarriortribe/
Also mentioned in this episode:
Dr. Christine Cocchiola's Episodes:
Domestic Abuse Part One:  Understanding Coercive Control with Dr. Christine Cocchiola on Divorce & Beyond #237
Domestic Abuse Part Two: Turning the Focus to Post-Separation Abuse with Dr. Christine Cocchiola on Divorce & Beyond #238
Tina Swithin Episodes:
How One Mom's Battle is Changing the Face of High Conflict Divorce with Tina Swithin on Divorce & Beyond #206
The Incredible Tale of One Mom's Successful 10-Year Battle to Be Free of a Narcissist with Tina Swithin on Divorce & Beyond #257
Get Tina's Book:  Divorcing a Narcissist: One Mom's Battle
CT Protective Moms: https://www.connecticutprotectivemoms.org/
If you want to see the video version of the podcast episodes they are available on The Divorce & Beyond YouTube Channel!  Make sure to LIKE and SUBSCRIBE so you don't miss a single episode!
TRANSCRIPT AVAILABLE: https://web.descript.com/4d38014b-c9a7-4cd4-9ec1-a20f6df22785
 *******************************************************************
MEET OUR CREATOR AND HOST:
SUSAN GUTHRIE®, ESQ., the creator and host of The Divorce and Beyond® Podcast, is nationally recognized as one of the top family law and divorce mediation attorneys in the country.  Susan is a member of the Executive Council of the American Bar Association Section of Dispute Resolution and is the Founder of Divorce in a Better Way® which provides a curated selection of resources and information for those facing divorce and other life changes. 
Internationally renowned as one of the leading experts in online mediation, Susan created her Learn to Mediate Online® program and has trained more than 18,000 professionals in how to transition their practice online.  Susan recently partnered with legal and mediation legend, Forrest "Woody" Mosten to create the Mosten Guthrie Academy which provides gold standard, fully online training for mediation and collaborative professionals at all stages of their career.  
Follow Susan Guthrie and THE DIVORCE AND BEYOND PODCAST on social media for updates and inside tips and information:
Susan Guthrie on Facebook @susanguthrieesq
Susan on Instagram @susanguthrieesq
Susan on Twitter @guthrielaw
*********************************************************************
SPONSORSHIP OPPORTUNITIES ARE AVAILABLE!
If you would like to sponsor the show please reach out to us at  divorceandbeyondpod@gmail.com for pricing and details!!!
*********************************************************************
We'd really appreciate it if you would give us a 5 Star Rating and tell us what you like about the show in a review - your feedback really matters to us! 
You can get in touch with Susan at divorceandbeyondpod@gmail.com. 
Don't forget to visit the webpage www.divorceandbeyondpod.com and sign up for the free NEWSLETTER to receive a special welcome video from Susan and more!!
*********************************************************************
DISCLAIMER:  THE COMMENTARY AND OPINIONS AVAILABLE ON THIS PODCAST ARE FOR INFORMATIONAL AND ENTERTAINMENT PURPOSES ONLY AND NOT FOR THE PURPOSE OF PROVIDING LEGAL ADVICE.  YOU SHOULD CONTACT AN ATTORNEY IN YOUR STATE TO OBTAIN LEGAL ADVICE WITH RESPECT TO ANY PARTICULAR ISSUE OR PROBLEM