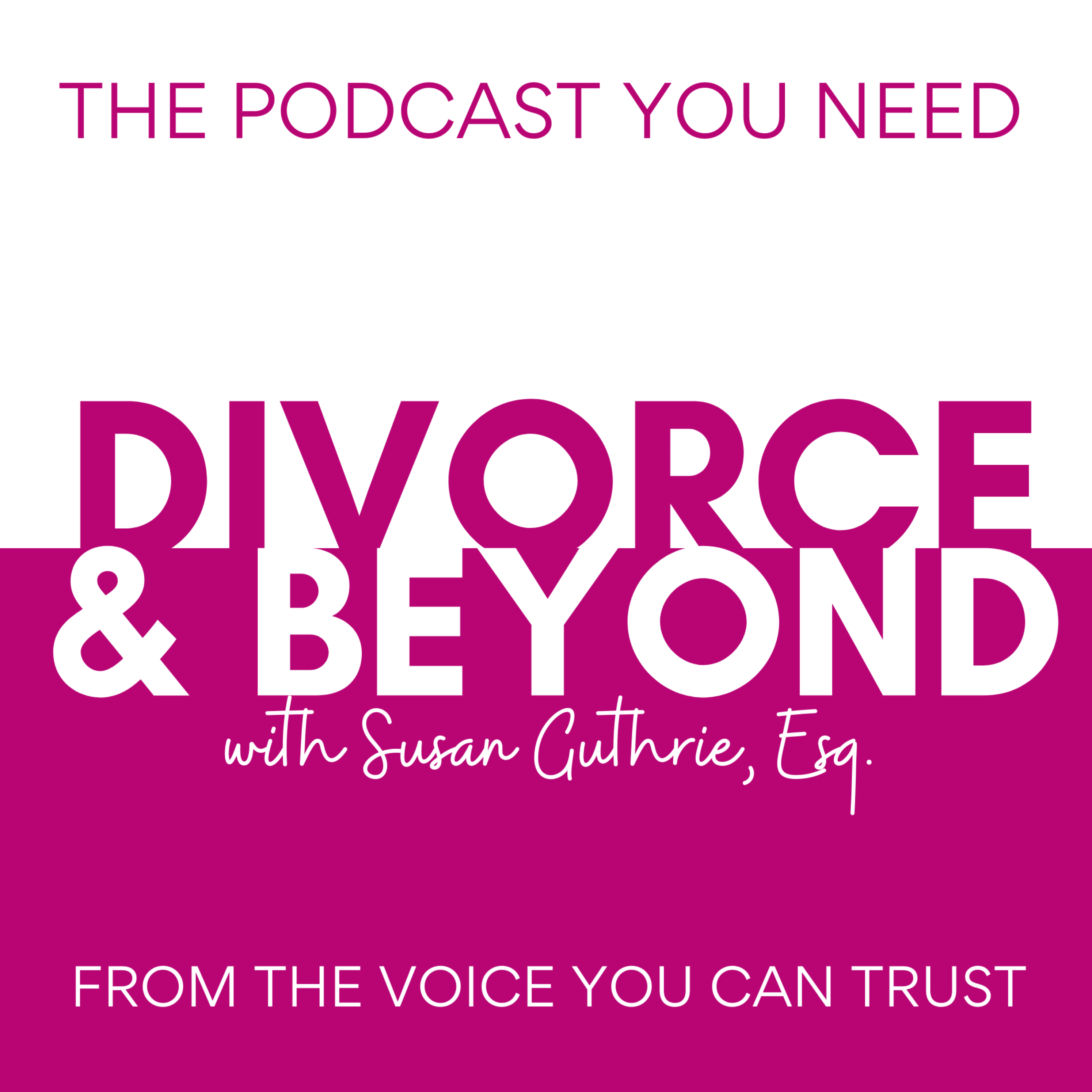 Nationally recognized family law attorney, mediator and award-winning podcaster, Susan Guthrie is at it again! After guiding countless numbers of people through the perilous world of divorce—and speaking to a podcast audience of over 4 million listeners—she's bringing you the "The Divorce & Beyond Podcast" to help you thrive in your life BEYOND divorce!
Episodes
Monday Sep 21, 2020
Monday Sep 21, 2020
In this episode Susan Guthrie speaks again with special guest, The Divorce Doctor, Elizabeth Cohen to share important information as the world of divorce collides with COVID-19 and diagnoses of depression and anxiety have gone up precipitously.  This episode will tell you what to look for and most importantly, what you can do, if you find yourself struggling for any reason in the face of The Perfect Storm.
September is Suicide Prevention Month and we find ourselves in a world where our mental health is challenged in new and different ways.  Dr. Elizabeth Cohen a/k/a The Divorce Doctor, is here to help us understand why cases are on the rise, what we need to look for and what we can do to help other or ourselves if we are experiencing symptoms of anxiety, depression or any other mental health challenge.
According to the U.S. Surgeon General, people going through divorce have a 30-40% increased likelihood of experiencing symptoms of depression and anxiety.  Layer on top of that the fact that the number of divorces is reported to be up approximately 34% during COVID and that the current world we live in with COVID is resulting in up to a 3-fold increase in diagnoses of anxiety and depression according to a survey by John's Hopkins.  Talk about THE PERFECT STORM!  It is vitally important that we prioritize our mental health and that of others at this extremely vulnerable time and Dr. Elizabeth shares what to look for, what you can do and lets you know YOU ARE NOT ALONE!
Some Highlights From This Episode:
Find out what the difference is between anxiety and depression, what they symptoms of each are and why they are NORMAL!
Hear what the tipping point is where you know that you need to reach out for help.
Get some concrete exercises that you can do to help you with your feelings of fear and anxiety.
Delve into why COVID is creating such a crises in mental health.
Discover the MOST IMPORTANT THING YOU CAN DO FOR SOMEONE THINKING OF ENDING THEIR LIFE!
And SO MUCH MORE!  Listen to this episode and KNOW THAT YOU ARE NOT ALONE.
***IF YOU ARE CONTEMPLATING SUICIDE OR SELF-HARM: Please reach out for help.  The National Suicide Prevention Lifeline is open 24/7 at 800-273-TALK (8255).***
Dr. Elizabeth will be joining Susan again for another episode soon so here is your opportunity to ask her anything!  Send an email to divorceandbeyondpod@gmail.com and take advantage of your opportunity to ASK "THE DIVORCE DOCTOR" ANYTHING!
To Listen to Episode #135 with Dr. Elizabeth, "The Divorce Doctor is in the House: Dealing with the Emotions of Divorce" just click here:  Episode #135
More Information About This Week's Special Guest: 
Dr. Elizabeth Cohen is the CEO and founder of the online divorce course and membership Afterglow: The Light at the Other Side of Divorce. This 14 week course teaches women how to heal, grow and thrive after divorce no matter how difficult the process has been. Dr. Cohen also offers a monthly membership program. Dr. Cohen is also the CEO and Director of Dr. Elizabeth Cohen and Associates, a group private practice in the heart of New York City serving children, adolescents and adults.
Contact Dr. Elizabeth:
Website 

drelizabethcohen.com

Social Media Handles 

@thedivorcedoctor - Instagram
The Divorce Doctor- Facebook
Get more information on Dr. Elizabeth's Online Program:  AFTERGLOW:  The Light on the Other Side of Divorce here:  https://drelizabethcohen.com/afterglow/
**********************
SUSAN GUTHRIE, ESQ., the creator and host of The Divorce and Beyond Podcast, is nationally recognized as one of the top family law and divorce mediation attorneys in the country.  She is one of the Co-Chair's of the American Bar Association's DR Section Mediation Committee and is the Founder of Divorce in a Better Way which provides a curated selection of resources and information for those facing divorce and other life changes.  Susan has created a website of curated resources for those facing divorce.  Find out more at www.divorceinabetterway.com.
*****************************************************************************
*********************************************
THANK YOU TO OUR SPONSOR!
As the Experts in Remote Alcohol Monitoring Technology, Soberlink combines a breathalyzer with wireless connectivity and is the only system with facial recognition, tamper detection, and Advanced Reporting™. The real-time system reduces litigation, fosters peace of mind, and ensures child safety. 
SPECIAL OFFER:  For a limited time, get an exclusive $50 off your device by emailing info@soberlink.com and mentioning Divorce and Beyond.
*****************************************************************************
SPONSORSHIP OPPORTUNITIES AVAILABLE!
If you would like to sponsor the show please reach out to us at  divorceandbeyondpod@gmail.com for pricing and details!!!
*********************************************************************
Remember to follow Susan Guthrie and THE DIVORCE AND BEYOND PODCAST on social media for updates and inside tips and information:
Susan Guthrie on Facebook
Susan on Instagram
Susan on Twitter
Divorce & Beyond Podcast on Instagram
Divorce & Beyond Podcast on Twitter
If you want to see the video version of the podcast episodes they are available on The Divorce & Beyond YouTube Channel!  Make sure to LIKE and SUBSCRIBE so you don't miss a single episode!
Finally, we'd really appreciate it if you would  give us a 5 Star Rating and tell us what you like about the show in a review - your feedback really matters to us! 
You can also get in touch with Susan at divorceandbeyondpod@gmail.com. 
Don't forget to visit the webpage www.divorceandbeyondpod.com and sign up for the free NEWSLETTER to receive a special welcome video from Susan and more!!
*****************************************************************************
DISCLAIMER:  THE COMMENTARY AND OPINIONS AVAILABLE ON THIS PODCAST ARE FOR INFORMATIONAL AND ENTERTAINMENT PURPOSES ONLY AND NOT FOR THE PURPOSE OF PROVIDING LEGAL ADVICE.  YOU SHOULD CONTACT AN ATTORNEY IN YOUR STATE TO OBTAIN LEGAL ADVICE WITH RESPECT TO ANY PARTICULAR ISSUE OR PROBLEM