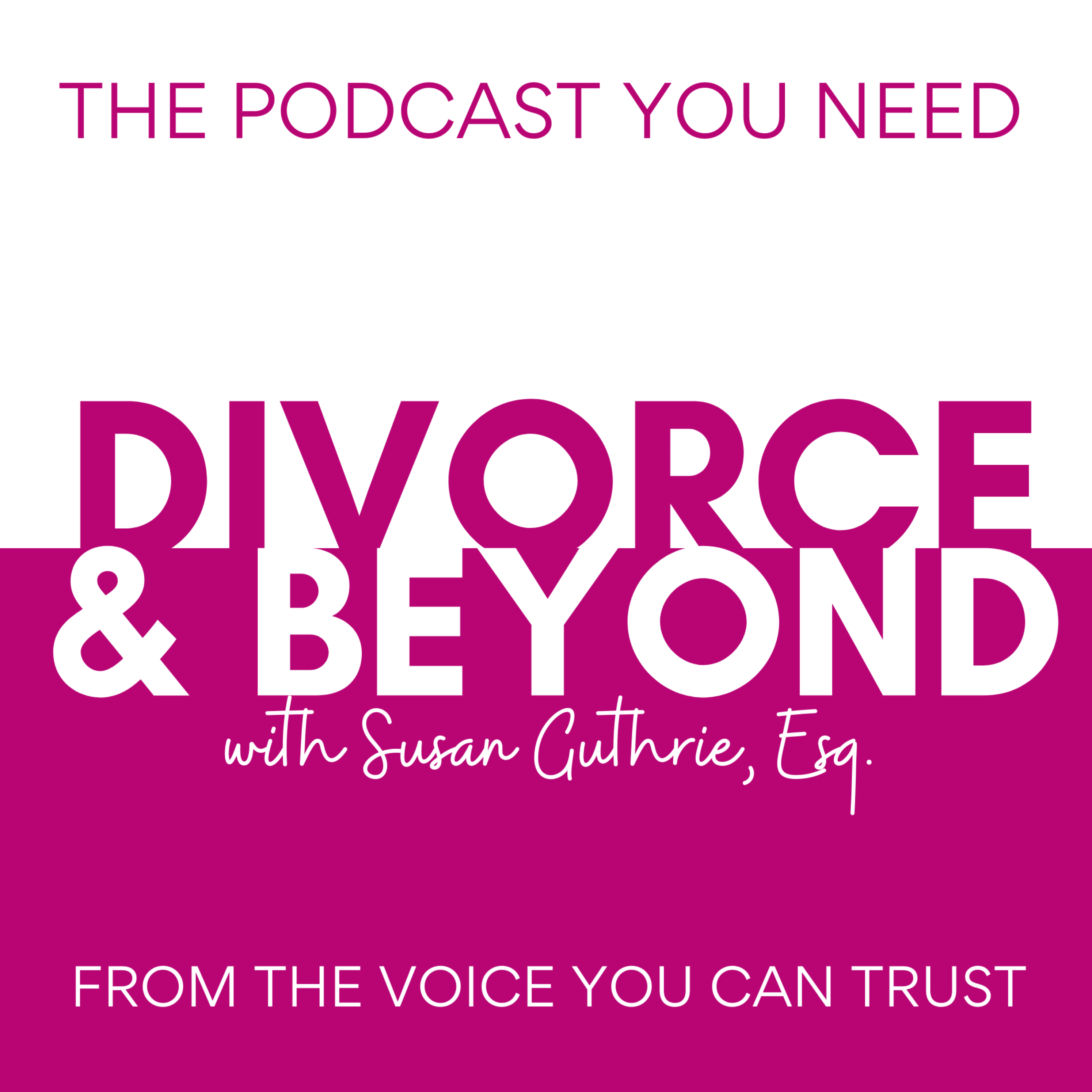 Nationally recognized family law attorney, mediator and award-winning podcaster, Susan Guthrie is at it again! After guiding countless numbers of people through the perilous world of divorce—and speaking to a podcast audience of over 4 million listeners—she's bringing you the "The Divorce & Beyond Podcast" to help you thrive in your life BEYOND divorce!
Episodes
Monday Apr 26, 2021
Monday Apr 26, 2021
On this week's episode of The Divorce & Beyond Podcast, Susan Guthrie speaks with Coach and Author, Paulette Gloria Rigo, Founder of the Better Divorce Academy and Co-Host of the Thriving Through Chaos Project Podcast about her brand new book and program, The Better Divorce Blueprint.
Divorce feels like such an overwhelm as you try to navigate the unfamiliar process, the emotional upheaval and all the massive practical changes that come at you and your family throughout.  Paulette Gloria Rigo, mediator, coach, speaker, host and author, knows these feelings all too well as she is the survivor of a monumental divorce that took over 8 1/2 years to finalize.  In fact, her own journey, along with all the mistakes that she admits were made, is central to her passion for helping people to find a better path through the experience.  To that end, she has created her newly launched Better Divorce Blueprint.
If you have ever built a house or other structure, you know just how central to the process the blueprints are and Paulette's Better Divorce Blueprint will provide the same structure for you while you separate and move through the legal process.  She shares some of her top tips from the Blueprint to get you started in this episode so be sure to listen!
More information about Paulette:  
PAULETTE RIGO is a Credentialed Mediator, Certified Divorce Coach, Trauma-Informed Recovery Coach, Career Transition Specialist, Book Writing Coach, Speaker, Host and Author. Her new soon to release "Better Divorce Blueprint" the Book, Planner, Course and No Matter What card deck, Thriving in Chaos Project Podcast, Best Life Ever Private Island Retreats and Better Divorce Academy are tools she created and utilizes to help her clients create an optimal divorce experience and the new life chapter they deserve and desire.
It is Paulette's personal 8.5 year litigated and appellant experience and expertise that makes her so skilled in allowing her clients to stay in control, stay out of court (if possible) maintain their dignity, create the right team of professionals from the early stage of contemplation to the necessary final steps of healing using practical tools, inspiration and a proven wellness model.
You can find out more about Paulette and her many projects on her website at www.betterdivorceacademy.com.
Follow Paulette on Instagram @betterdivorceacademy and be sure to join her with Ilyssa Panitz on Wednesday and Sunday nights on Clubhouse for "All Things Divorce!"
**********************
SUSAN GUTHRIE, ESQ., the creator and host of The Divorce and Beyond Podcast, is nationally recognized as one of the top family law and divorce mediation attorneys in the country.  She is one of the Co-Chair's of the American Bar Association's DR Section Mediation Committee and is the Founder of Divorce in a Better Way which provides a curated selection of resources and information for those facing divorce and other life changes.  Susan has created a website of curated resources for those facing divorce.  Find out more at www.divorceinabetterway.com.
*****************************************************************************
*********************************************
THANK YOU TO OUR SPONSOR!
dtour.life is an easy to navigate system that finally brings much needed technology to an inefficient system. Spouses and family law professionals can now collect the endless data, manage the piles of documents, explore various settlements, detail budgets and most importantly, collaborate with the entire team with a single click. And we built this from the ground up with industry best practices and the most advanced security and encryption technology available.  Be sure to check it out today!
SPECIAL OFFER:  Sign up for the FREE TRIAL here:  https://www.dtour.life/sign-up and then use special code "SUSAN20" to receive 20% off the cost of a subscription!
 FAYR, the BEST Co-Parenting App on the Market!   What makes FAYR different?  At FAYR it's not just about efficiency and ease (though they love those).  They also help you create a better co-parenting experience by providing tools for: constructive communication, argument diffusion, and emotional support.  For information on our FAYR, the ONLY co-parenting app recommended by Susan Guthrie and The Divorce and Beyond Podcast,  visit their website at www.fayr.com.  Don't forget to use the code "SUSANG18" for 20% off!!
*****************************************************************************
SPONSORSHIP OPPORTUNITIES AVAILABLE!
If you would like to sponsor the show please reach out to us at  divorceandbeyondpod@gmail.com for pricing and details!!!
*********************************************************************
Remember to follow Susan Guthrie and THE DIVORCE AND BEYOND PODCAST on social media for updates and inside tips and information:
Susan Guthrie on Facebook
Susan on Instagram
Susan on Twitter
Divorce & Beyond Podcast on Instagram
Divorce & Beyond Podcast on Twitter
If you want to see the video version of the podcast episodes they are available on The Divorce & Beyond YouTube Channel!  Make sure to LIKE and SUBSCRIBE so you don't miss a single episode!
Finally, we'd really appreciate it if you would  give us a 5 Star Rating and tell us what you like about the show in a review - your feedback really matters to us! 
You can also get in touch with Susan at divorceandbeyondpod@gmail.com. She loves to hear from listeners and you might hear your comment or question on an upcoming episode!
Don't forget to visit the webpage www.divorceandbeyondpod.com and sign up for the free NEWSLETTER to receive a special welcome video from Susan and more!!
*****************************************************************************
DISCLAIMER:  THE COMMENTARY AND OPINIONS AVAILABLE ON THIS PODCAST ARE FOR INFORMATIONAL AND ENTERTAINMENT PURPOSES ONLY AND NOT FOR THE PURPOSE OF PROVIDING LEGAL ADVICE.  YOU SHOULD CONTACT AN ATTORNEY IN YOUR STATE TO OBTAIN LEGAL ADVICE WITH RESPECT TO ANY PARTICULAR ISSUE OR PROBLEM.