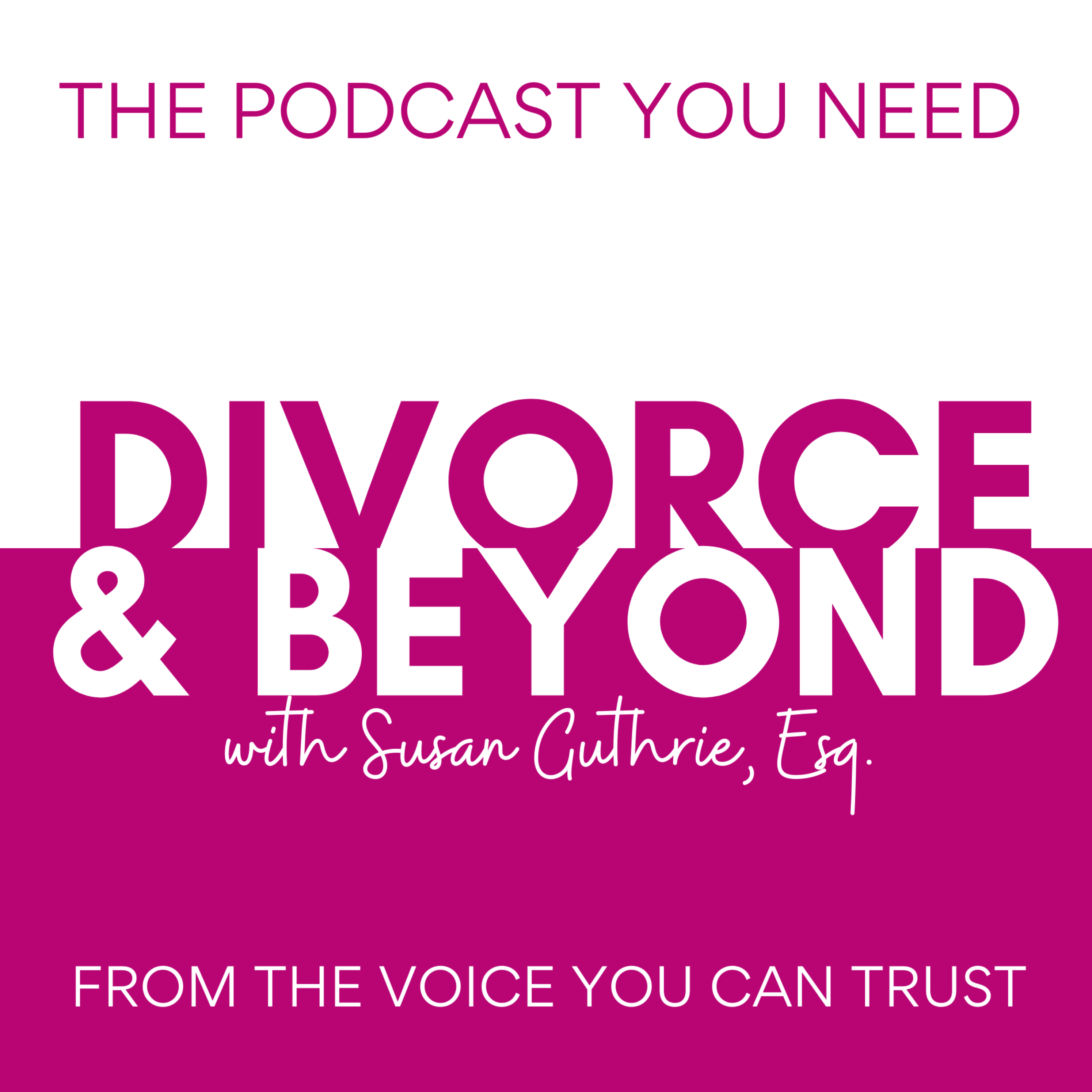 Nationally recognized family law attorney, mediator and award-winning podcaster, Susan Guthrie is at it again! After guiding countless numbers of people through the perilous world of divorce—and speaking to a podcast audience of over 4 million listeners—she's bringing you the "The Divorce & Beyond Podcast" to help you thrive in your life BEYOND divorce!
Episodes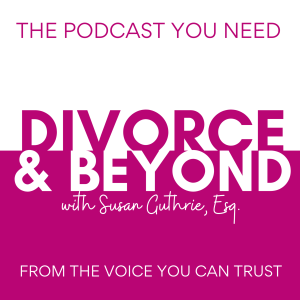 Monday Sep 19, 2022
Monday Sep 19, 2022
Top financial expert Olivia Summerhill joins Susan Guthrie, Esq, on The Divorce & Beyond podcast. Together they discuss how to dig up the "buried treasure" of divorce and find those hidden or forgotten assets!  This is the episode that will pay you back for listening!
Many people have items in their homes that are taken for granted. When was the last time you took an inventory of what you own?  There might be items you never considered that end up being marital assets. 
Financial expert Olivia Summerhill returns to the podcast to share insight, information, and tips on how to search for the buried treasure of divorce. She invites you to hop on board her treasure-hunting boat and cruise the shoreline (and beyond) to find not only hidden assets but assets that may have been overlooked or forgotten. 
Susan and Olivia also discuss why you should disclose all assets and liabilities before and during divorce, and explore how working with a professional divorce team can help you find valuable items sitting around or in plain sight. 
Olivia Summerhill, CFP, CDFA, CMC founded a financial consulting firm dedicated to helping women maintain their lifestyles and thrive post-divorce by educating and empowering them financially.   Although Olivia's niche is celebrity and ultra-high net worth clients, she works with clients in diverse financial situations through her extensive pro bono work. 
Some of the Golden Nuggets from Olivia include:
Forgotten or hidden assets are usually right in front of you! Take photos around your house to jog your memory of what you have or were given

Easily forgotten assets can include IRAs, season sport event tickets, gift cards, and even airline miles!

Why you should know if there is equity in your home

Today, there is more opportunity to hide assets AND more resources to help you find them

What to know about cryptocurrency as a possible hidden asset

Trust your "Spidey" sense! You know more than you think you do.

What you need to know and consider about bank accounts for your children

Be aware! Who may be involved in actively hiding assets 

Why you want to disclose

all

assets before and during divorce
This is an episode you'll want to listen to more than once. Tune in to hear valuable information about how to uncover easily forgotten or hidden assets! 
About this week's special guests: Olivia Summerhill
Olivia Summerhill is the founder of a financial consulting company called The Summerhill Firm. She helps affluent women maintain their lifestyles and thrive post-divorce by educating and empowering them financially. 
Her niche serves famous and high-profile women who need help navigating the financial complexities of divorce. Having a decade of experience in wealth management and private banking, Olivia dedicates her time to protecting women. She consults with financial advisors and works with their clients to help them avoid divorce mistakes. 
Among numerous other designations in finance, Olivia is a Certified Financial Planner, Certified Divorce Financial Analyst, Certified Divorce Specialist, and Certified Money Coach. 
Olivia is often highlighted in Forbes, US News, MSN, and other media. She hosts a money coaching podcast called 'Divorce for Wealthy Women.' And currently, she is training for an Ironman to raise money for a non-profit that helps women take control of their finances. 
*** GET Olivia's Buried Treasure: Hidden and Forgotten Assets Worksheet! ***
Website: https://www.summerhillfirm.com/

Divorce for Wealthy Women Podcast:  https://www.summerhillfirm.com/resources/
****************************************************************
Also mentioned in this episode:

Rainbows For All Children
What Impact Does Your "Standard of Living" REALLY Have On Your Divorce with Top Divorce Financial Expert, Olivia Summerhill
Your Favorite Guest Experts Share Their Most-Memorable Divorce Cases Part Two
If you want to see the video version of the podcast episodes they are available on The Divorce & Beyond YouTube Channel!  Make sure to LIKE and SUBSCRIBE so you don't miss a single episode!
ACCESS THE EPISODE TRANSCRIPT HERE:  https://share.descript.com/view/RvNDCPi5Kg5
********************************************************************************
THANK YOU TO OUR SPONSOR: Divide & Thrive Divorce Planner
Divorce is hard. Divide & Thrive makes planning for one EASY.
The #1 regret I hear from people who've gone through a divorce is that they didn't PREPARE in advance. There is no do-over in divorce, so planning early in the process is a GAME CHANGER.
Divide & Thrive's divorce planner takes the guesswork out of what to do. Their planner has helped THOUSANDS of people throughout the U.S. AND Canada save TIME and MONEY during divorce, and have PEACE OF MIND.
Their PROGRAM guides you through HOW to set divorce goals, tackle your BUDGET with easy-to-use financial planning tools, STREAMLINES your essential document collection, and SIMPLIFIES asset cataloging. 
Recommended by divorce attorneys, mediators, AND financial advisors, the easy-to-use planner helps you address the emotional AND business sides of divorce, and create your best next chapter.
Check out www.divideandthrive.net for reviews and a peek inside the planner. Use the code SUSAN22 for 20% off!
*******************************************************************
MEET OUR CREATOR AND HOST:
SUSAN GUTHRIE®, ESQ., the creator and host of The Divorce and Beyond® Podcast, is nationally recognized as one of the top family law and divorce mediation attorneys in the country.  Susan is a member of the Executive Council of the American Bar Association Section of Dispute Resolution and is the Founder of Divorce in a Better Way® which provides a curated selection of resources and information for those facing divorce and other life changes. 
Internationally renowned as one of the leading experts in online mediation, Susan created her Learn to Mediate Online® program and has trained more than 18,000 professionals in how to transition their practice online.  Susan recently partnered with legal and mediation legend, Forrest "Woody" Mosten to create the Mosten Guthrie Academy which provides gold standard, fully online training for mediation and collaborative professionals at all stages of their career.  
Follow Susan Guthrie and THE DIVORCE AND BEYOND PODCAST on social media for updates and inside tips and information:
Susan Guthrie on Facebook @susanguthrieesq
Susan on Instagram @susanguthrieesq
Susan on Twitter @guthrielaw
*********************************************************************
SPONSORSHIP OPPORTUNITIES ARE AVAILABLE!
If you would like to sponsor the show please reach out to us at  divorceandbeyondpod@gmail.com for pricing and details!!!
*********************************************************************
We'd really appreciate it if you would give us a 5 Star Rating and tell us what you like about the show in a review - your feedback really matters to us! 
You can get in touch with Susan at divorceandbeyondpod@gmail.com. 
Don't forget to visit the webpage www.divorceandbeyondpod.com and sign up for the free NEWSLETTER to receive a special welcome video from Susan and more!!
*********************************************************************
DISCLAIMER:  THE COMMENTARY AND OPINIONS AVAILABLE ON THIS PODCAST ARE FOR INFORMATIONAL AND ENTERTAINMENT PURPOSES ONLY AND NOT FOR THE PURPOSE OF PROVIDING LEGAL ADVICE.  YOU SHOULD CONTACT AN ATTORNEY IN YOUR STATE TO OBTAIN LEGAL ADVICE WITH RESPECT TO ANY PARTICULAR ISSUE OR PROBLEM