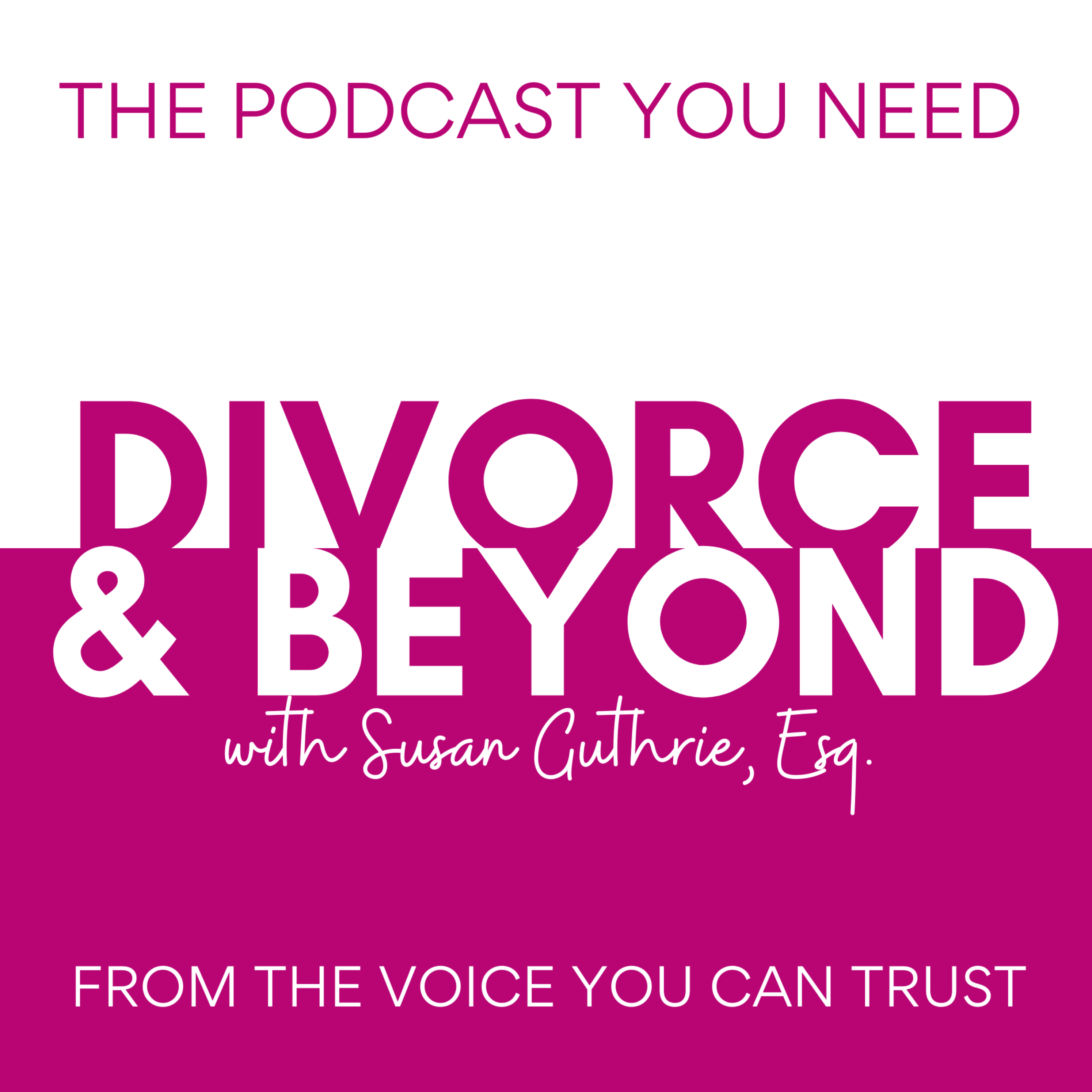 Nationally recognized family law attorney, mediator and award-winning podcaster, Susan Guthrie is at it again! After guiding countless numbers of people through the perilous world of divorce—and speaking to a podcast audience of over 4 million listeners—she's bringing you the "The Divorce & Beyond Podcast" to help you thrive in your life BEYOND divorce!
Episodes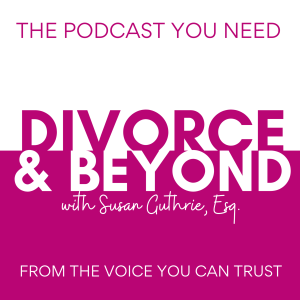 Monday Apr 04, 2022
Monday Apr 04, 2022
This week on Divorce & Beyond, Host, Susan Guthrie speaks with Leading Financial Divorce Professional, Heather Locus, who returns to the podcast to share her top 5 insider tips for saving money in your divorce!
Heather Locus, CPA, CFP, CDFA, recently released her latest book, Financial Issues in Divorce: A Client Handbook, written at the request of the AAML, one of the top associations for family attorneys in the United States, so you can be sure that she knows what she is talking about.  Heather has a unique gift in the world of divorce financial professionals, for taking the difficult and complicated financial issues of divorce and breaking them down in simple and practical terms so that you can clearly and calmly review your options and make your decisions.  In this episode, Heather shares her insights into the best ways to save money in your divorce which cover topics such as avoiding common mistakes as well as setting out affirmative steps you can take to keep your hard-earned dollars in your pocket and not the attorney's coffers!
Don't dive into your divorce without listening to this episode! 
More About Heather Locus:
Heather founded the National Divorce Practice Group at BDF Private Wealth to help divorcing individuals consciously navigate their divorce's emotional and business aspects. From hiring the right fit attorney through their SettleSmart™ analysis, then implementing the divorce decree and auditing it annually, Heather ensures you have the resources you need to start your next chapter on a firm footing.
Heather founded our Women's Service Team in 2006 to help female executives and business owners, widows, and women transitioning through divorce. After going through her own divorce in 2011, she realized how much more we could do to support divorcing women and men with a practice dedicated to serving their unique needs. Heather is driven by deep empathy to help divorcing individuals have clarity and confidence in finalizing their divorce.
A Forbes "America's Top Women Advisor," Heather is a nine-time "Five Star Wealth Manager" according to Chicago magazine, was named an "Influential Women in Business" by The Business Ledger, a "Top 200 Wealth Advisor Mom" by Working Mother, and an InvestmentNews "Woman to Watch." Heather is an author of two books on divorce and has contributed to leading publications, including The Wall Street Journal, Crain's Chicago Business, Family Lawyer Magazine, and Divorce Magazine on multiple topics. She is a CPA, CFP® practitioner, and a Certified Divorce Financial Analyst (CDFA®) professional and has completed intensive executive coaching and divorce mediation training.
Heather loves learning from her teenage son and daughter and working with organizations she is passionate about, including After School Matters, The Lilac Tree, Between Friends, and Make-A-Wish Foundation.
Call/Text Heather at 312-312-2144 or email hlocus@bdfllc.com if you or a friend are contemplating or in the middle of a divorce.
Financial Issues in Divorce: A Client Handbook: Heather's latest book written for the American Academy of Matrimonial Attorneys.
Listen to Heather's prior episode of Divorce & Beyond:  
Negotiating Your Financial Future: Key Factors to Consider with Leading Divorce Financial Professional, Heather Locus" on The Divorce & Beyond Podcast with Susan Guthrie, Esq. #114
*****************************************************************************
MEET OUR CREATOR AND HOST:
SUSAN GUTHRIE®, ESQ., the creator and host of The Divorce and Beyond® Podcast, is nationally recognized as one of the top family law and divorce mediation attorneys in the country.  Susan is a member of the Executive Council of the American Bar Association Section of Dispute Resolution and is the Founder of Divorce in a Better Way® which provides a curated selection of resources and information for those facing divorce and other life changes. 
Internationally renowned as one of the leading experts in online mediation, Susan created her Learn to Mediate Online® program and has trained more than 20,000 professionals in how to transition their practice online.  Susan recently partnered with legal and mediation legend, Forrest "Woody" Mosten to create the Mosten Guthrie Academy which provides gold standard, fully online training for mediation and collaborative professionals at all stages of their career.  
******************************************************************************
At Mosten Guthrie we are delighted to say that Michelle is one of our inaugural Certified Co-Parenting Specialists and you can be one too!
Mosten Guthrie Academy Co-Parenting Specialist Training Program!  Lead Trainer: Christina McGhee (yes, THAT Christina McGhee that you love on Divorce & Beyond!)
The first of its kind, this Intensive Co-parenting Training Program is designed to do exactly that. It helps family law practitioners move beyond focusing on how time is spent between households and center their work with co-parents on the needs of children as they navigate the realities of post-divorce parenting.
Regardless of where you are on the spectrum of experience, this innovative program will help you make the shift while gaining valuable skills and tools you can start using in your practice right away.
Our next training is in May, 2022 - JOIN US! https://mostenguthrie.com/co-parenting-specialist/
*********************************************
Remember to follow Susan Guthrie and THE DIVORCE AND BEYOND PODCAST on social media for updates and inside tips and information:
Susan Guthrie on Facebook @susanguthrieesq
Susan on Instagram @susanguthrieesq @divorceandbeyond
Susan on Twitter @guthrielaw
If you want to see the video version of the podcast episodes they are available on The Divorce & Beyond YouTube Channel!  Make sure to LIKE and SUBSCRIBE so you don't miss a single episode!
Finally, we'd really appreciate it if you would  give us a 5 Star Rating and tell us what you like about the show in a review - your feedback really matters to us! Here's a link to the show on Apple Podcasts: https://podcasts.apple.com/us/podcast/the-divorce-and-beyond-podcast-with-susan-guthrie-esq/id1490881800
You can get in touch with Susan at divorceandbeyondpod@gmail.com. 
Don't forget to visit the webpage www.divorceandbeyondpod.com and sign up for the free NEWSLETTER to receive a special welcome video from Susan and more!!
********************************************************************
THANK YOU TO OUR SPONSOR:
*******************************************************************
SPONSORSHIP OPPORTUNITIES AVAILABLE!
If you would like to sponsor the show please reach out to us at  divorceandbeyondpod@gmail.com for pricing and details!!!
*********************************************************************
BDFLLC DISCLAIMER:
Investments involve risk and past performance may not be indicative of future results. Balasa Dinverno Foltz LLC (BDF) investment and wealth management strategy recommendations may not be profitable, suitable, or equal historical performance. BDF does not provide legal, tax, insurance, social security, or accounting advice. The information herein is provided solely to educate on a variety of topics, including wealth planning, tax considerations, insurance, estate, gift, and philanthropic planning. BDF's current written disclosure statement discussing advisory services and fees is available for review at www.BDFLLC.com or upon request.
DISCLAIMER:  THE COMMENTARY AND OPINIONS AVAILABLE ON THIS PODCAST ARE FOR INFORMATIONAL AND ENTERTAINMENT PURPOSES ONLY AND NOT FOR THE PURPOSE OF PROVIDING LEGAL ADVICE.  YOU SHOULD CONTACT AN ATTORNEY IN YOUR STATE TO OBTAIN LEGAL ADVICE WITH RESPECT TO ANY PARTICULAR ISSUE OR PROBLEM.