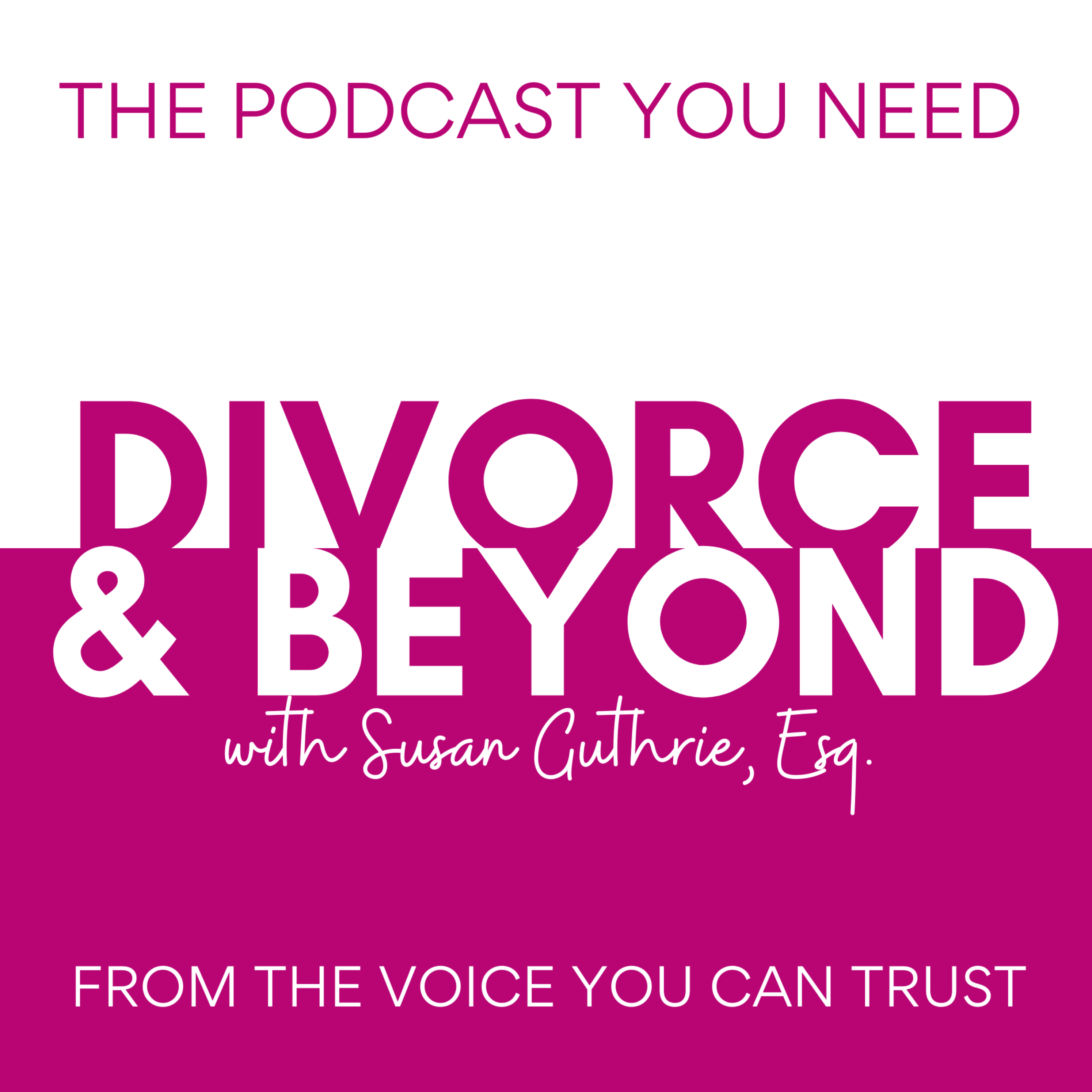 Nationally recognized family law attorney, mediator and award-winning podcaster, Susan Guthrie is at it again! After guiding countless numbers of people through the perilous world of divorce—and speaking to a podcast audience of over 4 million listeners—she's bringing you the "The Divorce & Beyond Podcast" to help you thrive in your life BEYOND divorce!
Episodes
Thursday Nov 26, 2020
Thursday Nov 26, 2020
It's the holidays and we hear you - they are especially difficult this year so join us for this Special Holiday Bonus Episode with Susan Guthrie and Dr. Elizabeth Cohen, The Divorce Doctor, as they discuss some practical advice for how you can survive, and maybe even thrive, this holiday season!
No matter what anyone says about "the happiest time of year," the holidays are stressful under normal circumstances and now with the complications of Covid, financial stress and relationship woes, many people are faced with an even more difficult holiday season than usual.  Dr. Elizabeth Cohen, one of the leading psychologists in the country returns to discuss some simple coping strategies to try to help you through the next few weeks (and beyond if you need it!)
In her usual compassionate and practical fashion, Dr. Elizabeth walks us through several exercises that can help you cope with the stress, loneliness and overwhelm that seem to be impacting everyone's lives these days.  Now, more than ever, we need to be kind to ourselves and to others and Dr. Elizabeth will have you feeling better just by the end of the episode!  Take a listen now!
***************************************************************
Dr. Elizabeth will be joining Susan again for more episodes soon so here is your opportunity to ask her anything!  Send an email to divorceandbeyondpod@gmail.com and take advantage of your opportunity to ASK "THE DIVORCE DOCTOR" ANYTHING!
To Listen to Episode #135 with Dr. Elizabeth, "The Divorce Doctor is in the House: Dealing with the Emotions of Divorce" just click here:  Episode #135 (THE #1 EPISODE ON DIVORCE & BEYOND EVER!)
To listen to Episode #141 with Dr. Elizabeth, "The Perfect Storm: What You Need to Know About Anxiety, Depression, Divorce and COVID," just click here:  Episode #141
To listen to Episode 147 with Dr. Elizabeth, "TOXIC MASCULINITY: The Untold Cost For Men AND Women," just click here:  Episode #147
************************************************
More Information About This Week's Special Guest: 
Dr. Elizabeth Cohen is the CEO and founder of the online divorce course and membership Afterglow: The Light at the Other Side of Divorce. This 14 week course teaches women how to heal, grow and thrive after divorce no matter how difficult the process has been. Dr. Cohen also offers a monthly membership program. Dr. Cohen is also the CEO and Director of Dr. Elizabeth Cohen and Associates, a group private practice in the heart of New York City serving children, adolescents and adults.
Contact Dr. Elizabeth:
Website 

drelizabethcohen.com

Social Media Handles 

@thedivorcedoctor - Instagram
The Divorce Doctor- Facebook
Get more information on Dr. Elizabeth's Online Program:  AFTERGLOW:  The Light on the Other Side of Divorce here:  https://drelizabethcohen.com/afterglow/
SPECIAL GIFT!  *** Get Dr. Elizabeth's Ultimate Divorce Toolkit based upon her 15 years of practice as a clinical psychologist for FREE! ***
**********************
SUSAN GUTHRIE, ESQ., the creator and host of The Divorce and Beyond Podcast, is nationally recognized as one of the top family law and divorce mediation attorneys in the country.  She is one of the Co-Chair's of the American Bar Association's DR Section Mediation Committee and is the Founder of Divorce in a Better Way which provides a curated selection of resources and information for those facing divorce and other life changes.  Susan has created a website of curated resources for those facing divorce.  Find out more at www.divorceinabetterway.com.
*****************************************************************************
SPONSORSHIP OPPORTUNITIES AVAILABLE!
If you would like to sponsor the show please reach out to us at  divorceandbeyondpod@gmail.com for pricing and details!!!
*********************************************************************
Remember to follow Susan Guthrie and THE DIVORCE AND BEYOND PODCAST on social media for updates and inside tips and information:
Susan Guthrie on Facebook
Susan on Instagram
Susan on Twitter
Divorce & Beyond Podcast on Instagram
Divorce & Beyond Podcast on Twitter
If you want to see the video version of the podcast episodes they are available on The Divorce & Beyond YouTube Channel!  Make sure to LIKE and SUBSCRIBE so you don't miss a single episode!
Finally, we'd really appreciate it if you would  give us a 5 Star Rating and tell us what you like about the show in a review - your feedback really matters to us! 
You can also get in touch with Susan at divorceandbeyondpod@gmail.com. She loves to hear from listeners and you might hear your comment or question on an upcoming episode!
Don't forget to visit the webpage www.divorceandbeyondpod.com and sign up for the free NEWSLETTER to receive a special welcome video from Susan and more!!
*****************************************************************************
DISCLAIMER:  THE COMMENTARY AND OPINIONS AVAILABLE ON THIS PODCAST ARE FOR INFORMATIONAL AND ENTERTAINMENT PURPOSES ONLY AND NOT FOR THE PURPOSE OF PROVIDING LEGAL ADVICE.  YOU SHOULD CONTACT AN ATTORNEY IN YOUR STATE TO OBTAIN LEGAL ADVICE WITH RESPECT TO ANY PARTICULAR ISSUE OR PROBLEM.