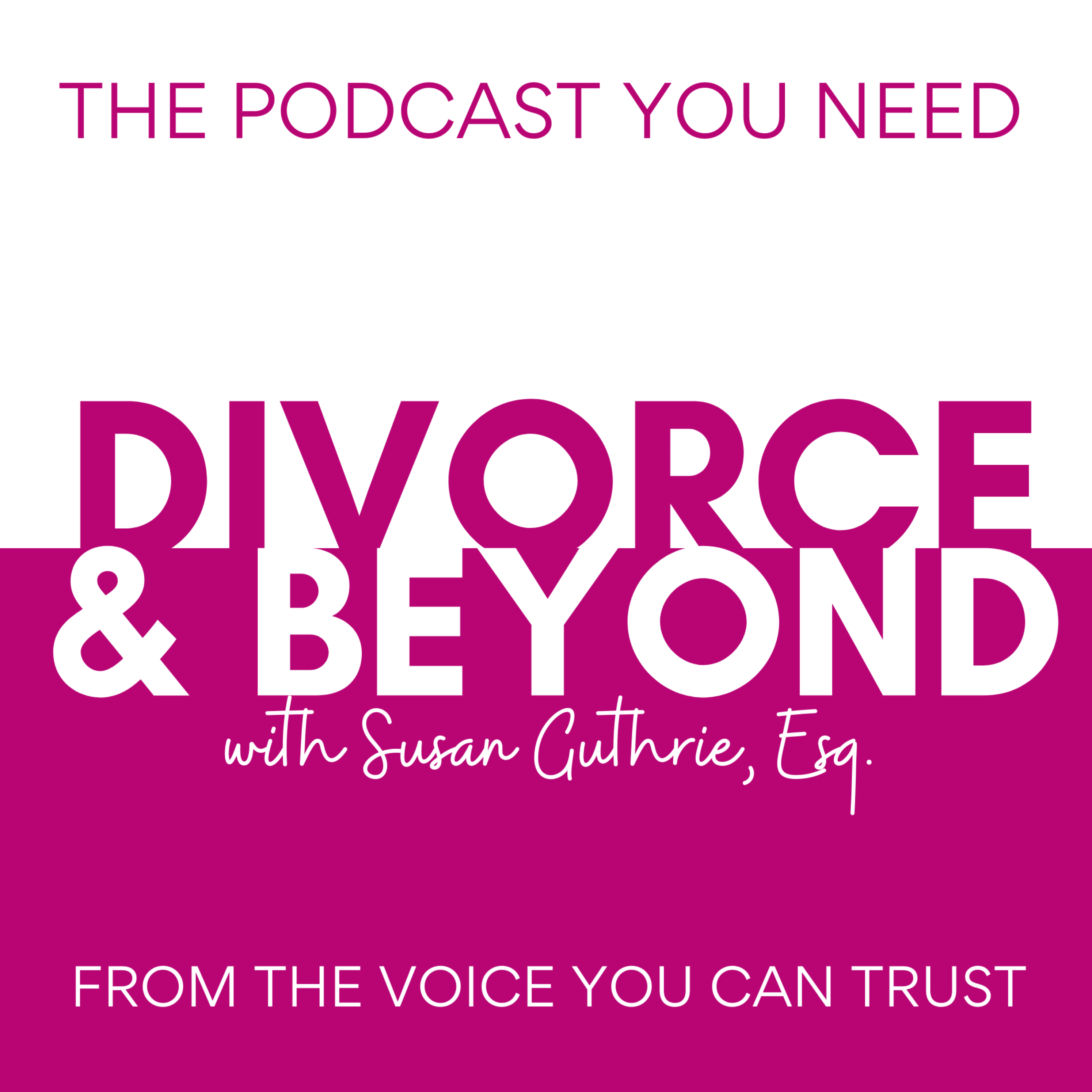 Nationally recognized family law attorney, mediator and award-winning podcaster, Susan Guthrie is at it again! After guiding countless numbers of people through the perilous world of divorce—and speaking to a podcast audience of over 4 million listeners—she's bringing you the "The Divorce & Beyond Podcast" to help you thrive in your life BEYOND divorce!
Episodes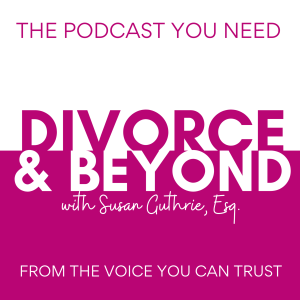 Thursday Apr 28, 2022
Thursday Apr 28, 2022
Enjoy this special bonus episode featuring Attorney Terri Breer honoring the work and legacy of the late Dr. Constance Ahrons, author of The Good Divorce and We're Still Family.  Dr. Ahrons groundbreaking work including her longitudinal studies of children and families in divorce and her innovative new construct of a "good divorce" helped to start and found the postive divorce movement.  Dr. Ahrons will be honored with the SCMA Forrest "Woody" Mosten Star Award for Innovation and Excellence in Family Mediation at the upcoming Southern California Mediation Association's Family Mediation Institute which will be held in Palm Desert, CA on May 20-22, 2022.  Terri is the creator and Chair of this wonderful event and she will be presenting a tribute program to Dr. Ahrons, with our friend and colleague Dr. Debra Dupree, at the Institute.
These books changed the popular thinking of the destructive divorce and paved the way forward for a better understand of what does, and does not, make for a good divorce.  These books, and all the work of Dr. Ahrons, are as relevant and needed today as they were when she first started.  Be sure to listen and come join us in the desert!
More About Terri Breer:
Attorney and Mediator, Terri Breer,
Attorney and Mediator, Terri Breer, has been a licensed attorney since 1985 and has experience as a civil litigator, mediator and collaborative attorney handling divorce, family law, real estate, and business matters. Although she has conducted civil trials involving business, real estate and family law disputes, her practice has been devoted to mediation of family law disputes and other forms of alternative dispute resolution including collaborative divorce methods.  She has written several articles on alternative dispute resolution and the need for change in the current family law adversarial system.  She was Chair of OCBA – Alternative Dispute Resolution Section in 2014.  She has served as Board Member of the Southern California Mediation Association (SCMA) for two terms from 2015 to 2021.   She has led SCMA's Orange County Professional Development Group and has chaired the SCMA Family Mediation Institute (FMI) in 2018, 2019, 2020, and 2021.
Ms. Breer currently owns and manages Breer Law Offices, a solo law and mediation practice in Irvine and Palm Desert, California.  Her private practice was established first in 1988 as a civil litigation firm focusing on family law, real estate, and business matters.  In 1994 the firm expanded to include family law mediation and in 2004, Collaborative Divorce.  She has mediated hundreds of family law disputes, including divorce, custody, property division, pre-marital agreements, domestic partnerships, and surrogacy arrangements.  Ms. Breer provides legal services as a collaborative attorney in Collaborative Divorce cases and will often use a cooperative team approach when she mediates divorce disputes collaborating with financial planners, child specialists and divorce coaches through the mediation process.  
Ms. Breer is an MCLE provider for the State Bar of California and provides family mediation training for California attorneys, therapists, financial professionals, and mediators through her business, New Day Divorce.  Her training program curriculum focuses on instructing family mediators on the legal issues in divorce, relevant California Statutes, characterization and division of marital property, determining child and spousal support, preparing parenting plans, and document preparation required to process uncontested divorce throughout family law courts in California jurisdictions.
Ms. Breer is active in hosting various networking and educational opportunities for divorce professionals, including South Coast Collaborative Professionals Luncheons and Mixers from 2006 to 2016, and The Attorney Therapist Breakfast Club that was founded in 2017 and meets monthly in Orange County.  Both professional groups bring together professionals who share her commitment to helping families resolve divorce and family disputes cooperatively and outside of the adversarial court system. 
Website:  www.breerlaw.com
Email:  terri@breerlaw.com
For more information on the Southern California Mediation Association (SCMA) Family Mediation Institute (FMI) please visit:  www.fmi.scmediation.org
Susan will be attending with some of our very favorite Divorce & Beyond Podcast Guest Experts including, Parenting Expert, Christina McGhee, Top Attorney/Mediator Claire Samuels, Filmmaker, Ellen Bruno and more so join us under the palms!
*****************************************************************************
MEET OUR CREATOR AND HOST:
SUSAN GUTHRIE®, ESQ., the creator and host of The Divorce and Beyond® Podcast, is nationally recognized as one of the top family law and divorce mediation attorneys in the country.  Susan is a member of the Executive Council of the American Bar Association Section of Dispute Resolution and is the Founder of Divorce in a Better Way® which provides a curated selection of resources and information for those facing divorce and other life changes. 
Internationally renowned as one of the leading experts in online mediation, Susan created her Learn to Mediate Online® program and has trained more than 20,000 professionals in how to transition their practice online.  Susan recently partnered with legal and mediation legend, Forrest "Woody" Mosten to create the Mosten Guthrie Academy which provides gold standard, fully online training for mediation and collaborative professionals at all stages of their career.  
******************************************************************************
Remember to follow Susan Guthrie and THE DIVORCE AND BEYOND PODCAST on social media for updates and inside tips and information:
Susan Guthrie on Facebook @susanguthrieesq
Susan on Instagram @susanguthrieesq @divorceandbeyond
Susan on Twitter @guthrielaw
If you want to see the video version of the podcast episodes they are available on The Divorce & Beyond YouTube Channel!  Make sure to LIKE and SUBSCRIBE so you don't miss a single episode!
Finally, we'd really appreciate it if you would  give us a 5 Star Rating and tell us what you like about the show in a review - your feedback really matters to us! Here's a link to the show on Apple Podcasts: https://podcasts.apple.com/us/podcast/the-divorce-and-beyond-podcast-with-susan-guthrie-esq/id1490881800
You can get in touch with Susan at divorceandbeyondpod@gmail.com. 
Don't forget to visit the webpage www.divorceandbeyondpod.com and sign up for the free NEWSLETTER to receive a special welcome video from Susan and more!
*********************************************************************
DISCLAIMER:  THE COMMENTARY AND OPINIONS AVAILABLE ON THIS PODCAST ARE FOR INFORMATIONAL AND ENTERTAINMENT PURPOSES ONLY AND NOT FOR THE PURPOSE OF PROVIDING LEGAL ADVICE.  YOU SHOULD CONTACT AN ATTORNEY IN YOUR STATE TO OBTAIN LEGAL ADVICE WITH RESPECT TO ANY PARTICULAR ISSUE OR PROBLEM