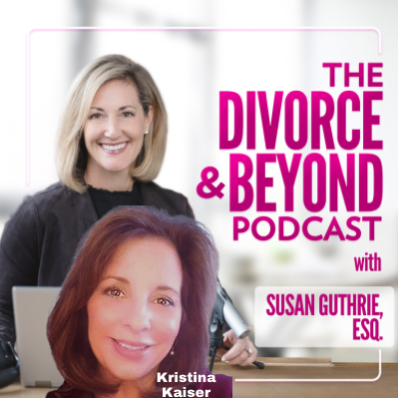 TOXIC MASCULINITY: The Untold Cost to Men AND Women with Dr. Elizabeth Cohen (a/k/a The Divorce Doctor) on The Divorce & Beyond Podcast with Susan Guthrie, Esq. #147
Nov 2nd, 2020 by divorceandbeyond
Dr. Elizabeth Cohen, a/k/a The Divorce Doctor returns to the podcast for the third in the blockbuster series of episodes focused on mental health, divorce and trauma.  In this episode, Susan Guthrie and Dr. Elizabeth delve into the culture of toxic masculinity that has been pervasive over centuries in our world and explain the untold cost of these societal mores on men AND women and how we all can begin to change the paradigm.
"Man up."  "Be a man."  "Shake it off, there's nothing to cry about."  We have all heard, and perhaps even said or thought these phrases ourselves.  They seem innocuous enough but when you delve into the culture of what it means to be a man, the huge cost, in emotional and physical health to men becomes clear.  That cost carries over into the lives of women as the men we love are unable to express their emotions and suffer the health challenges that stem from society's unwillingness to allow men to be vulnerable.  This episode was inspired by an email from listener, Mark Whorle (THANK YOU MARK!), who wrote in asking for guidance in finding emotional support and resources for divorce that are geared toward men, or are gender neutral.  This outreach from Mark exemplifies the culture of toxic masculinity that impacts women as well as men.  Toxic masculinity feeds the patriarchy – it is a vicious cycle that we all need to break.
Dr. Elizabeth and Susan explore the myriad ways that toxic masculinity pervade our lives and how it is manifested during divorce as well as how we each can start to change the conversation.  Start here, listen and be a part of the change!
Resources mentioned by Dr. Elizabeth and Susan in the episode:
The Mankind Project USA https://mkpusa.org/
Evryman https://www.evryman.com/
The Lives of Men from Jason Rosario http://www.thelivesofmen.com/
Divorced Over 40 https://www.facebook.com/divorcedover40/ and https://www.instagram.com/divorcedover40/  (Stay tuned, Daniel Herrald, one of the Founders of DivorcedOver40 will be joining us soon on the podcast!)
Ben Heldfond, co-author of Our Happy Divorce (@ourhappydivorce on Instagram)
Dr. Elizabeth will be joining Susan again for more episodes soon so here is your opportunity to ask her anything!  Send an email to divorceandbeyondpod@gmail.com and take advantage of your opportunity to ASK "THE DIVORCE DOCTOR" ANYTHING!
To Listen to Episode #135 with Dr. Elizabeth, "The Divorce Doctor is in the House: Dealing with the Emotions of Divorce" just click here:  Episode #135 (THE #1 EPISODE ON DIVORCE & BEYOND EVER!)
To listen to Episode #141 with Dr. Elizabeth, "The Perfect Storm: What You Need to Know About Anxiety, Depression, Divorce and COVID," just click here:  Episode #141
************************************************
More Information About This Week's Special Guest: 
Dr. Elizabeth Cohen is the CEO and founder of the online divorce course and membership Afterglow: The Light at the Other Side of Divorce. This 14 week course teaches women how to heal, grow and thrive after divorce no matter how difficult the process has been. Dr. Cohen also offers a monthly membership program. Dr. Cohen is also the CEO and Director of Dr. Elizabeth Cohen and Associates, a group private practice in the heart of New York City serving children, adolescents and adults.
Contact Dr. Elizabeth:
Website 

drelizabethcohen.com

Social Media Handles 

@thedivorcedoctor - Instagram
The Divorce Doctor- Facebook
Get more information on Dr. Elizabeth's Online Program:  AFTERGLOW:  The Light on the Other Side of Divorce here:  https://drelizabethcohen.com/afterglow/
SPECIAL GIFT!  *** Get Dr. Elizabeth's Ultimate Divorce Toolkit based upon her 15 years of practice as a clinical psychologist for FREE! ***
**********************
SUSAN GUTHRIE, ESQ., the creator and host of The Divorce and Beyond Podcast, is nationally recognized as one of the top family law and divorce mediation attorneys in the country.  She is one of the Co-Chair's of the American Bar Association's DR Section Mediation Committee and is the Founder of Divorce in a Better Way which provides a curated selection of resources and information for those facing divorce and other life changes.  Susan has created a website of curated resources for those facing divorce.  Find out more at www.divorceinabetterway.com.
*****************************************************************************
*********************************************
THANK YOU TO OUR SPONSOR!
dtour.life is an easy to navigate system that finally brings much needed technology to an inefficient system. Spouses and family law professionals can now collect the endless data, manage the piles of documents, explore various settlements, detail budgets and most importantly, collaborate with the entire team with a single click. And we built this from the ground up with industry best practices and the most advanced security and encryption technology available.  Be sure to check it out today!
SPECIAL OFFER:  Sign up for the FREE TRIAL here:  https://www.dtour.life/sign-up and then use special code "SUSAN20" to receive 20% off the cost of a subscription!
*****************************************************************************
SPONSORSHIP OPPORTUNITIES AVAILABLE!
If you would like to sponsor the show please reach out to us at  divorceandbeyondpod@gmail.com for pricing and details!!!
*********************************************************************
Remember to follow Susan Guthrie and THE DIVORCE AND BEYOND PODCAST on social media for updates and inside tips and information:
Susan Guthrie on Facebook
Susan on Instagram
Susan on Twitter
Divorce & Beyond Podcast on Instagram
Divorce & Beyond Podcast on Twitter
If you want to see the video version of the podcast episodes they are available on The Divorce & Beyond YouTube Channel!  Make sure to LIKE and SUBSCRIBE so you don't miss a single episode!
Finally, we'd really appreciate it if you would  give us a 5 Star Rating and tell us what you like about the show in a review - your feedback really matters to us! 
You can also get in touch with Susan at divorceandbeyondpod@gmail.com. She loves to hear from listeners and you might hear your comment or question on an upcoming episode!
Don't forget to visit the webpage www.divorceandbeyondpod.com and sign up for the free NEWSLETTER to receive a special welcome video from Susan and more!!
*****************************************************************************
DISCLAIMER:  THE COMMENTARY AND OPINIONS AVAILABLE ON THIS PODCAST ARE FOR INFORMATIONAL AND ENTERTAINMENT PURPOSES ONLY AND NOT FOR THE PURPOSE OF PROVIDING LEGAL ADVICE.  YOU SHOULD CONTACT AN ATTORNEY IN YOUR STATE TO OBTAIN LEGAL ADVICE WITH RESPECT TO ANY PARTICULAR ISSUE OR PROBLEM.
Share
|
Download