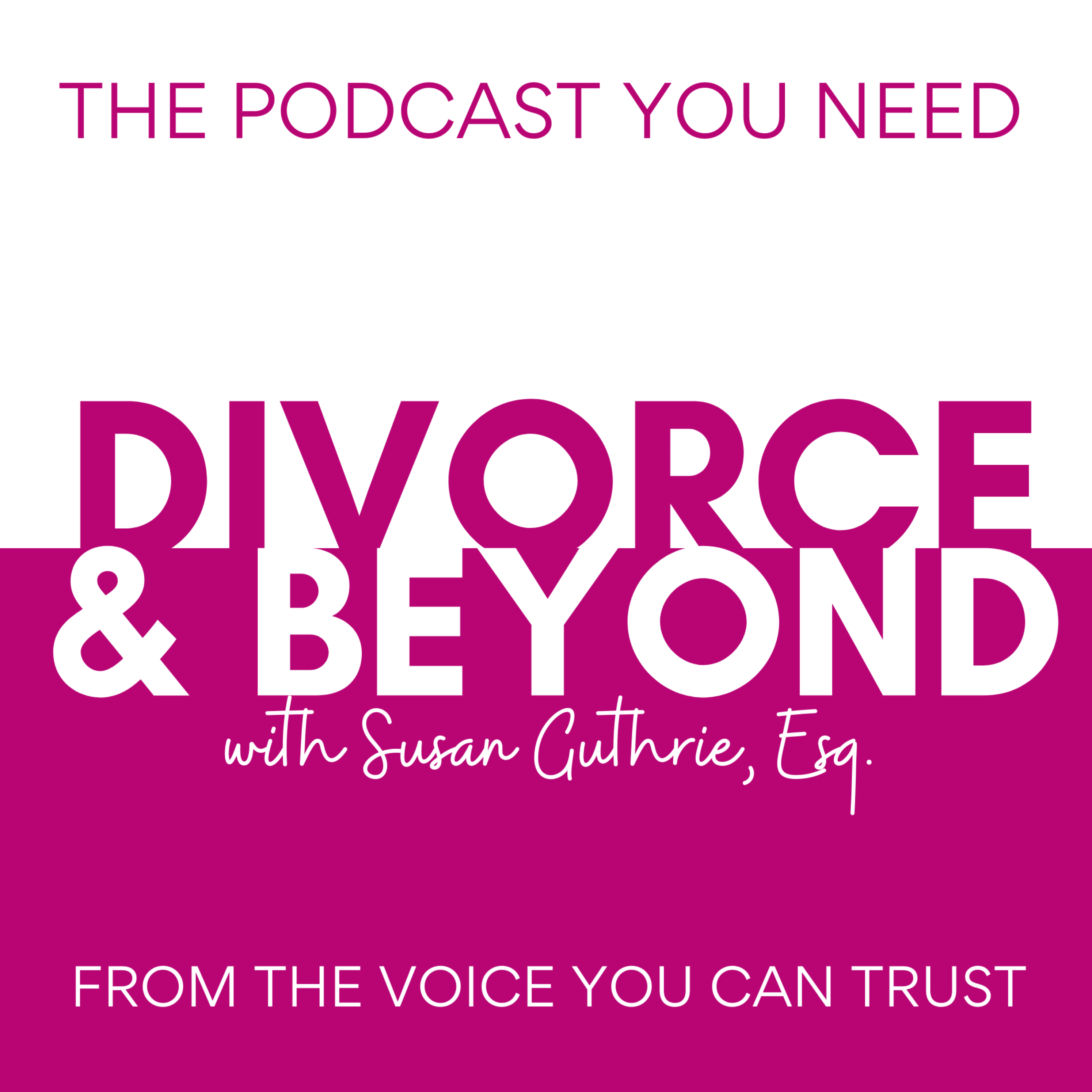 Nationally recognized family law attorney, mediator and award-winning podcaster, Susan Guthrie is at it again! After guiding countless numbers of people through the perilous world of divorce—and speaking to a podcast audience of over 4 million listeners—she's bringing you the "The Divorce & Beyond Podcast" to help you thrive in your life BEYOND divorce!
Episodes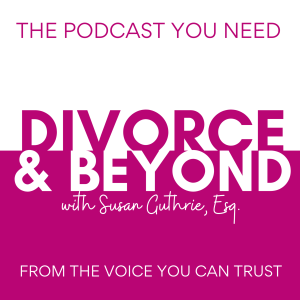 Monday Sep 20, 2021
Monday Sep 20, 2021
One of our favorite guests, Dr. Elizabeth Cohen, The Divorce Doctor, returns to talk with Host, Susan Guthrie about the long, drawn out experience of the pandemic we are living through and how that relates to your seemingly never-ending divorce process.  Believe it or not, there are startling parallels between the two and Dr. Elizabeth shares some sanity saving tips on how to cope with both!
Our favorite therapist returns to help us cope with the ongoing, and seemingly never-ending, pandemic and because they are related in so many ways, with the stress of your never-ending divorce too!  Think about it, the disappointment, fear, exhaustion and on-going trauma are so similar with both and the good news is, so are the coping strategies! 
Dr. Elizabeth shares concrete steps you can take to cope with any ongoing trauma in your life.  Make today the day you feel just a little bit better (or a lot!) by listening to this episode!
* * * * * * * * *
Dr. Elizabeth has been incredibly generous with her time and expertise for the listeners of Divorce & Beyond!  Check out all of her other episodes here:
To Listen to Episode #135 with Dr. Elizabeth, "The Divorce Doctor is in the House: Dealing with the Emotions of Divorce" just click here:  Episode #135 (THE #1 EPISODE ON DIVORCE & BEYOND EVER!)
To listen to Episode #141 with Dr. Elizabeth, "The Perfect Storm: What You Need to Know About Anxiety, Depression, Divorce and COVID," just click here:  Episode #141
To listen to Episode 147 with Dr. Elizabeth, "TOXIC MASCULINITY: The Untold Cost For Men AND Women," just click here:  Episode #147
To listen to Episode #151 with Dr. Elizabeth, "How to Survive the Holidays" just click here:  Episode #151
To listen to Episode #161  with Dr. Elizabeth, "The End of Kim & Kanye: The Devastating Effect of Mental Health Struggles on Relationships" just click here:  Episode #161
To listen to Episode #169 with Dr. Elizabeth, "One Year of Covid: Dealing with Difficult Anniversaries with Dr. Elizabeth Cohen, "The Divorce Doctor"  just click here Episode #169
To listen to Episode #174 with Dr. Elizabeth, "Light on the Other Side of Divorce from Dr. Elizabeth Cohen"  just click here Episode #174
************************************************
More Information About This Week's Special Guest: 
Dr. Elizabeth Cohen is the CEO and founder of the online divorce course and membership Afterglow: The Light at the Other Side of Divorce. This 14 week course teaches women how to heal, grow and thrive after divorce no matter how difficult the process has been. Dr. Cohen also offers a monthly membership program. Dr. Cohen is also the CEO and Director of Dr. Elizabeth Cohen and Associates, a group private practice in the heart of New York City serving children, adolescents and adults.
Contact Dr. Elizabeth:
Website 

drelizabethcohen.com

Social Media Handles 

@thedivorcedoctor - Instagram
The Divorce Doctor- Facebook
Get more information on Dr. Elizabeth's Online Program:  AFTERGLOW:  The Light on the Other Side of Divorce here:  https://drelizabethcohen.com/afterglow/
GET HER BEST-SELLING BOOK   "The Light on the Other Side of Divorce on AMAZON!  You can also purchase the book on the "Beyond Reading" page of the divorceandbeyondpod.com website which has links to ALL of Susan's recommended reading!
Dr. Elizabeth's  PODCAST - The Divorce Doctor Podcast 
Susan's episode shares her personal journey through divorce - be sure to listen!  https://drelizabethcohen.com/2021/03/12/susan-guthrie-what-happens-when-a-divorce-lawyer-gets-divorced/
**********************
MEET OUR CREATOR AND HOST:
SUSAN GUTHRIE®, ESQ., the creator and host of The Divorce and Beyond® Podcast, is nationally recognized as one of the top family law and divorce mediation attorneys in the country.  Susan is a member of the Executive Council of the American Bar Association Section of Dispute Resolution and is the Founder of Divorce in a Better Way® which provides a curated selection of resources and information for those facing divorce and other life changes. 
Internationally renownded as one of the leading experts in online mediation, Susan created her Learn to Mediate Online® program and has trained more than 18,000 professionals in how to transition their practice online.  Susan recently partnered with legal and mediation legend, Forrest "Woody" Mosten to create the Mosten Guthrie Academy which provides gold standard, fully online training for mediation and collaborative professionals at all stages of their career.  
*****************************************************************************
THANK YOU TO OUR SPONSOR:
Thriving in divorce and beyond means not having to worry about the safety of your children when it comes to co-parenting. With alcohol abuse on the rise, many co-parents are turning to the system committed to providing proof, protection, and peace of mind. Soberlink's alcohol monitoring system is the most convenient, reliable, and reasonable way for a parent to provide evidence that they are not drinking during parenting time. Soberlink's real-time alerts, facial recognition, and tamper detection ensure the integrity of each test, so you can be confident your kids are with a sober parent. With Soberlink, judges rest assured that your child is safe, attorneys get court-admissible evidence of sobriety, and both parents have empowerment and peace of mind. Pull back the curtain on the mysteries of parenting time and trust The Experts in Remote Alcohol Monitoring Technology™ to keep you informed and your kids safe and secure. To download the addiction and children resource page that I developed with Soberlink, visit www.Soberlink.com/Susan  
***************************************************************************************************
CHECK OUT THE NEW RESOURCE PAGE ON THE WEBSITE WITH DIVORCE & BEYOND RECOMMENDED READING!  
Remember, knowledge is power and we have the books that will help educate you and support you in all areas of divorce including finance, parenting, healing, conflict resolution and MORE!  Check it out now on the website:  www.divorceandbeyondpod.com/beyond-reading
***************************************
JOIN US IN THE DIVORCE & BEYOND MEMBERS ONLY COMMUNITY!
D & B Members Only will receive a number of benefits including:
Ad and Interruption Free Podcast Archive
BONUS Members Only Podcast Episodes monthly
Downloadable Worksheets, Spreadsheets and Other Forms 
Access to the "Ask Susan Anything" Forum where you can ask your questions and learn from the answers to others.
*****************************************************************************
SPONSORSHIP OPPORTUNITIES AVAILABLE!
If you would like to sponsor the show please reach out to us at  divorceandbeyondpod@gmail.com for pricing and details!!!
*********************************************************************
Remember to follow Susan Guthrie and THE DIVORCE AND BEYOND PODCAST on social media for updates and inside tips and information:
Susan Guthrie on Facebook @susanguthrieesq
Susan on Instagram @susanguthrieesq
Susan on Twitter @guthrielaw
If you want to see the video version of the podcast episodes they are available on The Divorce & Beyond YouTube Channel!  Make sure to LIKE and SUBSCRIBE so you don't miss a single episode!
Finally, we'd really appreciate it if you would  give us a 5 Star Rating and tell us what you like about the show in a review - your feedback really matters to us! 
You can get in touch with Susan at divorceandbeyondpod@gmail.com. 
Don't forget to visit the webpage www.divorceandbeyondpod.com and sign up for the free NEWSLETTER to receive a special welcome video from Susan and more!!
*****************************************************************************
DISCLAIMER:  THE COMMENTARY AND OPINIONS AVAILABLE ON THIS PODCAST ARE FOR INFORMATIONAL AND ENTERTAINMENT PURPOSES ONLY AND NOT FOR THE PURPOSE OF PROVIDING LEGAL ADVICE.  YOU SHOULD CONTACT AN ATTORNEY IN YOUR STATE TO OBTAIN LEGAL ADVICE WITH RESPECT TO ANY PARTICULAR ISSUE OR PROBLEM