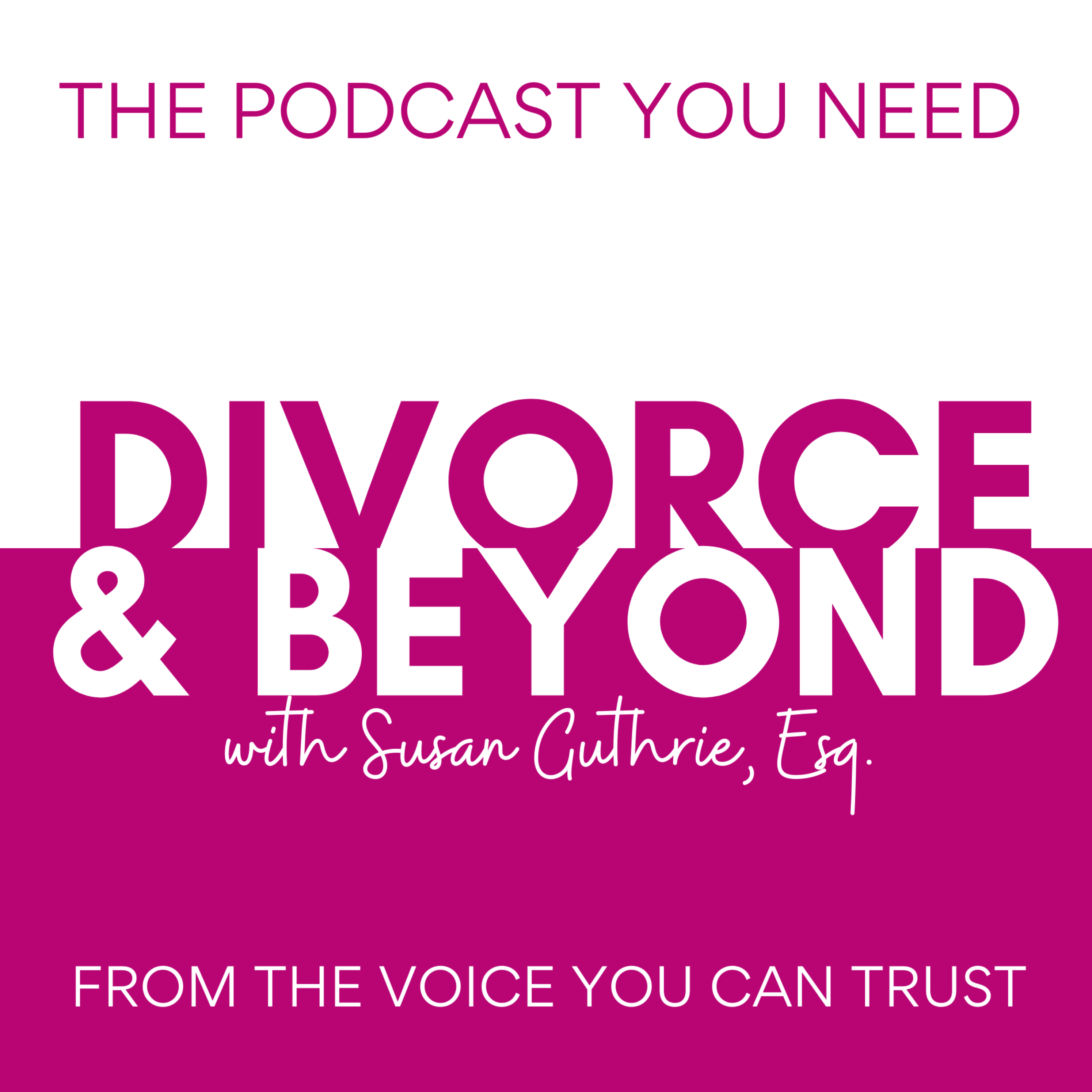 Nationally recognized family law attorney, mediator and award-winning podcaster, Susan Guthrie is at it again! After guiding countless numbers of people through the perilous world of divorce—and speaking to a podcast audience of over 4 million listeners—she's bringing you the "The Divorce & Beyond Podcast" to help you thrive in your life BEYOND divorce!
Episodes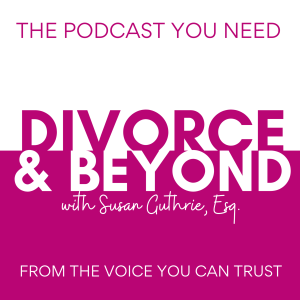 Monday Aug 01, 2022
Monday Aug 01, 2022
Are you ready to hear some of the most memorable moments and juicy details from today's leading experts featured on the Divorce And Beyond podcast? 
—
August kicks off with a special two-part episode from Host and Top Divorce Attorney, Susan Guthrie.  A few weeks ago, she ran a post on Instagram that shared a recent Buzzfeed article that contained a bunch of divorce attorneys' craziest cases. The post was so popular that Susan decided to create a podcast episode devoted to some of the most memorable cases and experiences from past guest experts of the show.
In this episode, experts and friends, such as Bill Eddy, Kate Anthony, and Dr. Elizabeth Cohen, share their most memorable cases or clients with us. They also share an important lesson or takeaway that they learned from the experience. There are some amazing insights for everyone, as well as some juicy stories too. 
Many of our experts wanted to participate in this special series, so we produced a two-part episode to fit all their wisdom and experiences.  You'll hear Part One today and then tune in again on Thursday for Part Two.
Some of the most memorable cases and topics include:
Lessons learned from a stunning divorce case involving a husband and wife, spanning over ten years, as told by High Conflict Expert Bill Eddy

A true example of "once a cheater, always a cheater…" is exposed as Eric Broder retells his most memorable divorce case moment

The Divorce Doctor, Dr. Elizabeth Cohen reflects on a case with a challenging client and the slow process of excavating the client's experiences and feelings versus leaning into the story about her ex-partner "We make mistakes, but we are not a mistake."

Billion Dollar Divorce Attorney Beth McCormack shares her time as a child advocate of a young girl who was experiencing parental alienation, how she was able to help, and later watched the young girl grow up and succeed in life

Plus, you'll hear insightful and astounding experiences shared by Kate Anthony, Tracy Malone, and Karen and Catherine of My Divorce Solution!
Listen in to hear the amazing case details, takeaways, and wisdom from today's top divorce professionals! 
*****************************************
This episode featured knowledge and wisdom from these special guests: 
Bill Eddy
Eric Broder
Dr. Elizabeth Cohen
Beth McCormack
Kate Anthony    
Tracy Malone
Karen Chellew & Catherine Shanahan of My Divorce Solution
Episodes mentioned:
Also mentioned:
The Light on the Other Side of Divorce, by Dr. Elizabeth Cohen
The Divorce Survival Guide podcast from Kate Anthony
Divorcing Your Narcissist: You Can't Make This Sh** Up!  by Tracy Malone
**************************
THANK YOU TO OUR SPONSOR: SOBERLINK
Back-to-School season is coming up which can be difficult for those going through a divorce.  This is especially true when alcohol and child safety is a concern.  On Divorce & Beyond, my mission includes bringing you the latest insider knowledge and information from top experts with regard to your divorce, especially during these changing times.  That's why I've partnered with Soberlink to help create and offer resources to help you navigate the upcoming back-to-school season.  Soberlink is a remote alcohol monitoring technology created to help prove sobriety in custody cases.
The system includes a high-tech breathalyzer device with facial recognition that allows you to receive real-time updates from monitored co-parents anytime, anywhere allowing for swift intervention for improved child safety.  They have helped hundreds of thousands of people document proof of sobriety in real-time for peace of mind in child custody cases. 
Soberlink is currently offering free Back-to-School & Divorce packets that include an expert Q&A with me, Back to School Checklist, Communication tips, and more.
Request your free packet today at www.soberlink.com/susan
*******************************************************************
MEET OUR CREATOR AND HOST:
SUSAN GUTHRIE®, ESQ., the creator and host of The Divorce and Beyond® Podcast, is nationally recognized as one of the top family law and divorce mediation attorneys in the country.  Susan is a member of the Executive Council of the American Bar Association Section of Dispute Resolution and is the Founder of Divorce in a Better Way® which provides a curated selection of resources and information for those facing divorce and other life changes. 
Internationally renowned as one of the leading experts in online mediation, Susan created her Learn to Mediate Online® program and has trained more than 18,000 professionals in how to transition their practice online.  Susan recently partnered with legal and mediation legend, Forrest "Woody" Mosten to create the Mosten Guthrie Academy which provides gold standard, fully online training for mediation and collaborative professionals at all stages of their career.  
*****************************************************************************
SPONSORSHIP OPPORTUNITIES AVAILABLE!
If you would like to sponsor the show please reach out to us at  divorceandbeyondpod@gmail.com for pricing and details!!!
*********************************************************************
Remember to follow Susan Guthrie and THE DIVORCE AND BEYOND PODCAST on social media for updates and inside tips and information:
Susan Guthrie on Facebook @susanguthrieesq
Susan on Instagram @susanguthrieesq
Susan on Twitter @guthrielaw
If you want to see the video version of the podcast episodes they are available on The Divorce & Beyond YouTube Channel!  Make sure to LIKE and SUBSCRIBE so you don't miss a single episode!
Finally, we'd really appreciate it if you would  give us a 5 Star Rating and tell us what you like about the show in a review - your feedback really matters to us! 
You can get in touch with Susan at divorceandbeyondpod@gmail.com. 
Don't forget to visit the webpage www.divorceandbeyondpod.com and sign up for the free NEWSLETTER to receive a special welcome video from Susan and more!!
*****************************************************************************
DISCLAIMER:  THE COMMENTARY AND OPINIONS AVAILABLE ON THIS PODCAST ARE FOR INFORMATIONAL AND ENTERTAINMENT PURPOSES ONLY AND NOT FOR THE PURPOSE OF PROVIDING LEGAL ADVICE.  YOU SHOULD CONTACT AN ATTORNEY IN YOUR STATE TO OBTAIN LEGAL ADVICE WITH RESPECT TO ANY PARTICULAR ISSUE OR PROBLEM